Revamping a Recognized Global Brand, One Web Design at a Time
For more than 6 years, Parachute Design has been the web design company of record for Nutrience Pet Foods. Initially, we began our relationship when Nutrience was overseeing the design and development of a startup sub-brand called Petculture. Given our experience and expertise in web design for startups, we came highly recommended from another one of our great B2C website design clients and were invited to create the web design for Petculture, as well as oversee the ongoing maintenance of the B2C website through its infancy.
Having worked so well together on the Petculture project, Nutrience quickly invited Parachute Design to begin working on promotional B2C web design projects of all shapes and sizes for the parent brand, Nutrience Pet Foods. We quickly learned how active Nutrience is with web marketing and digital promotions and it was no time at all before we had created nearly a dozen unique promotional and contest websites together.
Owned and operated by Rolf C. Hagen, Inc., Nutrience is one of several sub-brands entrenched in healthy internal competition to be the top dog under the Hagen umbrella. After seeing what some of the other brands were exploring with their online marketing, the challenge was presented by the Nutrience brand manager to create a new corporate website – the second iteration of the corporate website that we've designed and developed over the last few years. This new corporate website design was to be fully responsive and would be completely scalable in order to integrate well with existing and future marketing efforts, as the Nutrience brand never stops moving. We accepted the challenge as always, and set forth to reimagine a beautiful, new Nutrience B2C website design.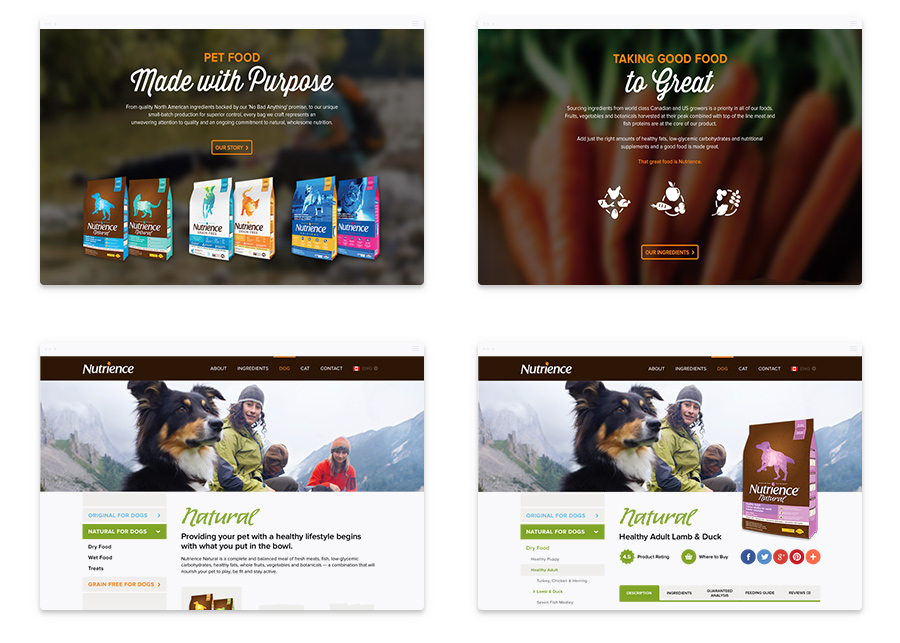 The previous iteration of the corporate website design that we created together with Nutrience featured parallax scrolling across the entire website on both the vertical and horizontal plains. This created a very engaging and exciting online experience for users, but as the need for more detailed content grew, and the necessity to reach a growing mobile-based audience to begin competing more aggressively in the SEO world, we went back to the drawing board and changed our web design strategy completely. Having already developed a strong design foundation within the Nutrience brand, we did not need to tear everything down and start from scratch, even though we were now recommending a custom WordPress website design.
To maintain the level of engagement established with our first corporate website design, but to allow for more in-depth content and a responsive website design, we simplified the parallax effects on key pages and created static product level landing pages. Each product page now features an in-depth content library offering product descriptions, ingredient lists, feeding guides, and a customer comment and rating system. This rating system is easily accessed through simple tabs, eliminating the need for a complete page reload as users discover more about Nutrience Pet Food.
Additionally, we developed Store and Veterinary Clinic locators for visitors to not only find a pet food store near them to purchase Nutrience products, but also give them the ability to locate a veterinary clinic in their neighbourhood that meets the standards of approval by Nutrience.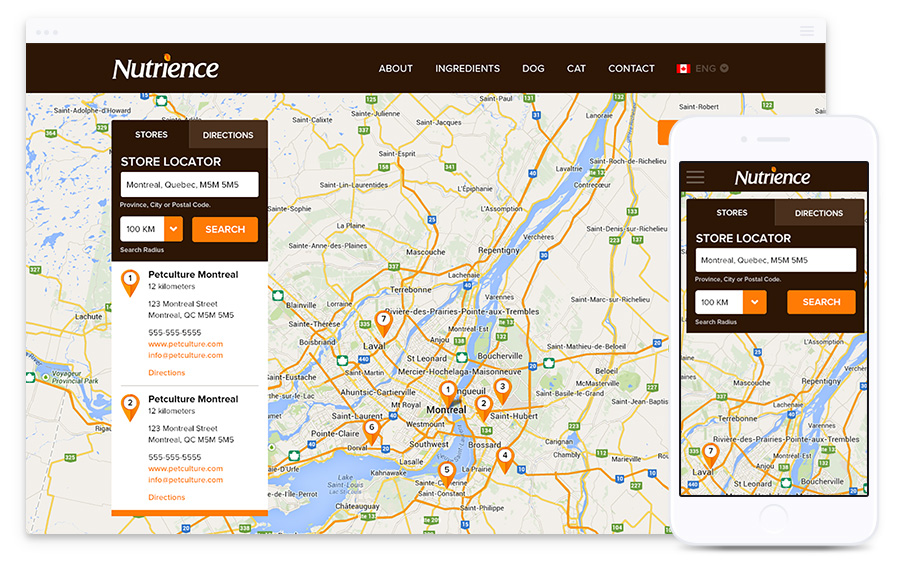 As a sub-brand of a global company, Nutrience markets their pet food all over the world. The need for multi-language versioning within the new B2C website design was critical. By developing a WordPress multisite, we were able to offer a single admin console for all languages across North America, Europe, and Asia. This not only simplifies the day-to-day management of the websites but also reduces the time and cost involved in web maintenance and content updates.
In the time since the corporate website design was launched, we've developed several contest and promotional websites that feature survey follow-ups to customers that have tried Nutrience pet food for the first time. With the flexibility of our custom WordPress website design, these survey responses are easily tagged, rated, and imported directly into their respective product review libraries found within the corporate website design. This type of flexibility to handle growth is one of the many reasons we recommend WordPress web design to our clients.
Web Design for Online Contests
Nutrience is very active when it comes to online contests and promotions, and quickly established the need for a system to collect user information, and validate coupons and prize codes against an easily managed database before securely storing information for export.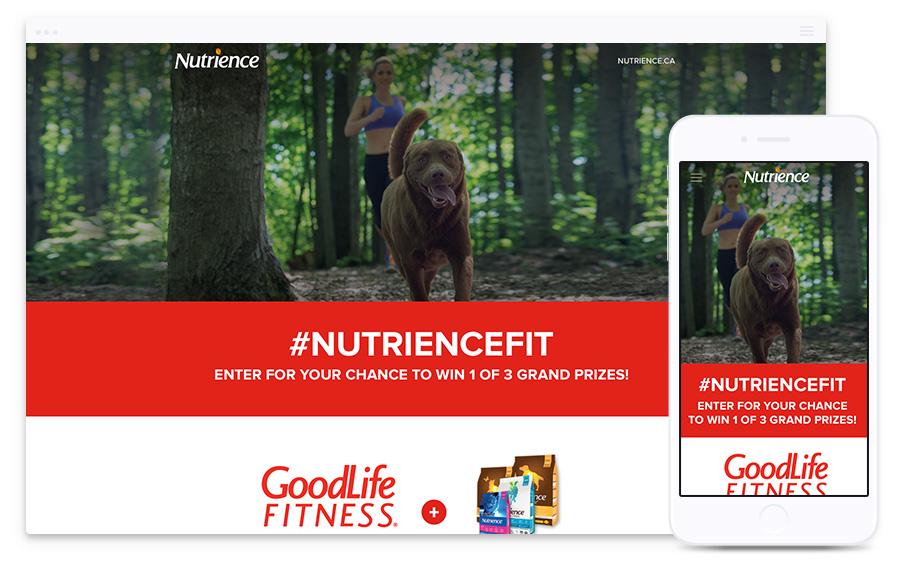 Given the complexity and high level of customization required from one contest website design to the next, we helped Nutrience to brainstorm a wish list of functionalities and scenarios for future online contests, in order to design a better, more adaptable contest engine. To achieve a long list of goals and must-haves, we created a fully customized, open source content management system that allows Nutrience to sign in and virtually create web contests, and upload new graphics and content at will. They have complete control over contest entry rules and form validation, coupon expiry, data collection, and CSV export. Not to mention automatic inventory limits and notifications that are sent both to Nutrience and their separate fulfilment house. The benefit of developing a custom platform allows us to continually evolve and adapt to Nutrience's changing needs month to month, with minimal effort.
"Our website plays a critical role in branding and delivering effective communications to our customers. Having a reliable partner in place to ensure things work out as planned is vital to our success and Parachute has always come through for us on time and on budget making life easier and allowing us to focus on our message. Parachute has been both responsive to our requests and proactive with design and development by offering suggestions and solutions to challenges that we encounter. I want to thank Parachute for all their help over the past 4 years and especially for being so flexible when we as marketers decide we have an even better idea… and they still come through for us!"
Warren House
Brand Manager, Rolf C. Hagen Inc.
eCommerce & Promotional Website Design
When Nutrience is not busy running an online contest, they're usually busy working on a promotional website. Similar to our challenge with ongoing change within the contest website design, we approached the development of a custom promotional website design the same way. After helping Nutrience brainstorm a long list of potential scenarios for future web promotions we set to work creating a standalone platform to provide our client with the ability to create and launch promotional websites at will.
This project was much more complex than the contest website CMS, as e-commerce was involved, as well as automated customer survey deployments, various API connections, and changing product offers. After weeks of hard work, we proudly deployed the promotional website design, which was built upon a custom, open-source CMS that includes powerful API hookups to better reach both Canadian and US customers. The CMS allows the administrator to easily change out addressing API's offered by Canada Post and the US Postal Service, ensuring that the customer's address is correct when it reaches the fulfilment house, thereby reducing the cost of returned products.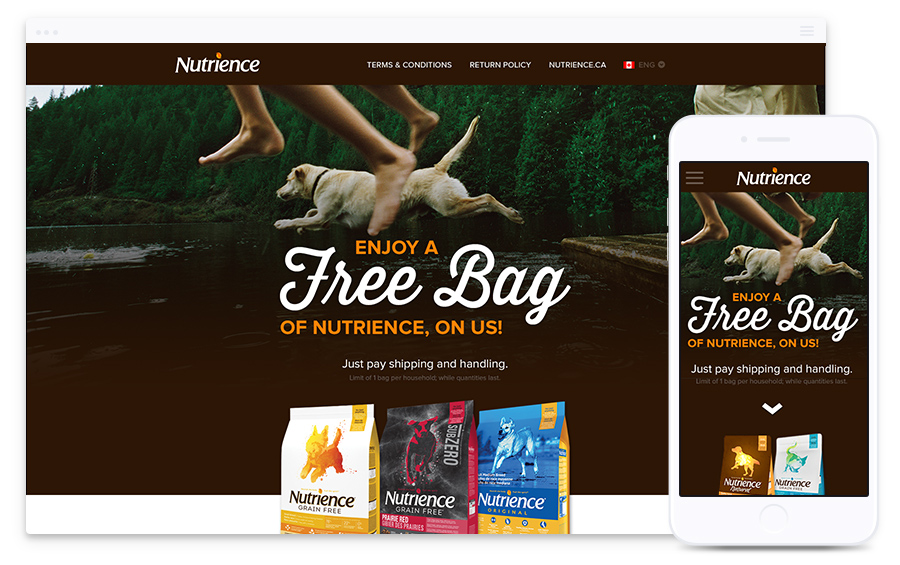 Additionally, we built in an automated follow-up survey, triggered on a timer through the client's email marketing service. The results of the survey are then transmitted back to the corporate website to be displayed on the product pages.
The website also offers other powerful tools, such as inventory management features that can be employed in combination, or on their own to provide loads of flexibility when it comes to running future promotions, allowing Nutrience to be nearly hands-off throughout the process. It could also schedule on and off functionality to deploy and close promotions automatically, with the ability to change which payment gateway is used, or quickly switch into development mode during testing.
Perhaps the icing on the cake is the ability for the Nutrience website to automatically tag digital coupons with rolling expiration dates and email them off to new registrants, to print out and use in-store to purchase Nutrience products.
Secure Dealer Portal Website Design
To extend the Nutrience brand and maintain brand consistency in displays and marketing materials within pet stores around the world, we helped Nutrience create a secure dealer portal that is also tied into the WordPress CMS system, serving as the platform for the corporate website design.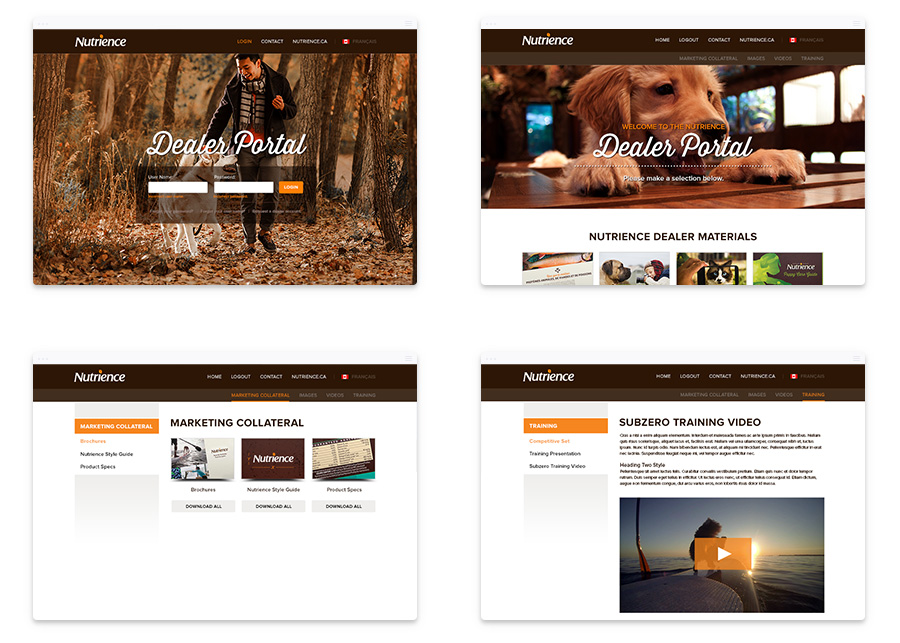 Retailers are automatically assigned an account based on their unique account number and granted access to the dealer portal to access high-resolution imagery, spec sheets, and digital assets of all kinds in order to create a stronger, more consistent Nutrience brand in-store.
For new retailers that are on-boarded post launch, we've included a registration form that allows applicants to provide their business information for approval by Nutrience staff. If approved, the retailer is sent an automated email inviting them to the breeder program, along with their unique login information.
"Better Together Breeder Program" Website Design
Along with the many contest and promotion peripherals, also included within this complex web environment is a breeder program. Legitimate breeders of dogs and cats are able to complete an online application through the website, including the secure transfer of scanned documents, and if approved by Nutrience, the breeder is presented with a contract to sign digitally through the DocuSign service. Upon signing the contract, a user account is automatically created and sent to the breeder, granting them access to the breeder program.
Once inside the breeder area, breeders are able to order larger quantities of Nutrience pet food at special rates, along with puppy or kitten kits that they can offer to new pet owners. By way of integrated payment services, orders are processed on-site before being transferred to a third party fulfilment house for shipping. What makes this an interesting feature is that nearly the entire administration process is automated, freeing up Nutrience staff to focus on new marketing initiatives.
About Parachute Design
For more than 15 years Parachute Design has been creating professional website design and logo design in Toronto, Ontario. Our professional web designers boast years of experience in creating successful B2C Website Design in addition to professional brand and logo design.
To learn more about how our Toronto web design company can help your pet industry business improve your logo design, branding, and responsive website design, or to request a proposal, please complete our online quote request form, or call our Toronto branding and website design team at 416-901-8633.