Exploring a new industry through custom website design for a cannabis company startup, Growers Retail.
Admittedly, this is our first foray into the Cannabis company website design field. Since legalization in Canada, we've had many opportunities land in our inbox, but none felt quite right. With the industry becoming more mainstream and settled in Canada when Growers Retail inquired about custom website design for their cannabis startup, we decided to give it a go.
For the first time in over a decade, our Toronto web design agency faced the challenge of working with an industry that was entirely new to our team. Parachute Design has crafted website design and custom branding since 2003, so an opportunity like this was unique. To add to the mix, Growers Retail was in startup mode, meaning there was no previous website from which we could review and analyze user data to study user trends and prepare our design strategy.
Fortunately, the years of experience under our belts, creating website design for B2C and food and beverage industries helped lay the foundation for the adventure to come.
Experience, paired with our time tested 6-step design process, allowed us to move forward with the cannabis website design project confidently. However, before we kicked it into gear, we first worked with the owners of Growers Retail to identify their goals for the project. From this list of clearly defined goals, we can build and execute our website design strategy and also use it as a measuring stick for success.
Website Design Goals
Corporate branding – Growers Retail had already been working with a logo designer before our engagement. Our Toronto branding experts aimed to work with Growers Retail to continue to refine the logo design and expand the branding throughout the business's digital marketing.
Website user interface design – jumping into a highly competitive industry still in its infancy required a responsive website design that could communicate quickly and efficiently with the audience.
Custom WordPress development – to allow Growers Retail to complete control over their website and digital marketing engine, we opted for a custom WordPress development.
Online Store and POS Software Integration – To quickly jump into online sales and provide seamless POS integration, we worked closely with a third party software developer to get to market fast.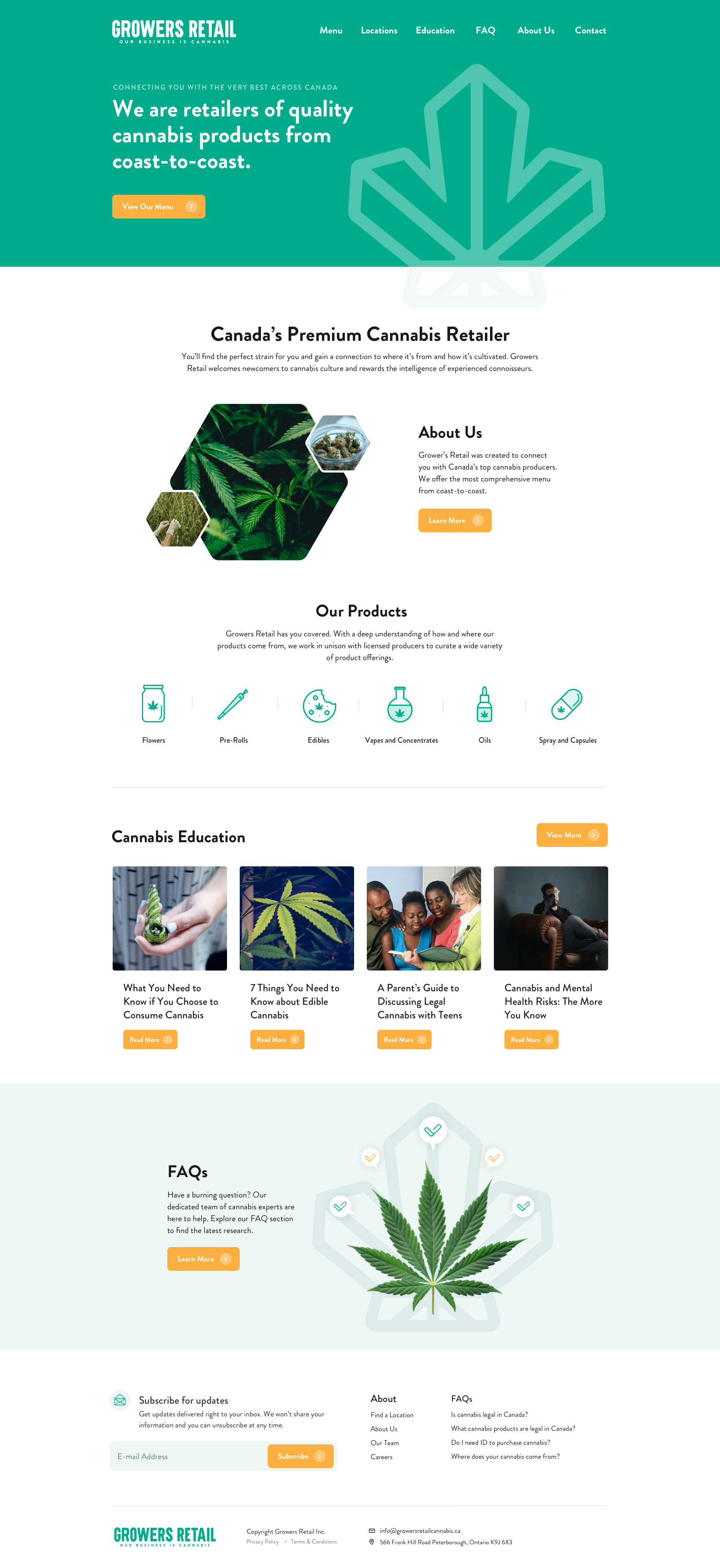 Cannabis Company Web Design Process
Discovery and Strategy
As we kicked off the cannabis web design project for Growers Retail, our first point of discovery was understanding the rules and regulations applicable to the cannabis industry as it is heavily regulated. Fortunately, the Canadian government offers a library of digital resources to download and review to ensure that the marketing material we create for Growers Retail adheres to the guidelines.
With a thorough understanding of the rules and regulations in place for this brand new industry in Canada, we set forth with our discovery reviewing top competitors in the market and compiling screenshots and any analytics data to create a mood board for reference throughout our strategy and design phases to follow.
Research complete, our Toronto web designers set to work on creating the site map for the website. During site mapping, we outline all pages that will exist on the new website and where they will live in the navigation design.
Following the approval of the site map, our web design team and Toronto WordPress developers began work on the wireframes design. The wireframing exercise is one of the most critical aspects of the website design process. Wireframes serve as a blueprint for the creative work to follow but are an essential tool used to establish the information architecture design within the website. The wireframes are void of all design elements, colour and imagery to allow everyone to focus on the fundamental aspects and user journey or goals within each unique page layout. Without the distraction of design, our clients can more easily focus on the essential elements of the wireframing process and make informed decisions on the direction of and makeup of their new website. Additionally, as we address changes during wireframing quickly and easily, we often eliminate the need for excessive design changes later on in the design process.
The wireframes are presented to stakeholders using an online prototyping tool that allows all participants to log in and leave feedback, ask questions or mark up the layouts for discussion. This tool ensures a smooth workflow for our Toronto web design company and keeps communication and feedback stored in one place for all parties to reference. As our designers work through any changes and answer questions, our clients are notified by automated email updates to stay loop with our progress.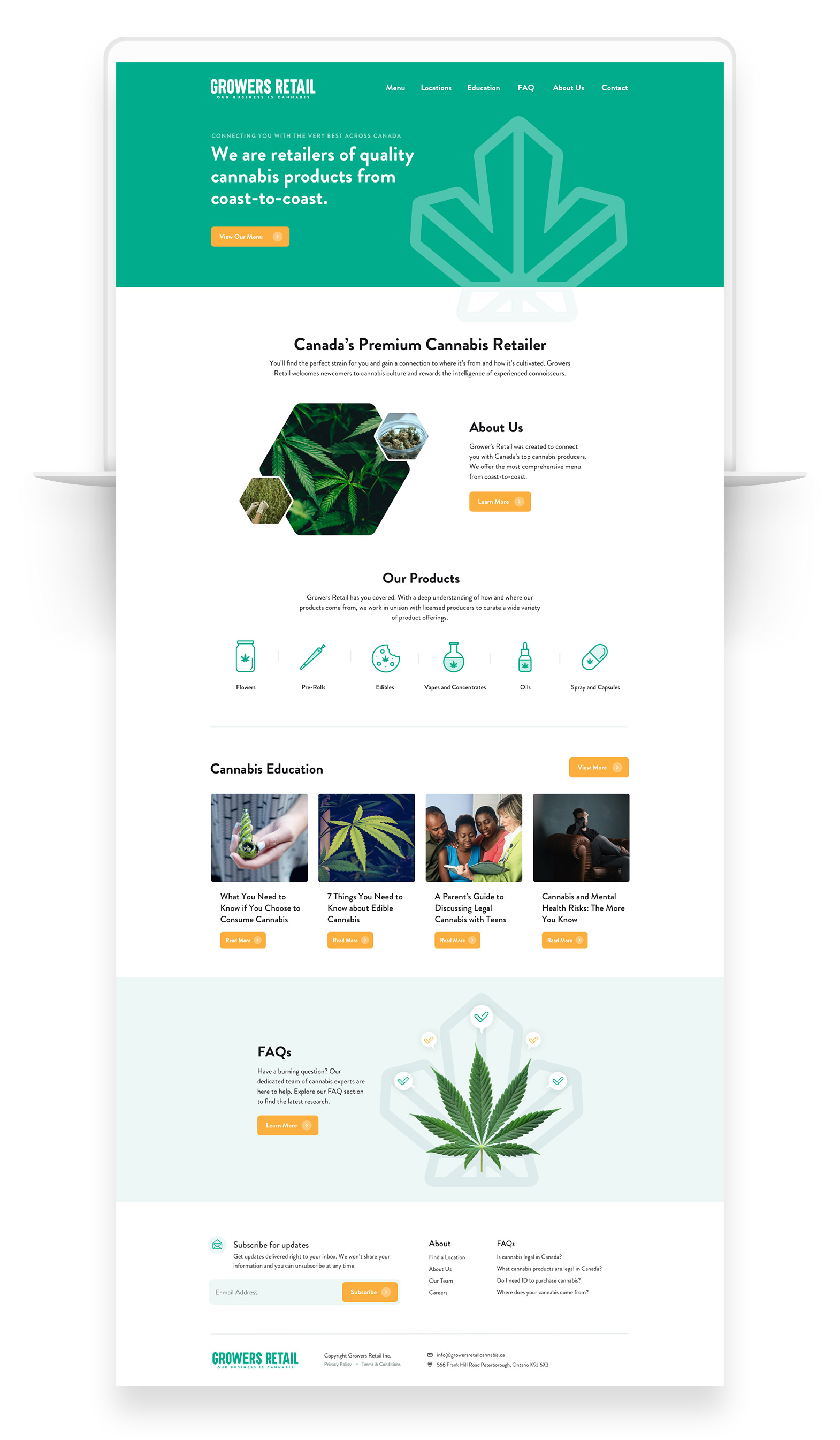 Custom Web Design for the Cannabis Industry
Throughout our discovery of the cannabis space, we collected several screenshots and design samples from top competitors and similar websites to help guide our web design process and ensure we help our clients go to market with a competitive online presence. In addition to this early research, our web designers also relied heavily on their extensive experience creating web design for the food and beverage industry to assist with our initial user interface design concept.
Utilizing a clean and airy approach to the UI design, we shared the initial conceptual design work with the team at Growers Retail using our online prototyping platform once again. One of the advantages we offer our clients by using this platform is that they can view both desktop and mobile design concepts in context. Rather than making assumptions or critical design decisions based on static images or PDF documents, stakeholders can interact with the web design as if it were a functioning website.
Following a speedy review session and minimal revisions, we received approval to move ahead with the full design expansion and mobile web design layouts.
Our WordPress web developers are actively involved in our web design process and assist with decision making at this intermediate stage. This teamwork ensures our creative and development teams are in sync on projects and that we are presenting our clients with the most functional design options.