Hand-crafted cannabis web design and branding to stand out from the crowd.
The cannabis industry in Canada is growing exponentially, with new shops and online stores appearing every day. With such a flooded market space, it's essential to stand out from the crowd to be seen and build your brand. Standing out is far easier said than done in an industry with so much noise and commotion. The cannabis brands that put the time, effort and budget into creating genuinely unique and meaningful experiences for their customers are most likely to establish success and ride the growth wave long enough to build a lasting brand when the dust settles.
Understanding the need to be thoughtful with their branding and online marketing is what landed Spiritleaf in our inbox not too long ago. Our web design agency has worked with cannabis brands previously and developed a fundamental understanding of the laws, rules and strict regulations that govern cannabis marketing initiatives. Our industry knowledge, coupled with our creative experience, made us natural partners to redesign and develop the brand new Spiritleaf website.

Website Design Goals
Analytics discovery – all strategy and design work must be created to solve a problem or improve something for the user; therefore, our first task was to analyze the existing website data and identify current user challenges, and stakeholder pain points to understand how to fix them.
Brand refresh – to refocus the brand and digital marketing to stand out from the competition, we aimed to showcase Spiritleaf as a cannabis lifestyle brand that extends beyond the product and finds its way into the customer's everyday life.
Improve User Experience – the existing site was full of experiential challenges and pitfalls for users and website administrators. Our team planned to completely rethink the customer experience and the website configuration within the WordPress CMS to provide more robust and intuitive tools to the admin.
Custom UI design – building on the brand refresh, a new user interface design was planned to engage the customer and increase conversion rates.
Custom WordPress development – to provide easy day-to-day management of the website and information hub, a custom WordPress platform was developed to grant complete control over every content element within the new site.
Dutchie+ eCommerce Integration – with over a thousand stores already using the Dutchie platform, we opted to upgrade to Dutchie+ to provide a truly custom and ownable eCommerce experience.
Search Engine Optimization – optimizing page structure, content and technical SEO to improve performance and increase search engine rankings.

The Web Design Process
Website Strategy
Many people can create a nice interface design that, at a glance, looks great. However, after you begin to use that interface to engage in the user journey, it often becomes apparent that although the design is visually appealing, the experience doesn't leave a positive impression behind. Therefore, the first step in our website design process is to dive into the analytics, use cases, search engine performance and speak with stakeholders to understand why we are redesigning the website.
Once we understand who is using the website and what they are struggling with in terms of completing an interaction, sale or even managing the website on the administrative side, we build a web design strategy that serves as a road map to success throughout the rest of the project.
Working with Spiritleaf, we quickly realized that the website they had been struggling with for the last year or more was full of bandaid fixes and dead-end functions that created friction within the customer journey. This same tired patchwork made the site perform slowly, which frustrated users and impeded search engine ranking success. In addition to these external challenges, the internal marketing team faced limitations and challenges at every turn whenever they wanted to update content or attempt to improve the website.
Our creative team formulated a detailed plan to solve all these issues with a custom WordPress website design with a thorough discovery exercise and data in hand.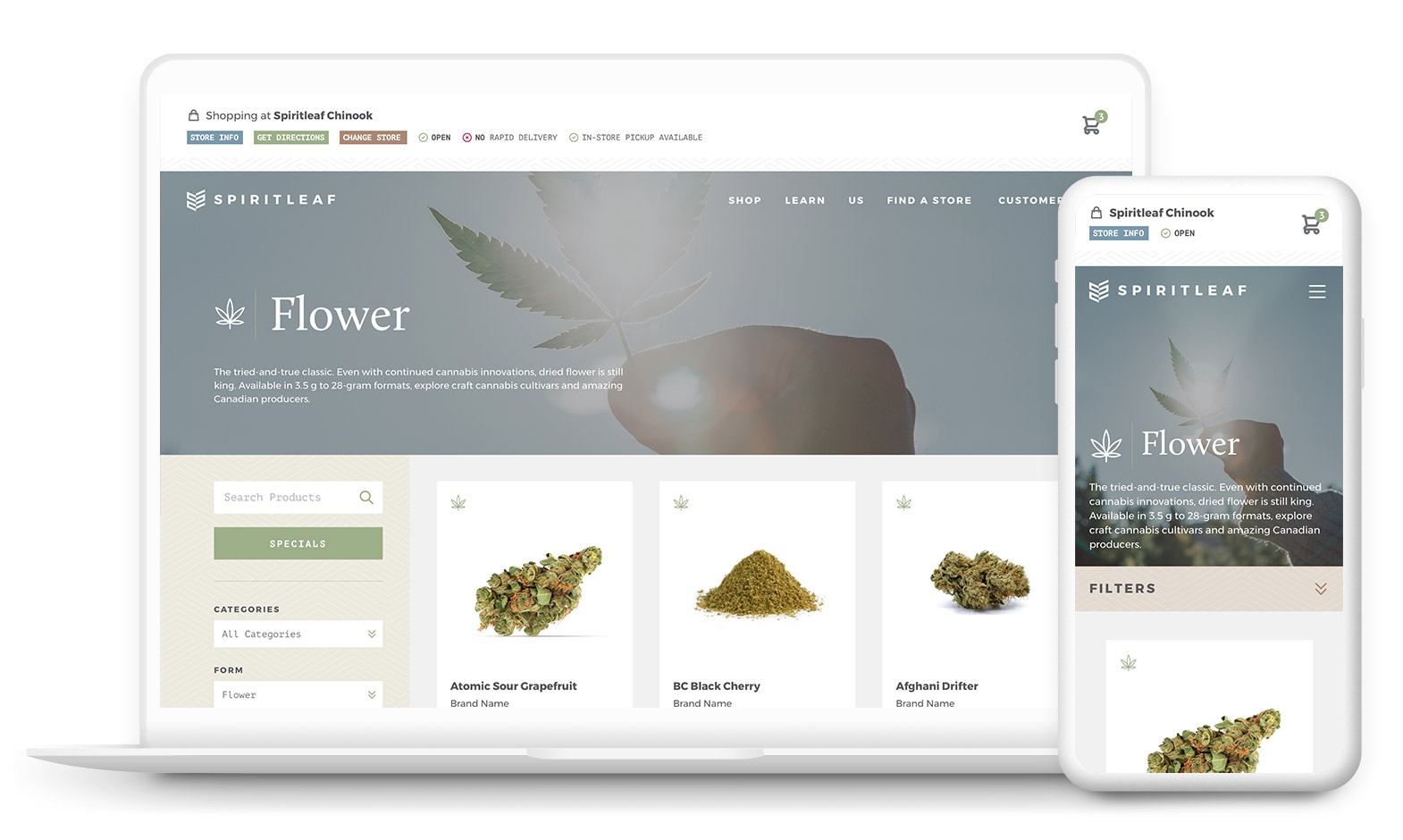 UX Design Strategy
We guide our clients through an interactive wireframing phase following our comprehensive site map design exercise. In this part of the process, our UX designers carefully map out the information architecture and user experience within each unique type of page in the new website. The UX design process is a foundational phase of the website design process. It allows stakeholders to solve experiential issues within the website without the distraction of visual design.
Wireframes are created and uploaded into a prototyping tool that allows our design team to collaborate directly with all project stakeholders by enabling them to interact with the page layouts and leave sketches, markups and comments directly on the wireframes for our team to discuss and iterate upon.
The UX design process ensures that everyone gets on the same page early and understands why structures, layouts and design decisions are made before engaging in the creative user interface design phase.
Essentially, this is how we solve most of the experiential challenges within the old website.