Website design for the Ontario Government with emphasis on performance and strict accessibility compliance.
Unlike web design for business-to-business or other industries, website design for government agencies is often rather straight forward and let's be honest – boring. However, after meeting with ELTO initially, we found that this project offered a unique opportunity to take a high traffic government website and breathe creative life into it. Given how rare this circumstance is, we jumped at the chance.
Website Design Goals
Responsive design – perhaps the most important web design goal for the new ELTO website was to offer a fully responsive content experience to users seeking to engage with the government agency. Through our initial research, we found this to also be unique in the sector as many government-managed websites tend to stay behind the contemporary trend to play it safe.
Multi-language, multi-site WordPress website development – as a government agency, ELTO is required to offer all information in both English and French. Rather than manage each language independently, we elected to develop the new website as a WordPress multi-site to allow easy management of both languages through a single WordPress installation.
Strict accessibility compliance – WCAG 2.0 AA and AODA compliance were absolute necessities for government operated public facing websites. Through our compliance experience and thorough in-house testing, along with ELTO's external support, we were able to meet the grade with relative ease.
Speed and performance – The ELTO website required exceptional speed and performance enhancements to ensure that all users, specifically those in rural and low bandwidth scenarios had complete access to the website at all times. In addition to our website design and development considerations, the employment of a managed web host and content delivery network helped to achieve a consistent rate of high performance.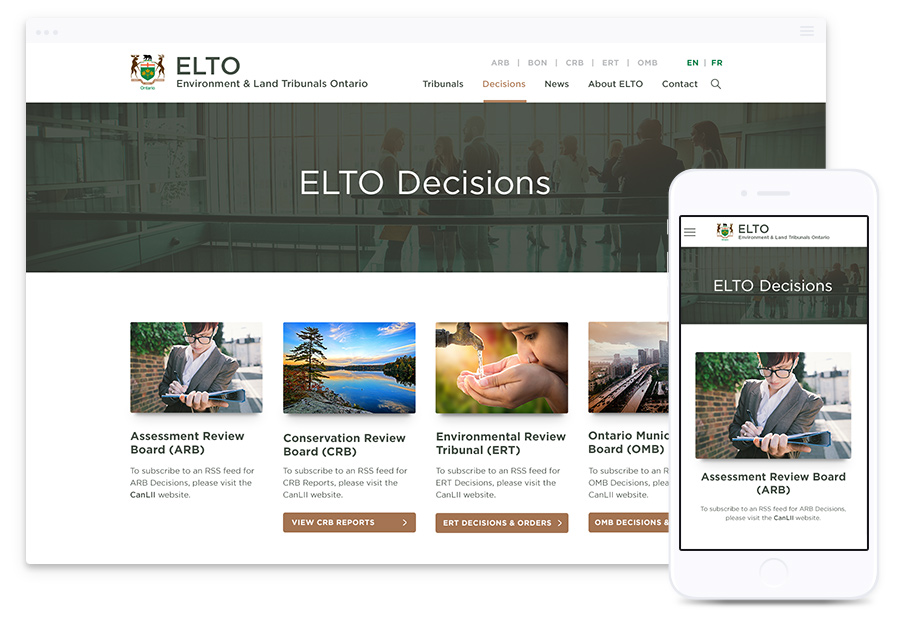 Our Website Design Process
Strategy and Research
To begin our website strategy and research, we often download and analyse our clients' Google Analytics to identify what is currently working well on the website, what areas are in need of improvement and what information users access most on a day-to-day basis. From this data, we begin to form a website design plan that serves as a guide throughout the creative and development phases of the project for both our team and our clients.
However, in this case, the website analytics data was not available to our Toronto website design team. Relying on our years of experience planning, designing and building professional websites, we developed a web design strategy to move forward without hard user data.
Through our industry web standards analysis, we discovered that virtually no other agency had broken free from the expected government agency templated design approach to offer a truly engaging and responsive experience. We then set our focus on creating what may be the first website of its kind in the government sector.
Working together with ELTO staff we first created a sitemap of the existing website to ensure we captured all individual pages and content. The original website featured five levels of navigation that we identified as a critical area in need of improvement. Additionally, through this process, we began working to consolidate deep page content and develop consistency in page naming and overall website architecture to improve user experience and navigation.
Following completion of our site mapping exercise, we moved on to our interactive wireframing phase. This practice allowed ELTO staff to become fully engaged in the planning of the new website architecture and provide additional insight into how the public uses certain features and content within the website.
"Our IT department helped us vet several Toronto web design companies for our website redesign project. After meeting with Parachute Design and learning more about their in-depth knowledge and experience, our decision to engage them to create our new website was easy. Parachute took the lead from the start and made time to explain and explore with us to ensure our team was on board with all ideas put forward for approval. I would highly recommend Parachute Design to anyone in need of a professional new website!"
Elizabeth Lachowski (MAG)
Manager Communications & Business Transformation, ELTO
Web Design and Creative
Approaching the new website design for ELTO required careful consideration of how to present lengthy content in an easy to read and accessible format. Our solution stemmed from a core design principle of breaking up significant amounts of body copy into more reasonable lengths to allow readers a slight pause to fully absorb what they're reading.
This approach was also instrumental in creating a website design that was multi-language "friendly" and able to meet the strict accessibility standards outlined in WCAG 2.0 A and AA compliance. To achieve these goals, we elected to use larger typography with a more open line-height. This approach, in addition to increased contrast between text and background elements, ensures that the finished website design is easy on the eyes, comfortable to read and passes the compliance testing with flying colours.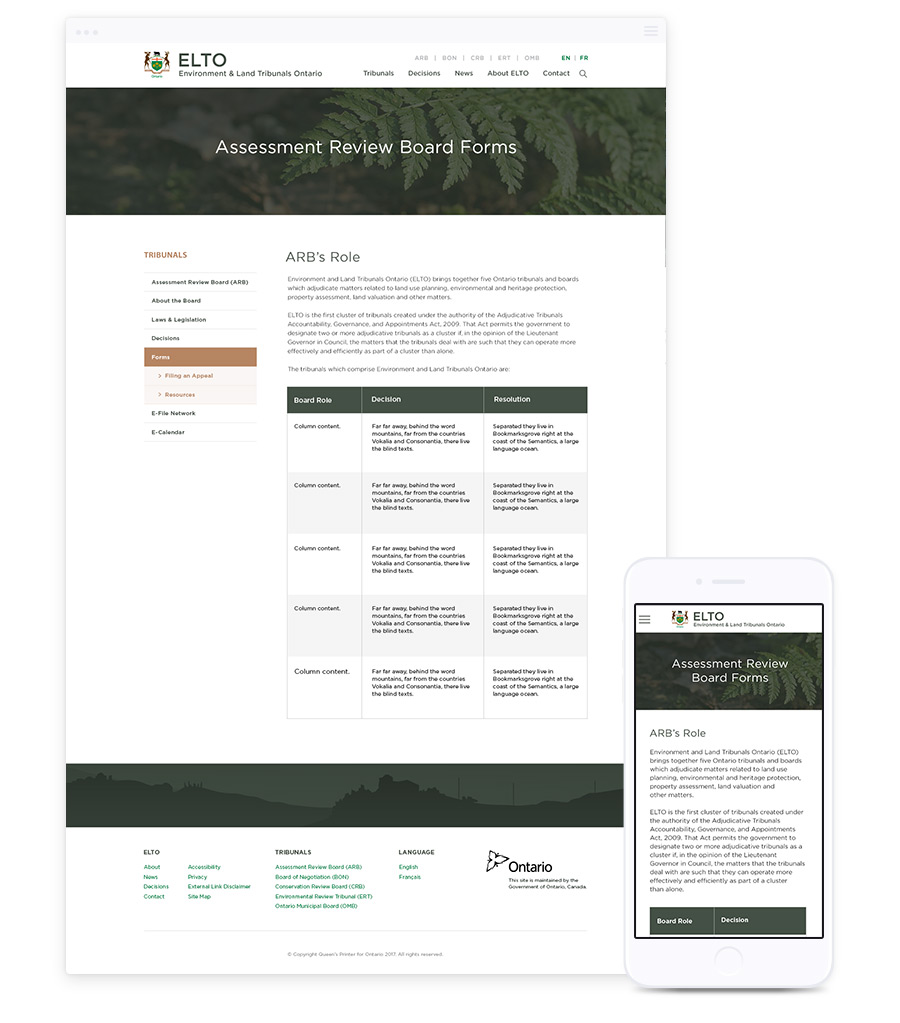 Another design consideration to be made was image selection. Beyond the expected cultural diversity for a government agency website design, there were certain scenarios and subjects we were to avoid. For example, as ELTO deals with land and environmental issues in Ontario, images featuring windmills were banned given that they tend to spark heated public debate.
Lastly, to meet all of our web design goals we gave attention to website performance. Creating a balanced, yet simple design that could be served up and cached effectively ensured that the website surpassed the speed and performance requirements put forth at the beginning of the project.
Custom WordPress Theme Development
With the full approval of the ELTO board, we developed the brand new responsive website design on a fresh WordPress multisite installation. Leaning on our experience developing custom WordPress websites our web development team modified the open source code to include many of the necessary features and enhancements this website required to meet its speed and performance goals. This measure allowed us to avoid reliance on third party plugins to achieve the results that can often create conflicts with other functions with the website or hosting web environment. This solution ensured that we delivered a high-performance website with reduced annual expenses to maintain third-party plugins within the WordPress install.
As part of our quality assurance testing, we entered all English and French website content to ensure that the content management features were operating in good order. By adding page content internally, we also allow ourselves the opportunity to go through the website and hand test every page to ensure all content is displaying correctly and functions are smooth and seamless.
Website Deployment and Ongoing Partnership
ELTO requested that we handle the web hosting and ongoing management of the website as out team naturally understands the website front to back. At our recommendation, ELTO agreed to host the website with our preferred hosting partner WP Engine to ensure we had the best-managed WordPress support and security available. Given that we are working with a specialised web host, the deployment process was silky smooth, and our day-to-day management of the website, secure and most importantly, backed up!
About Parachute Design
Parachute Design has been at the core of the Toronto web design industry since 2003. Our years of experience in custom WordPress web design and development is a tried and true asset to helping our website design clients meet their online marketing goals.
To get a quote for your next project contact our Toronto web design company at 416-901-8633 or complete our online quote request form.