A hand-crafted website design for Canada's top travel and adventure brand.
Every now and then, an opportunity lands in our lap that leads to a true passion project. In this case, working with a prominent Canadian travel and adventure brand to inspire Canadians coast-to-coast to explore our beautiful country, visit iconic locations and embrace our wildhood.
Already familiar with Go RVing Canada, we jumped at the opportunity to get involved in the revitalization of such an important brand. A brand not only important on a personal or national level but essential to all Canadians struggling through the COVID-19 pandemic and loss of freedom and connection with nature due to continuous lockdowns and stay-at-home orders. Redesigning this national website to improve marketing communications and immerse Canadians in the RVing lifestyle was an extraordinary opportunity for our team.

Website Design Goals
Analytics discovery – a deep and thorough dive into the website analytics and tracked user metrics to identify user personas, technologies used to consume the website and develop advanced search engine optimization strategies.
Digital brand refresh – out with the old and in with the new! Our web designers took a mobile-first approach to the user experience and interface design on the new website to build a faster, more intuitive experience with today's website users.
Branded website user interface design – approaching the new website interface design with clear goals in hand to provide more interactive tools and resource guides and celebrate and educate users on the RV lifestyle and experience.
Custom WordPress development – adopt a flexible multisite environment to easily control and manage the English and French websites independent of one another, but through the same powerful WordPress CMS.
Systems integration – full integration with an external headless CMS powering the interactive trip planner, automatic trip guide curation and many other interactive database-driven tools.
Search Engine Optimization – building off a substantial SERP footprint to grow the brand in 2021 and beyond, technical SEO and content marketing strategies were woven into the web design and development process.

The Web Design Process
Approaching a new travel and adventure brand website design in many ways requires a different approach to discovery and research. As the first phase in our web design process, we dive headfirst into website analytics, competitor analysis and perform a series of web crawls to identify the website's current SERP footprint. In understanding Go RVing Canada, its goals and the connection between website users and stakeholders, we found much more at play than meets the eye.
The website traditionally focused on connecting users with interest in RVing to a Canada-wide network of RV dealers. This goal provided excellent visibility and conversion for RV dealerships and rental outlets but left many users feeling a bit confused as to what the website was offering them.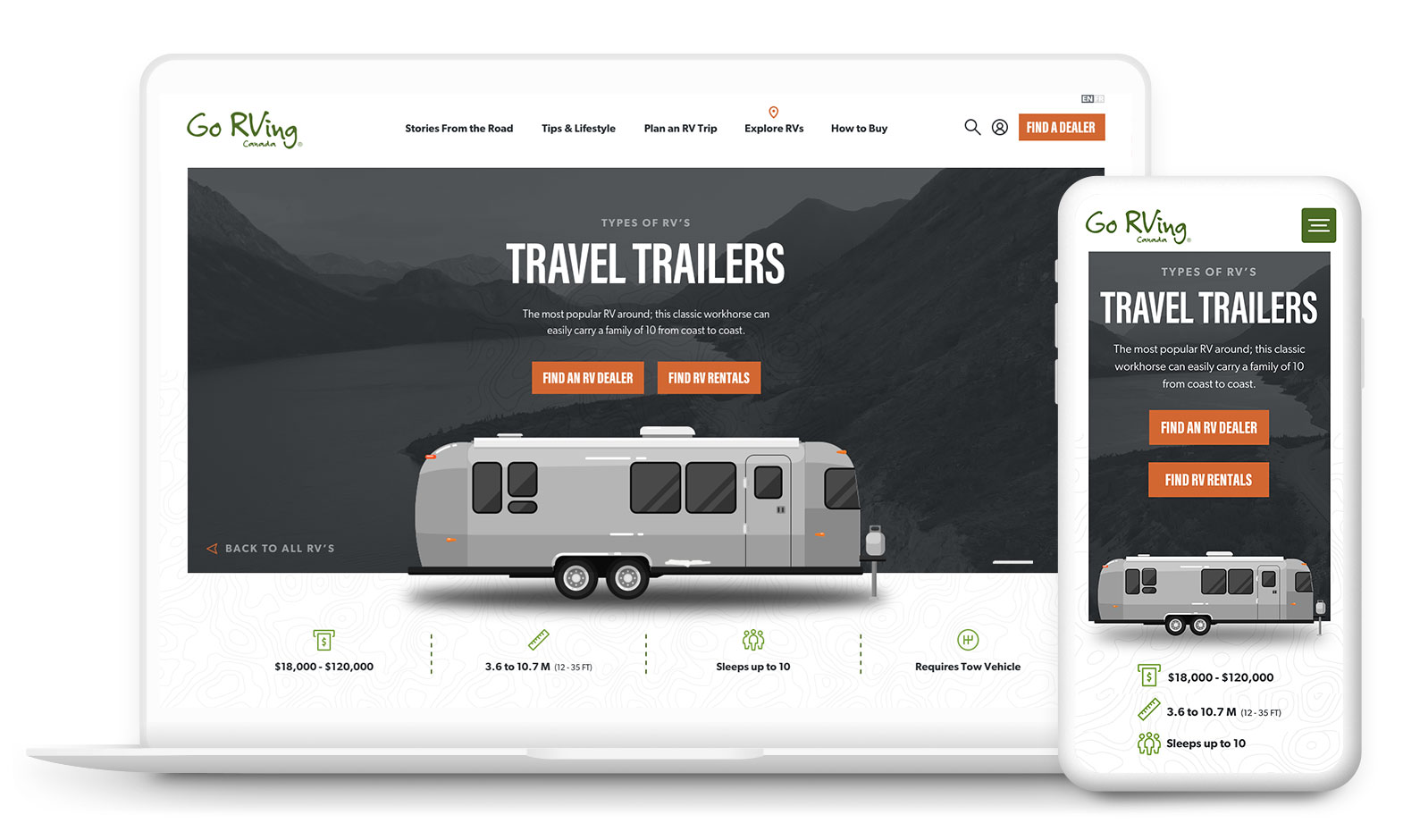 With this new website design, we worked with Go RVing Canada to introduce the RV lifestyle into the brand and support the digital marketing while still providing stakeholders with the marketing value to their dealerships. To do so, we overhauled the navigation and reconfigured the user experience from the ground up. This change allowed our creative web designers to imagine a whole new experience to attract and showcase the RV lifestyle through carefully curated stories, celebrity RV trips and RV resources.