---
Your website is outdated and underperforming?
We hear these common pain points all the time.
Book a Call
Our website is underperforming.
For years you've been comfortable just "getting by" with your ageing site, but the competition has invested in a redesign and is now stealing your traffic.
Our site is hurting our brand.
Cheap templates may seem like a good idea at first, but leave your site underperforming looking just like everyone else's which damages your brand's credibility.
We tried to do it ourselves.
You thought Joe in IT with his extensive networking experience could bring your digital marketing into the 21st century but the results just aren't there.
Successful web design requires creativity, experience and technical know-how.
You want your business to grow and want nothing to stand in your way. Our creative web designers have decades of experience transforming dreams into highly functional marketing machines.
Data-driven strategy
We don't take shots in the dark. Every website we design is based on loads of data analysis, UX strategy and good old-fashioned experience.
Creative ideas that convert
Not only does your website need to stand out from the crowd and turn heads, but it also has to consistently turn casual browsers into paying customers.
Measured only by success
When the dust settles we want to make sure the new website looks fantastic, but the true measurement for success is based on your marketable growth.
---
THE COMPANY WE KEEP
"Parachute is a real pleasure to work with. We've thrown a number of projects their way with limited time, and they've been able to make magic happen for us every time. I'd recommend their work to anyone looking for a reliable web team with a creative eye."
---
Hand-crafted website design just for you.
01

Discovery and Research
The first step in our web design process focuses on learning all about you, your business and your brand. We have crafty ways to pull key information out and help define the creative direction.
We analyze your current website and digital marketing to understand how people are finding it, what they're interested in on the site and where they're having trouble navigating. Then we compare this to your top competitor's websites to identify the gap we need to close.
02

Insights and Strategy
Once we have a thorough understanding of the lay of the land we review these mission-critical insights with you and your team and explain exactly how we're going to make adjustments to improve user experience and brand perception.
We walk stakeholders through a site mapping exercise to address navigation design and follow that up with a completely immersive and comprehensive user experience design exercise.
03

UX Design
We work together to create detailed wireframes for each and every unique page that will exist in the new website to help everyone visualize the information architecture of the new site and clearly map out the new user journey without the distraction of design.
04

Creative UI Design
Finally, with a sturdy foundation of research, data and hands-on strategic design collaboration with you and your team we get to the creative design phase. Our expert web designers transform all our conversations, information and hard work into beautiful, high-fidelity responsive design concepts for desktop and mobile.
05

Website Development
Our expert web developers work closely with our design team to stay in tune with the creative process and flow. When the final artwork is ready for execution, they take over and work their magic to turn the high-end website design into highly optimized code.
06

Quality Assurance
Before the new website rolls off the assembly line, we stage the site for final testing and quality assurance. This is our opportunity to put the new website through its paces and make sure everything is absolutely perfect. Accessibility compliance and performance benchmarks and checked pre-launch to ensure a smooth, successful transition to the production environment.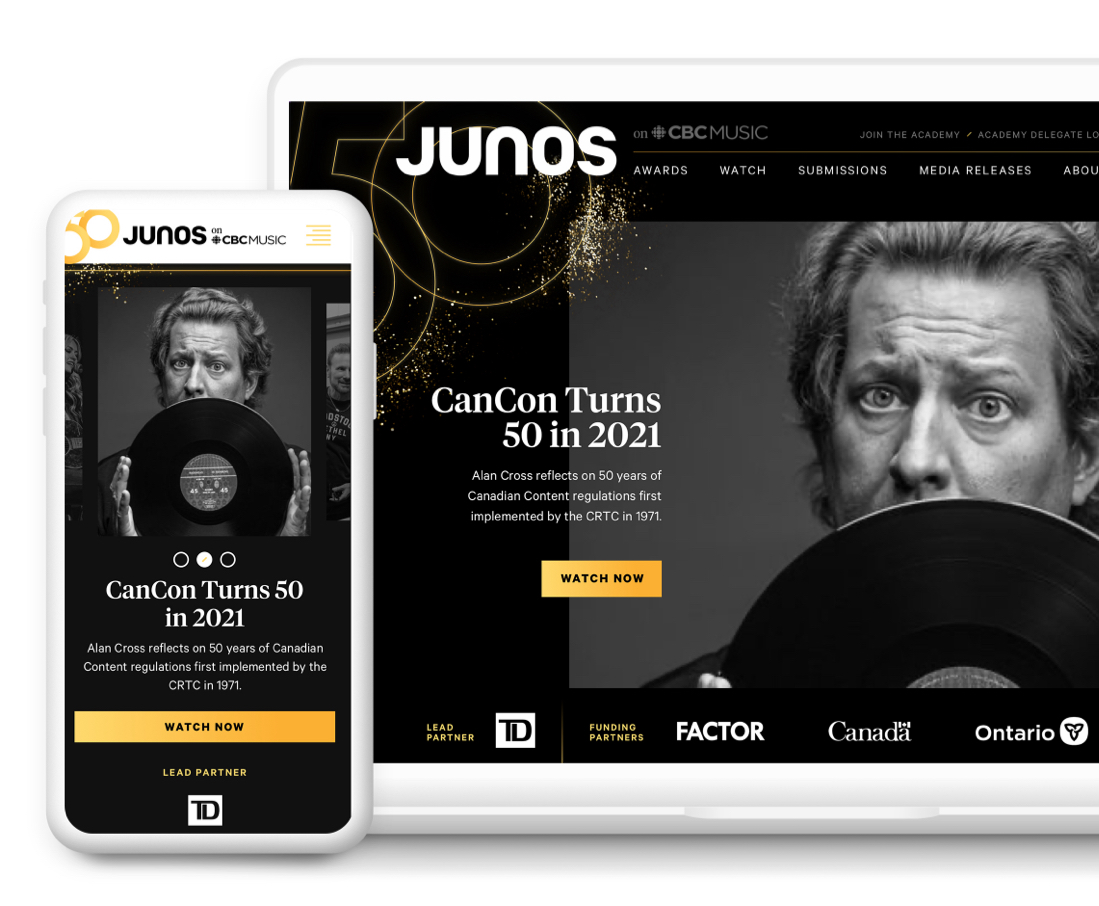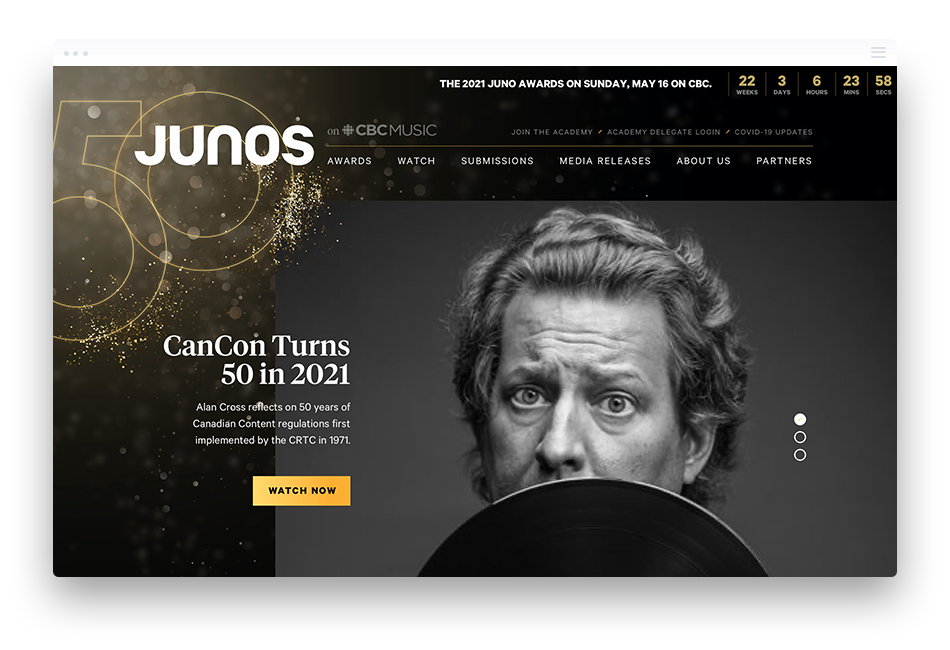 FEATURED PROJECT
The JUNO Awards
Go backstage with our Toronto web design agency for an all-access pass to our website design overhaul and strategic planning behind the new JUNO Awards website.
UX Design
Information Architecture
Responsive Web Design
Art Direction & Consulting
Custom WordPress Development
Website Development
Search Engine Optimization
View project
Let's make something.
Everyone with a laptop and a 5 o'clock shadow is a "web designer" these days. What sets our web design agenct apart is that every project is carefully planned and tailored to your business' needs and goals.
Start a project