---
Does your brand promote growth or weigh you down?
There's many reasons to update your brand.
Book a Call
Your brand is old and dated.
Even the best brands in the world need a little refresh every now and then. If your brand is feeling tired, a subtle refresh can make a world of difference in consumer perception.
Your marketing is inconsistent.
You love your brand, but your marketing materials are inconsistent with your identity. Showcasing consistent design throughout your marketing builds consumer trust and confidence.
Customers expect lower prices.
You want to market your products for what they're worth, but your brand is weak and you're finding that customers expect lower prices that match your bootstrap brand identity.
We design high-end custom brands that stand the test of time.
Through a series of strategic brand exercises, our creative designers bring your brand to life through custom logo design and branded marketing assets that tell your story, support your product and leave lasting impressions on your audience.
Brand strategy.
A sound strategy will make or break any brand. Our approach is to understand you, your business, goals and who you're competing against before we even consider conceptual design.
Custom design.
Everything we do is carefully crafted by hand specifically for you. No templates, no stock, no nonsense. Your new brand is 100% unique and tailored specifically to your needs.
Brand extension.
Once we've laid the foundation for your brand we extend it throughout various marketing assets like sales presentations and pitch decks, business systems, ad design and more.
---
THE COMPANY WE KEEP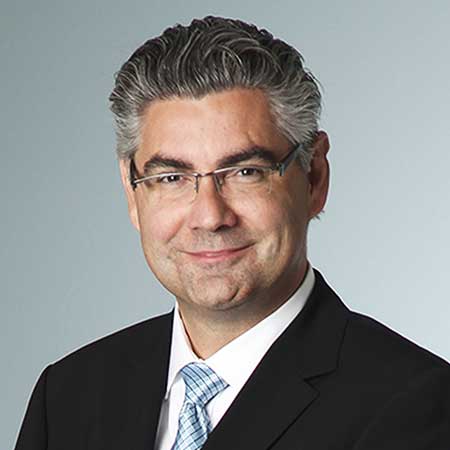 "I've had the pleasure of working with the Parachute team for over a decade. In my experience, I've never worked with a design team that is as knowledgeable or as responsive as Parachute. Parachute has helped our firm through a challenging rebrand and several website iterations and I couldn't imagine doing it without them."
---
Professional, hand-crafted brand identity design.
01

Brand Strategy
First things first – we conduct a series of research and discovery exercises to get to know you, your business, your goals and who you're going to be competing against for a piece of the pie. This strategy work will define our direction and provide a road map for all of the brand assets to follow and is the first step in building a brand.
02

Logo Design
A logo design is the cornerstone of your brand. Your logo should be simple, versatile and memorable. It's most often the most recognizable brand element in your marketing toolbox.
Learn more about our logo design services.
03

Business Systems
Most businesses require a business systems design that includes business cards, letterheads, envelopes and presentation or sales decks that can be static PDFs or fully immersive and interactive presentations.
04

Digital Marketing
Whether you run Google ads or prefer to target your audience with marketing automation like email campaigns and social media retargeting, our creative experts can do it all. We will build out your entire marketing library to ensure consistency through all your communications.
05

Print Marketing
Many businesses publish annual reports or participate in industry tradeshows, while others have printed brochures to leave with potential customers that are not quite ready to buy yet. Ensuring these assets are consistent with your brand and marketing will make them more effective tools in your marketing arsenal.
Learn more about our graphic design services.
06

Responsive Web Design
Custom, responsive web design is the most powerful marketing tool for any business. Have a fully branded website that has all the powerful marketing tools built right in is necessary to achieve success in the digital age.
Learn more about our responsive web design services.
07

Brand Identity Guidelines
Often referred to as your brand bible, the brand identity guidelines play a crucial role in the deployment and application of your brand. They tell vendors of all marketing aspects how your brand is to be used, provides access to brand elements such as typefaces or fonts, corporate colours and even photography.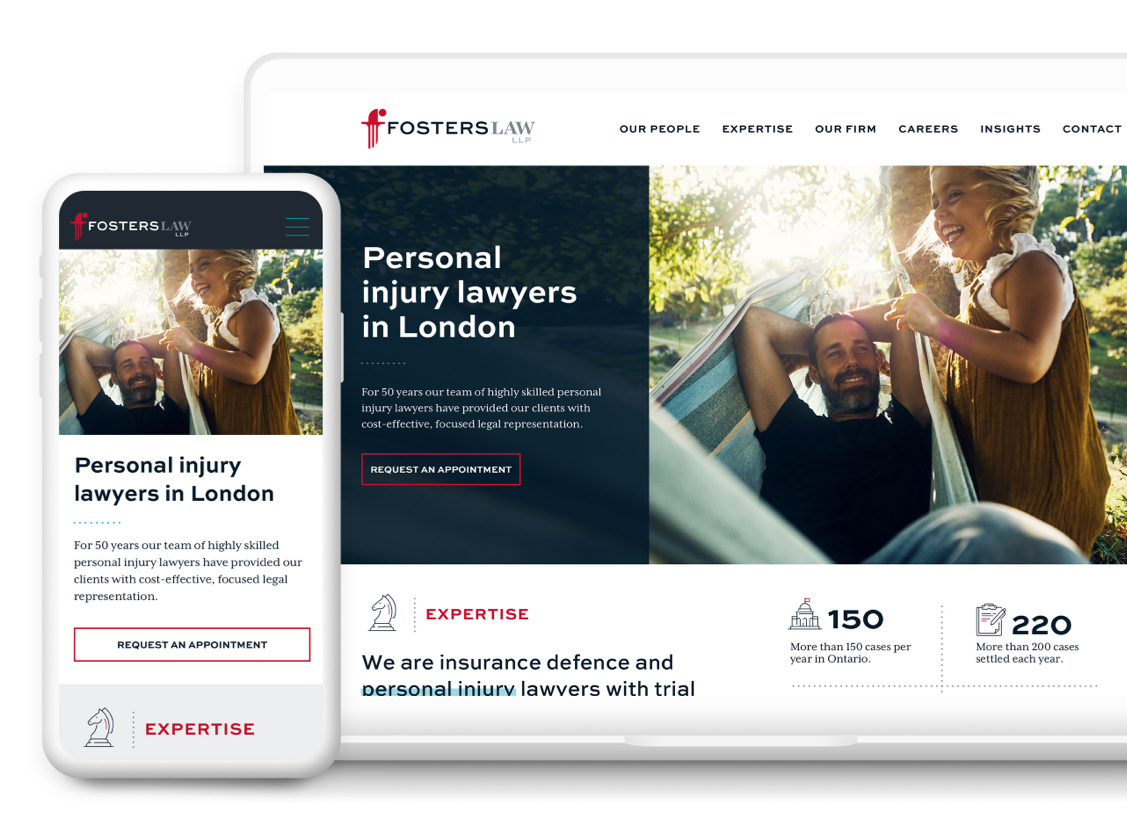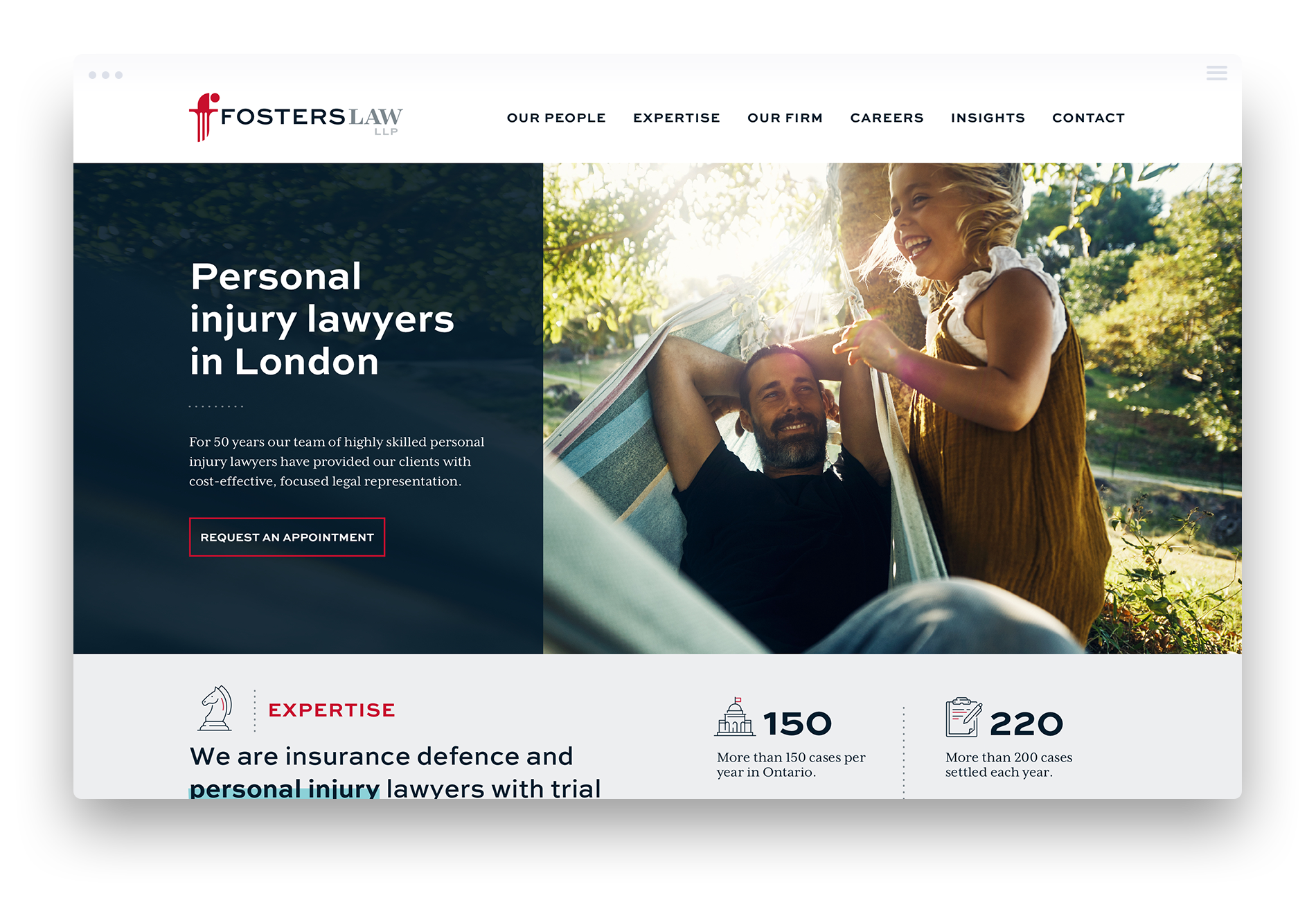 FEATURED PROJECT
Fosters Law LLP
A detailed look at the fruits of our long-standing relationship with a revered law firm based in London and Toronto, Ontario.
Logo Design & Branding
UX (User Experience) Design
Responsive Website Design
Custom WordPress Development
Art Direction & Consulting
Search Engine Optimization
Conversion Rate Optimization
View project
Get a quote to build your brand.
Don't mess around with the most important aspects of your business. Speak with our brand specialists today to learn how our expertise can help grow your business.
Book a Call