Custom logo design and responsive website design for a Toronto-based insurance company.
Through a mutual digital marketing partner, we were introduced to Navigators to help them transform their brand image and digital marketing to match their recent growth and showcase the company both as a service and thought-leader in the Toronto market. Following our initial brainstorming session, we began building our project plan to help Navigators achieve their goals by year-end.
Establishing Branding and Web Design Goals
A custom logo design and brand evolution – the first stone to be laid in our journey would be a new custom logo design to represent the firm's growth and serve as a platform for the digital marketing work to follow.
A beautiful website user interface design – as step two in our corporate rebranding, we tore down the existing website architecture and carefully mapped out a new user experience to foster improved conversion rates and ease of use for customers, all wrapped up in a beautiful new website design.
Responsive calls-to-action and methods of conversion – within the new web design, we aimed to include the functionality through the WordPress CMS for Navigators to offer alternative and responsive means of contact for new leads as well as responsive on-page marketing tools to better communicate with customers.
Customised resource promotion – as part of many contemporary marketing plans, offering free, downloadable resources for existing and potential customers are quite popular. Through our custom WordPress website design and development, we aimed to create quick and efficient tools for Navigators to focus their resource promotion to a captive audience at the right time.
Our Branding and Web Design Process
Brand Strategy and Research
We believe design should be an adventure and should always be fun. To get our clients started on this path, we begin with a questionnaire that we have crafted over the years to break the ice and get our clients laughing and ultimately open to sharing thoughts and ideas that are spontaneous and reactionary rather than carefully formed and guarded. With this information, we begin to develop a real sense of how our clients view their brand, their business and often their role in the brand as a whole. This spontaneous feedback is often more important than the calculated elevator pitch because it's not formed through external opinions or based on how the client believes they should be seen. Using this methodology as a critical element in our research allows our design team to weave our clients' actual vision and personality into our work.
We also like to take a look at other notable brands within the industry to equate ourselves with trends and competition tactics better. This information often translates into colour choices, typographic approach or even image selection and style as we move through the brand development. Understanding what direct competitors are doing with their digital marketing, search engine marketing and general website design is also critical in establishing benchmarks for our finished design so that our client comes out the get ahead of the pack.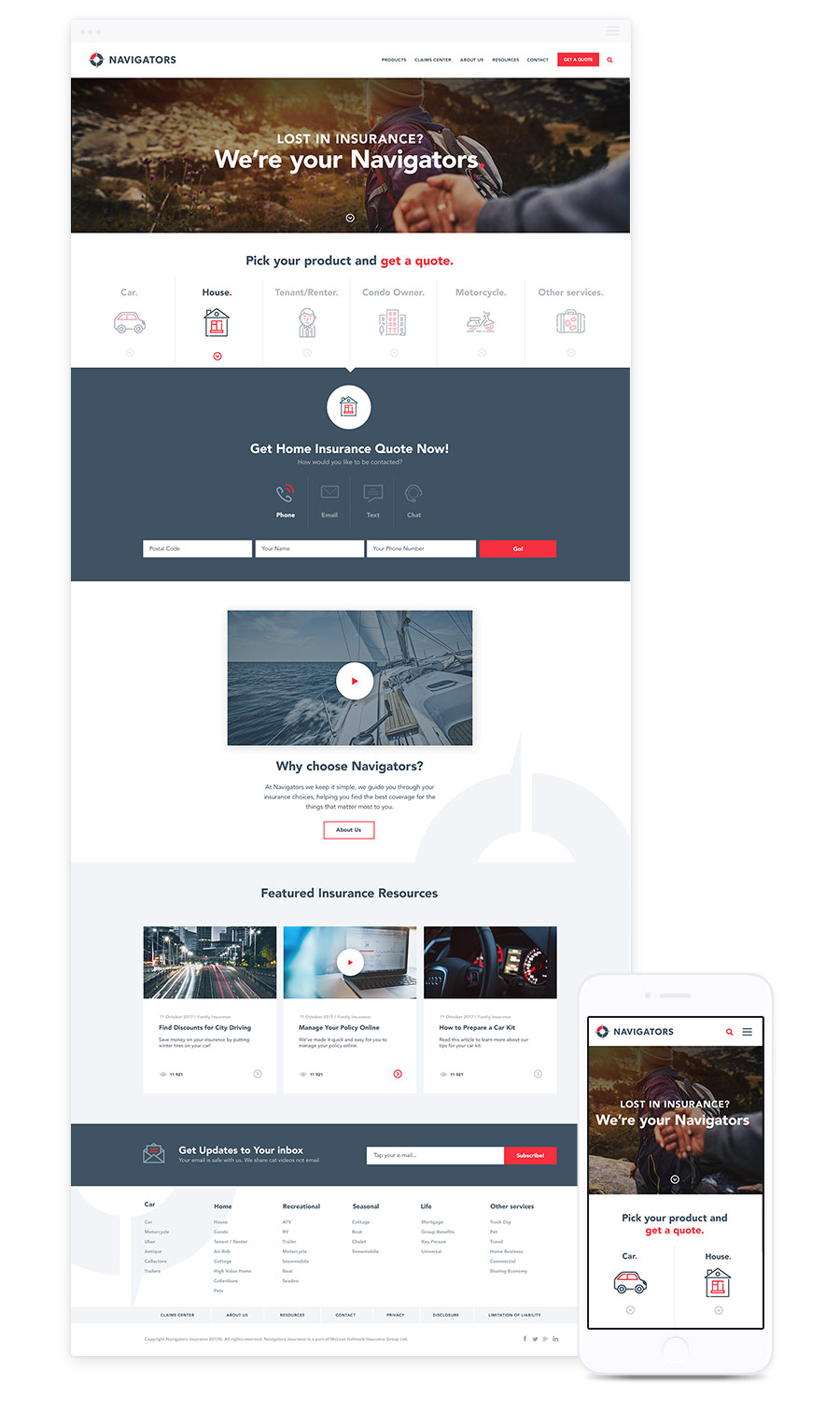 To begin preparing specifically for the new website design, we also take a look at our client's current web analytics to form an understanding of how the current website is used by customers and leads and identify areas where we find a significant drop off so that we can develop a plan for improvement.
With our initial discovery in place, our Toronto web designers began work on the website strategy component. Starting with an overhauled sitemap to address vital navigational improvements as well as user flow throughout the website to valuable content and conversion points. Viewing the website mapped out in this format often gives our clients a visual sense of the website and pathways to sales as a whole.
Following our site mapping exercise, we began to develop the new wireframes for the website. Wireframing allows us to plan and build out the new page architecture and give life to our new user flow and conversion strategies in a visual way that our clients quickly understand. This period is also an opportune time for our clients to provide insight and feedback in the early stages of the new web design.
Wireframing focuses attention on the function of the website and content without the distraction of design elements. In doing so, this practice limits the needs for excessive design changes later on ensuring we maintain a very fluid and somewhat predictable project timeline.
Logo Design and Brand Evolution
While our web designers worked away on developing the sitemap and wireframes for the new website, our Toronto logo designers began their conceptual design work. As with most logo design projects we undertake, we spend a few days exploring concepts and ideas ensuring we can push past the most obvious and common symbolism or representation of elements. Before reviewing our initial groundwork with Navigators, we pared down our sketches to three finalists representing the same message and ideas but offering a unique look through form, design and typographic approaches.
Through the process of revision, Navigators quickly added their personal touch to the selected logo design concept and our team of design professionals neatly polished off the new brand. Final stages included the development of the new brand guidelines manual to support the new brand and ensure the logo, colour palette and typography remain consistent throughout further applications of the brand design.
Website Design and Creative
With web design strategy and new logo design in-hand, our Toronto website design team kicked off the creative phase and began to bring the wireframes to life with innovative user interface design. As the initial page layouts came together, we invited the entire team to review and experience them in context using our digital prototyping tool. This exercise not only allowed both sides to communicate clearly and efficiently with artwork in view but also offered an authentic look at the new web page design in action.
With the initial website design concept approved, our designers quickly worked through the design expansion carrying the design through the entire set of wireframes our teams created in the web design strategy phase.
As the design of the complete desktop website design experience was nearing approval, the responsive mobile layouts came to life in the prototyping engine for review and discussion before sign off and official approval for both frontend and backend web development to begin.

Corporate Brand Extension
A key challenge we faced within the new website design project was first establishing iconography that was representational of Navigators insurance products and services, which quickly evolved into the need for a complete family of icons including subcategories and resources. To make the icon design unique and ownable by Navigators we first created the "parent" icons that would represent each product as a whole. Then, using line weight, style and colour elements from the new brand, we expanded upon each parent icon to include subsets within each category to offer consistency and clarity within the new website design and user experience.
Custom WordPress Website Development
As our creative web design team worked closely with Navigators to finalise the new responsive website design, our web developers began laying the groundwork for the new custom WordPress content management system. We design and build all websites from scratch to avoid having to rely on a rigid template or limit what we can achieve both in design and functionality. This methodology allows our Toronto web design company to hand-craft every website to our clients' specific needs and preferences.
While the WordPress backend began to take shape on our private development server, our front-end developers began transforming the beautiful new user interface into compliant HTML and CSS that would later merge with the WordPress backend.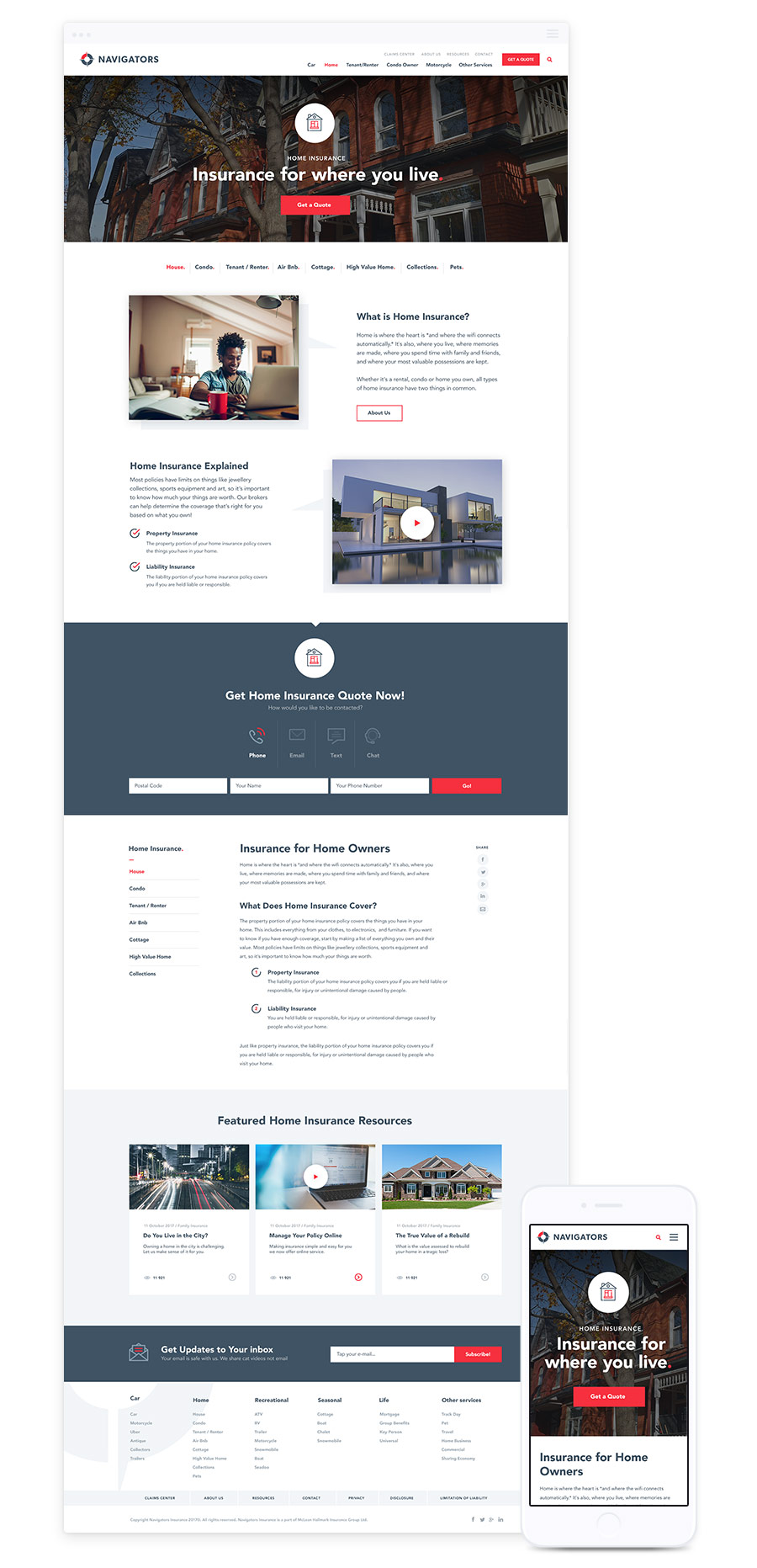 Navigators marketing strategy offered a unique opportunity on the website to not merely funnel leads into a standard quote form, but instead customise the form for leads interested in specific insurance products and offer multiple methods of contact and follow up between Navigators and their customers. This flexibility included the option to request a customised quote by email, phone text or even live chat that could allow the follow up to be scheduled around the customers day or evening.
A week or so before our targeted launch date our team released the beta website for review and quality assurance testing. As our web development team entered page content, finalised imagery and implemented our standard on-site search engine optimisation best practises, Navigators was also invited to participate in the testing process. Engaging our clients in this manner encourages them to begin to take ownership of the new website as well as grant them a final opportunity to request any adjustments to the website before deployment to the public.
Website Deployment and CMS Training
As we completed our quality assurance testing period and Navigators gave us the green light for website deployment we package up the website code and content database for instalment on the new managed WordPress host.
One of the many advantages to working with a managed WordPress host is their knowledge of the system, its requirements and how best to deploy the website quickly and efficiently limiting any downtime or interruption in a business' marketing efforts.
Following deployment and our post-launch quality assurance period, we offered our client our customary WordPress training session to get to know their way around the new website and its many tools before handing over the keys and stepping back into a supporting role as Navigators took the wheel.
About Parachute Design
For fifteen years Parachute Design has been at the forefront of web design in Toronto. With this experience, we have developed a tried and true method and understanding of best practices for business to consumer website design. In addition to our website design experience, our creative team boasts the skills to hand-craft custom logo design for any business. To learn more about our design services in Toronto or to request a proposal, please call 416-901-8633 or complete our handy proposal planner.