A bold leap in corporate website redesign and development for a global leader in architectural project management software.
In 2017 Newforma underwent significant personnel changes at the management level. Soon after the new management team acclimated themselves within the international company, changes began rolling through the organisation from the top down. Leaner and ready to rebrand, Newforma contacted our Toronto web design company several months in advance of their rebranding initiative to discuss working together and begin building a website design strategy.
Following several initial meetings and conversations about the new direction for the project management software company our team prepared an initial project scope and laid the groundwork for the discovery and strategy work that would follow.
Establishing Website Design Goals
Total branding overhaul – as the foundation of any business, the core branding and logo design is paramount to its ability to market itself and be memorable. Newforma first fine-tuned their logo design and colour palette before we explored the complete branding overhaul to refocus the website design and online presence.
A total website redesign – our initial strategy work reshaped the overhaul navigational and user experience for the corporate website design. Through this initial groundwork, the new interface design and engaging user experience unfolded naturally through our tight-knit collaboration.
WordPress development – to deliver a seamless experience throughout Newforma's target markets around the world, we developed a custom WordPress multi-site with language support for English North America, France and Germany. The custom deployment allows Newforma to self-manage all languages under one central content management system.
Our Web Design Process
Discovery and Strategy
The best place to start discovery is with the client. Our web design company relies on a kick-off questionnaire that we've developed and fine-tuned over the years. The survey is designed to allow our creative team insight into the history of our client's business, as well as their future vision and brand marketing plans. As our clients progress through the kick-off questionnaire, we also present them with a series of questions that are designed to discreetly allow the reader a break from the more serious discussion and think of themselves and their business as everyday items, such as a shoe, or type of car. These questions are particularly relevant to our discovery as they give us a unique perspective on how our clients envision their business and themselves on a very personal level. The information we collect helps form the creative direction to follow later on in the project.
Another critical element to our discovery work is website analytics. Most businesses now have Google Analytics installed, but for those that do not, we often install the tracking code before commencing the project to enable our professional website designers to understand who is currently using the existing website, how they're finding it and what information they're accessing the most within the website. The analytics data offers us a pretty accurate look at how the current website design is performing both in terms of user experience and organic search.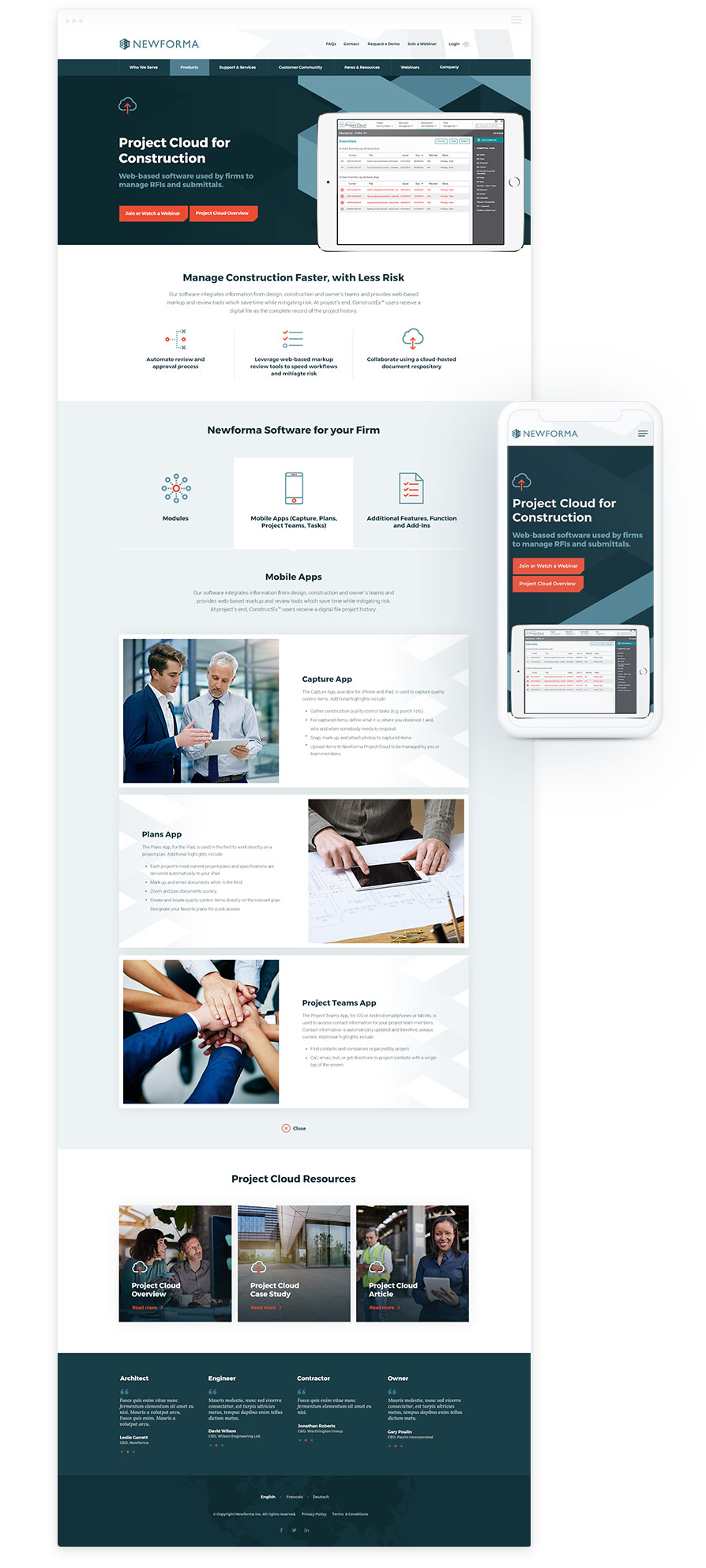 Following our initial discovery work, we move into our website design strategy phase. Using a combination of our web design experience and information collected during our discovery phase we begin building a new sitemap. The sitemap functions as a visual representation for our clients to understand where each page in the new website design will live, but also how everything is connected and where we've identified shortcomings in the current website experience and how we intend to correct them.
With sitemap approval, we move on to wireframe design as the next stage in our website design strategy phase. During wireframing, we begin to develop an initial blueprint for the new website architecture and page layouts. Referring to our discovery and earlier strategy work we begin to determine the new user flow and conversion strategy that will drive the new website's success rate. This step in our strategy phase is where the excitement often begins to build for our clients as they start seeing the new website take shape. The website wireframes are loaded into our prototyping platform allowing both our team and our clients to experience the redesigned navigational experience as well as markup the layouts with sketches, comments and collaborative discussion.
Corporate Website User Interface Design
After finalising the wireframes and with approval from the client, our creative team digs in for the more exciting part of any website design project – the creative design phase. Everything our team has collected, studied and created through discovery and strategy now gets woven into a beautiful new website interface design that is custom tailored to our clients' needs and vision. In Newforma's case, the new website featured a full brand overhaul showcasing more intuitive and efficient navigation, stronger colour palette, high-quality photography and video to boot.
As with the wireframe review, the new website design was placed on our prototyping tool giving Newforma a real sense of the revamped experience created for the new website. Through this collaborative process, our teams worked together to refine and polish the all-new website design concept before expanding the concept across the full set of wireframes.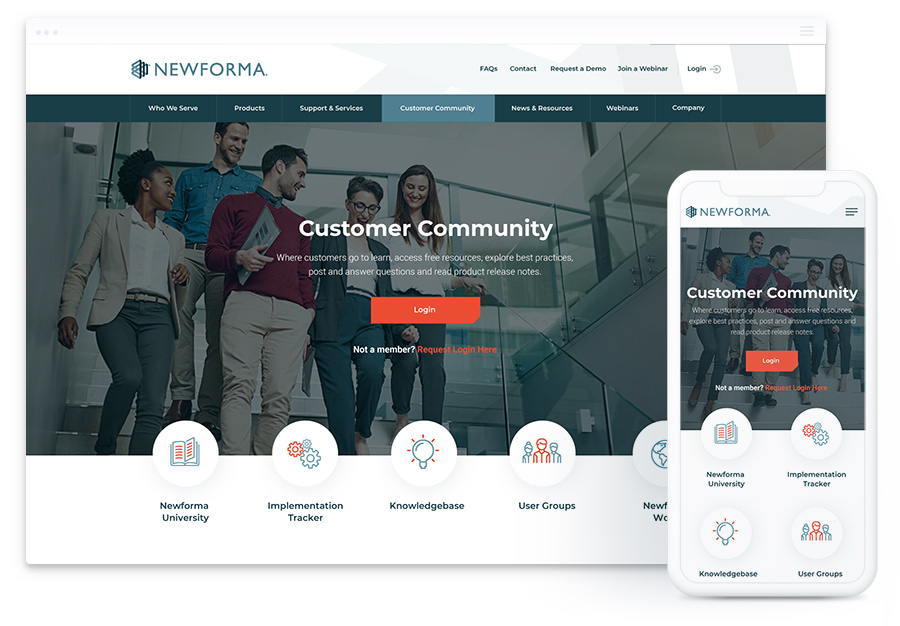 A key challenge we faced during the interface design phase on this project was the introduction of the new features and ideas mid-way through the project. This type of occurrence is not unusual and relying on our years of experience we were able to quickly gauge and adapt to the changes and interweave these into the emerging website design.
Of significant note, these changes included dynamic navigation and rich-content elements primarily focused on the home page. Most notably, the addition of a smart interactive geo-location-based map designed to showcase Newforma case studies in the viewers' native region.
Mobile-friendly Responsive Website Design
Following approval of the desktop interface design, our team divides and begins on front-end website development and mobile responsive web design simultaneously. This process allows us to be much more efficient regarding delivering high-quality website design on a tighter timeline than many other web design firms in Toronto and abroad.
As our development team begins on the groundwork for the desktop user interfaces, our creative team begins adapting the approved creative for the mobile experience and once again shares the design work with our client via our prototyping. Unique to the desktop design review, we're able to present the mobile website design interfaces right on contemporary devices and emulate the mobile navigation to give our client an accurate and immersive experience in which they can review the design work.
With final approval of the mobile interface design, the artwork is made ready and moved over to our web developers to incorporate into their workflow as they bring the new website to life.
"Having worked with Parachute previously, it was an easy decision to partner again when I landed at Newforma. Parachute is masterful with communication and timelines. They will go to work for you immediately and communicate a timeline and delivery schedule to keep the project moving forward. Getting quick turns from them is common, however, I have never experienced Parachute missing a promised deadline, or being anything less than responsive and professional. Parachute will work quickly to understand your target market and how to deliver information to your audience. Parachute was also very flexible throughout the web design and development process – even as our needs changed throughout the project. I would highly recommend Parachute Design to any business seeking website design services. They have earned my respect and business for life; use them once and they will earn yours."
Leslie Garrett, Ph.D.
V.P. of Marketing
Custom WordPress Website Development
Website development is the final major stage of our project workflow. At this stage, our client often gets a reprieve from the review and approval process as our web development team works away at integrating the new website design with the WordPress content management system. All of our websites are entirely custom built to offer the most intuitive and efficient website management system to pair nicely with a beautiful new design.
As the Newforma website required multi-language support, our team first developed the English version of the website for initial beta release to ensure all functionality was thoroughly tested and ready for deployment. Following a course of testing and quality assurance with both our web development team and Newforma's marketing and information technology personnel, we implemented the additional language support for users in France and Germany.
In addition to the development of a new custom WordPress theme and backend admin system, our web developers were tasked with the integration of Newforma's marketing automation platform, Marketo. To create a completely seamless experience our design and development team worked together to customise the appearance and presentation of the lead generation forms within the website to maintain a consistent brand experience and conversion funnel within the website.
Near the end of our web development phase, our content entry experts joined forces with our web developers to maximise the on-site search engine optimization efforts ensuring the new website would go to market with its best foot forward.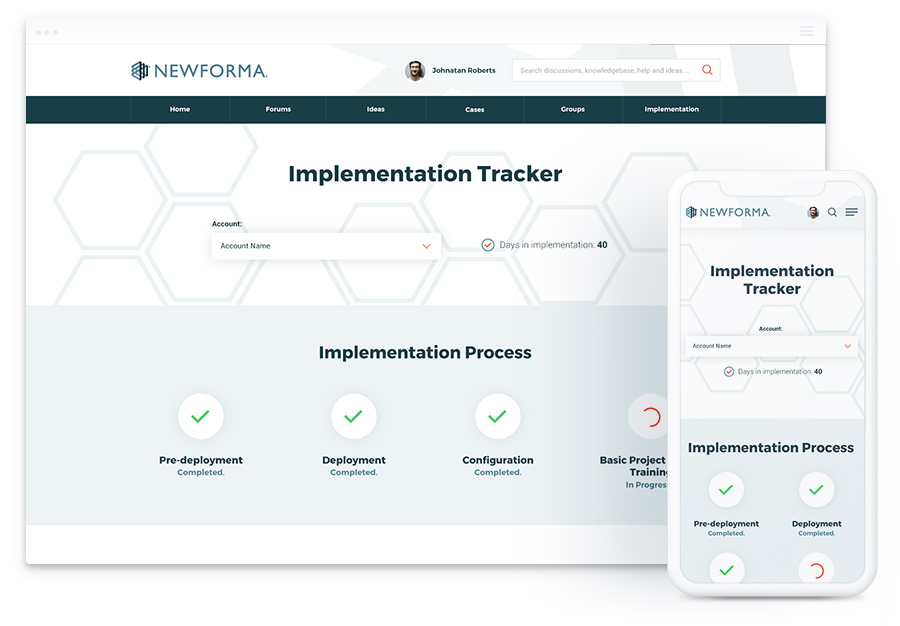 Website Deployment
With Newforma's approval for launch, our website design and development team pushed the new website to the staging server on the managed WordPress hosting platform. After ensuring the website was stable and passed all launch checks, we rolled the site out to production with a smooth launch.
In most website deployments, we prefer to take a 'soft launch' approach to give the website a couple of days to cache and run on the production server. This method allows our team to monitor the website for efficiency carefully and address any last minute bugs or server-related issues before announcing the new website to the public.
CMS Training and SEO Best Practices
The final phase in our corporate website design overhaul with Newforma was to hand over the keys and train Newforma's team on the new WordPress CMS. This online video training session allowed us to demo the backend management tools created for Newforma as well as touch on website and search engine optimization best-practices before the team started publishing new content.
About Parachute Design
Parachute Design has excelled in corporate website design in Toronto and across North America since 2003. Our creative team is complemented by our professional web developers with years of experience in custom WordPress web design. Parachute also offers a range of professional graphic design services including logo design and corporate branding. To inquire about our web design services call us at 416-901-8633 or complete our online proposal planner.