Responsive website design and digital readiness assessment portal development for a leader in the insurance market.
Not too long ago an opportunity landed in our inbox to work with a leader in the insurance world. Unlike a typical insurance company website design project, this 'members-only' digital resource was created to share with Intact Insurance brokers around the world. The concept behind the new tool was to help insurance professionals assess their digital readiness and offer valuable insight and professional resources to help each agent improve their ability to both market themselves, and ultimately the insurance products offered by Intact.
Establishing Our Web Design Goals
A beautiful new user interface design – we were tasked with creating a modern, intuitive and mobile friendly website design that was fully responsive to contemporary devices but also stayed true to the existing Intact branding guidelines.
Quick and intuitive account registration and user experience – relying on our WordPress design and development expertise, we planned to create fully customised and branded experience from start to finish ensuring complete immersion in the Intact brand and digital resources instead of facing navigational or other related challenges.
A user-friendly digital education and reporting environment – following completion of the digital assessment survey, we planned for users to have access to an account dashboard featuring their account information, tools and assessment history to download and review to assess improvement through the program.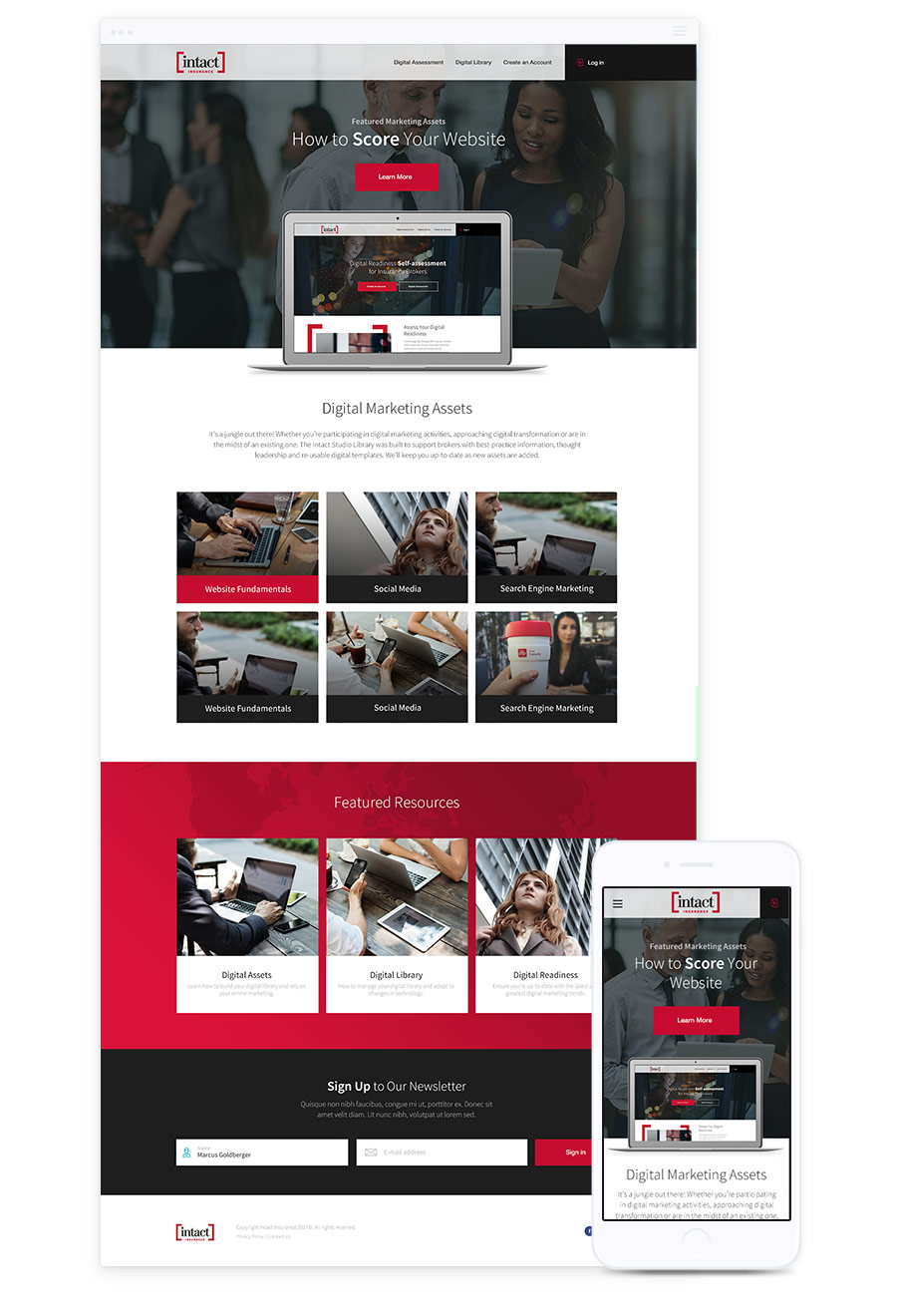 Our Website Design Process
Strategy and Research
Unlike a typical website design project, our initial strategy and research work for Intact were a little bit different. Without access to website analytics as would be expected from a traditional public facing website much of our initial planning was based both on our study of the current Intact web properties and their responsive elements as well as our design expertise for creating a fantastic user experience.
By studying existing Intact Insurance web properties, we were able to understand better what responsive breakpoints, screen resolutions and general responsive practices Intact was adhering to with their digital marketing efforts. These early observations would serve as one of our most essential guidelines throughout the design and development of the new website.
Additionally, we called upon our experience in creating winning website design for the insurance and financial world to create a seamless and intuitive user experience for insurance agents from account registration right through completion of the digital assessment. Understanding not only how people in general use and experience a website, but also how financial professionals tend to navigate and prefer to access information was a crucial aid in a project where existing analytics data or existing model was available.
Once our Toronto-based web design and development team completed the necessary strategy and research, we began rolling out strategy documents for client review and approval. The first step was an extensive sitemap. This process allows both our team and our client to understand the navigational experience proposed for the new website as well as outline where each page will live in the website architecture.
Following approval of the sitemap, things kicked into high gear as we began building wireframes. These cohesive blueprints outlined the page architecture for every unique page template required in the new website for Intact Insurance. This process not only provided a visual opportunity for our clients to understand and experience the new website design but worked to reduce and in some cases eliminates the need for design revisions later on. Wireframing is an integral part of our web design process ensuring that our conversion strategy is rock solid, but also prevents any wavering or hesitation regarding finished design.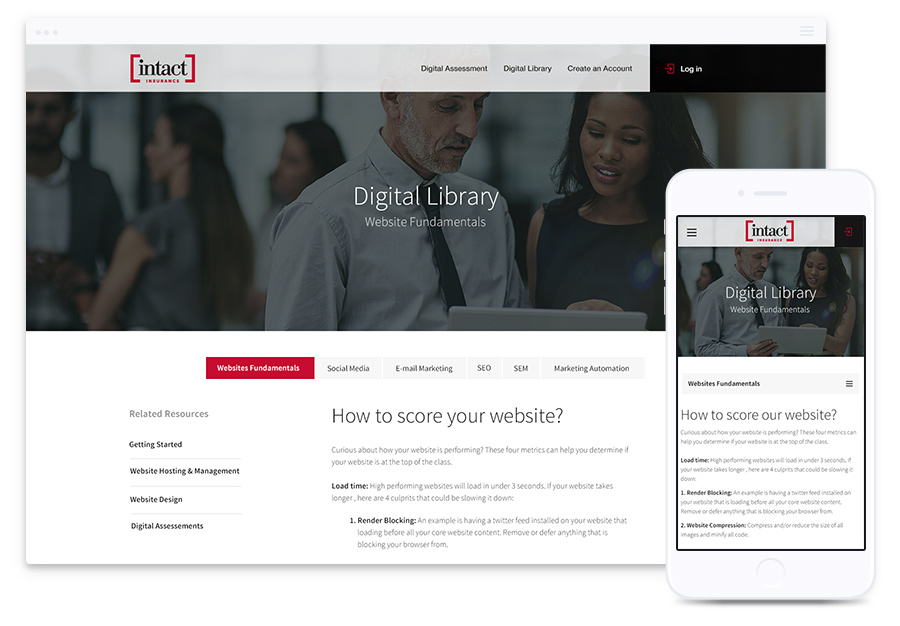 Website Design and Creative
With the approval of the wireframes, our creative web design team dug in and began polishing the wireframes with a beautiful new interface design. The creative design phase is often the most fun part of a web design project as our team is free to create and explore within the roadmap developed through the earlier strategy and research processes.
With our initial website concept ready for review, we set up a working prototype that our client could privately view and comment. Our design team could then take action on the feedback provided and quickly arrive at the website concept design.
Once our direction as firmly established and approved, we began our design expansion phase that carries the new website design concept throughout the full suite of wireframes to ensure that every part of the experience was well planned and executed.
Once the complete desktop experience was designed and approved for development, our team created the responsive web design for Intact to review to ensure that the user experience was both fully optimised for mobile users, but also consistent with the desktop environment.
Corporate Brand Extension
Our team helped Intact achieve a key goal offering a fully branded user experience by carrying the corporate branding throughout all email communications originating from the new website as well as creating a custom PDF report theme that would later be populated with survey results and customised resource data for each user. These more delicate details are what in our opinion transform an excellent user experience into an outstanding one.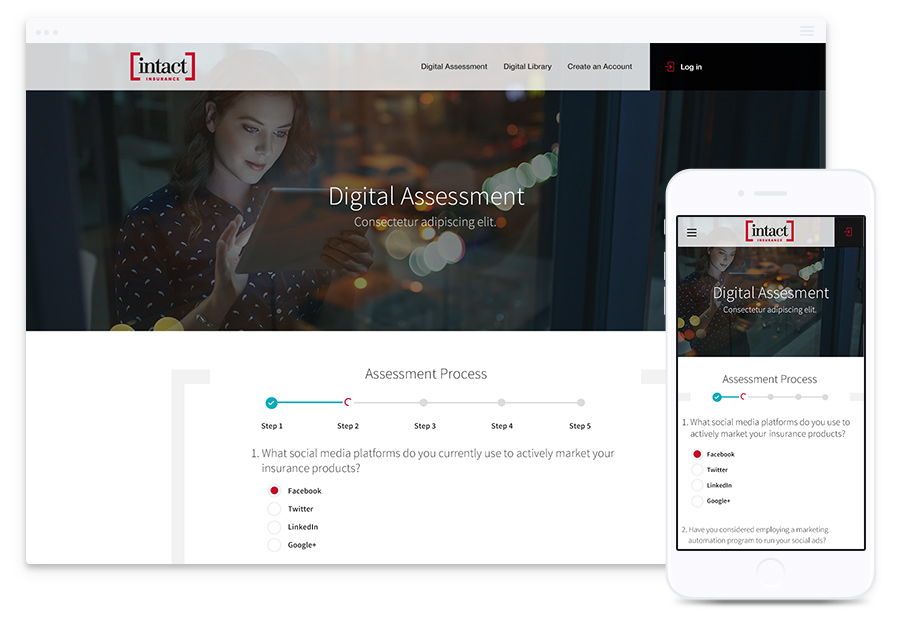 Custom WordPress Website Development
After receiving a glowing approval from our new friends at Intact, our creative web designers prepped the final artwork for development. Over the years we've developed a bit of a sixth sense of when to expect approval on a new website design. As our team neared completion of the interface design, our web developers began preparing the new WordPress back-end that would serve as the platform for Intact's new digital readiness website.
With the initial emphasis on the user registration and account creation process, the web development team worked their way through all the customisations required on the back-end to create new accounts, manage historical assessment data on a per-user basis and lastly the responsive assessment survey.
Intelligence and logic were built into the assessment survey to provide fluid scoring and canned responses to insurance brokers both throughout their survey experience and in the final digital report they would receive after completing the assessment.
In addition to these features, our team was also hard at work ensuring that this survey could be easily managed and modified over time through the WordPress admin system. One of our own critical goals with all websites is to create a WordPress experience that is both user-friendly and able to support and anticipate our clients' needs not just on launch day, but for years to come.
Website Deployment and CMS
Following shared quality assurance testing, both internally and externally with our client the website was prepped and ready for deployment to its new home on a managed WordPress hosting platform. We had achieved our soft-launch deadline in time for Intact to showcase the new digital assessment tool at a tradeshow event before fully marketing the new platform to their vast network of insurance agents and brokers.
After website deployment, our team offered WordPress training and support as is customary for all our new web deployments. Following our shared demo, we handed over the keys and stepped back into a supporting role while Intact took the wheel and began marketing the new portal to insurance professionals.
About Parachute Design
Parachute Design has crafted beautiful hand-made responsive website design for insurance companies in Toronto, Ontario and across North America since 2003. As a complement to our custom WordPress web design and development, we offer a range of professional graphic design services including logo design and corporate branding. To learn more about our graphic design services call us at 416-901-8633 or complete our proposal planner.