---
A poorly built website limits your growth.
We have the foresight to plan for the future.
Book a Call
Slow page speed?
Sloppy coding and excessive use of plugins quickly bloat a website and slow everything down to a crawl. Don't take the easy road and expect to win the race.
Poor SEO performance?
Don't cut corners and compromise on technical SEO. Build your website right, the first time and rely on our experience to position your brand prominently in search engines.
Limited scalability?
Using a templated approach, or even worse – buying a premade theme is short-sighted. These approaches are fast and cheap but will limit your ability to grow your business.
Hand-crafted websites, built to your unique specifications.
Our web development team will guide you through the entire process from discovery to post-launch to ensure your website achieves your goals and turns heads.
Website audit
Not sure where to start? We can audit your current website from a technical and user experience perspective to help build a project plan to achieve your goals.
Open source
We hand-craft all our websites using open-source code. This means that you own all the final assets and are not locked into any long-term commitments or fees.
Lifetime support
With every website we create, we offer a full 60-days of post-launch support. After that, we stay on board to maintain your website and help you grow your business.
---
THE COMPANY WE KEEP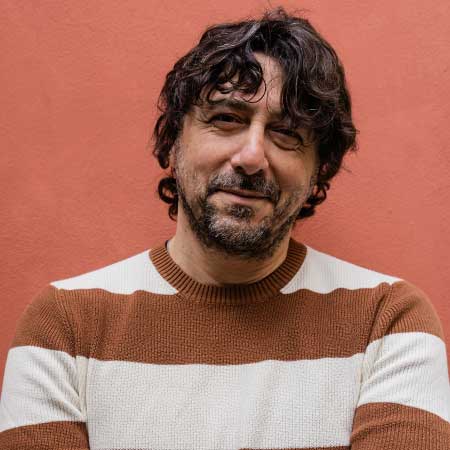 "The thoroughness with which Parachute approached the strategy behind the project stood out. I wanted to be challenged by a design team on decisions, and they did that while finishing on time and budget. In fact, the initial impact of the work has our KPIs are up 18%–20% already. "
---
Hand-tailored website development, front-to-back.
01

Website Audit or Project Strategy
Some people reach out to us knowing they need to improve or redesign their website but don't know where to start. We've been doing this a long time and can help guide you to build a comprehensive project plan to identify your needs and goals in a new website. Then, we'll show you exactly how we'll work together to help you achieve success.
02

Research and Discovery
Before you build anything it's important to understand who you're building it for, how you want them to use it and what purpose it will serve. If you're building something to compete with other businesses it's important to also understand what the competition is doing, analyze it, and do it better.
03

UX Design and Strategy
Using our research and discovery, we collaborate on a redesigned site map to improve the website's navigation, break down content barriers, eliminate frustration and create a positive user experience.
We'll also work together to create highly detailed wireframes to sandbox ideas, establish information architecture and test out our redesigned user journey and conversion strategy.
04

UI Design
Once we've built a solid foundation together and everyone is on board with the new direction, our website designers and web developers work closely to create high-fidelity mockups to refine the new website design concept. Weaving creative expertise and decades of development experience together, we create a winning design system.
05

Custom Web Development
Once everyone is happy with the new user interface design our web developers get to work converting the beautiful graphics into clean, precise code. Understanding the importance of user experience, both on the front and back end is what makes our developers so successful in delivering highly functional, beautiful, optimized websites.
06

Search Engine Optimization
Search engine optimization plays a role in every step of our process. From understanding the competitor keyword gap to crafting an engaging user interface to entice click-throughs and building the website to operate at blazing speeds, SEO is top of mind every step of the way.
07

Accessibility Compliance
Compliance is important. Ensuring that your website is accessible to everyone is one of our core values. We'll make sure that your website meets any compliance regulations in your region on top of our own fundamental compliance audit.
To take accessibility compliance even further, we highly recommend utilizing the AI-based compliance software from accessiBe.
08

Quality Assurance
Before the website is ready to roll out to the general public, we'll stage it for stakeholder review and our final pre-launch quality assurance checks. This allows us to get as many eyes on the beta site as possible to ensure all content is in the right place and pages are rendering perfectly across all devices and environments.
On launch day, we start early in the morning to roll the new site out smoothly and quietly before Joe Public starts clicking through. This allows us to spend the rest of the day doing post-launch quality checks, performance analysis and general support.
09

Website Support
With all websites, we build we offer 60-days of complete website support after launch. This includes software updates, general maintenance and bug fixes as well as 24/7 automated monitoring and monthly SEO audits. We're at your beck and call to make sure the website is performing perfectly right out of the gate.
After our famous aftercare expires, we're happy to set up a monthly maintenance plan tailored to your specific needs.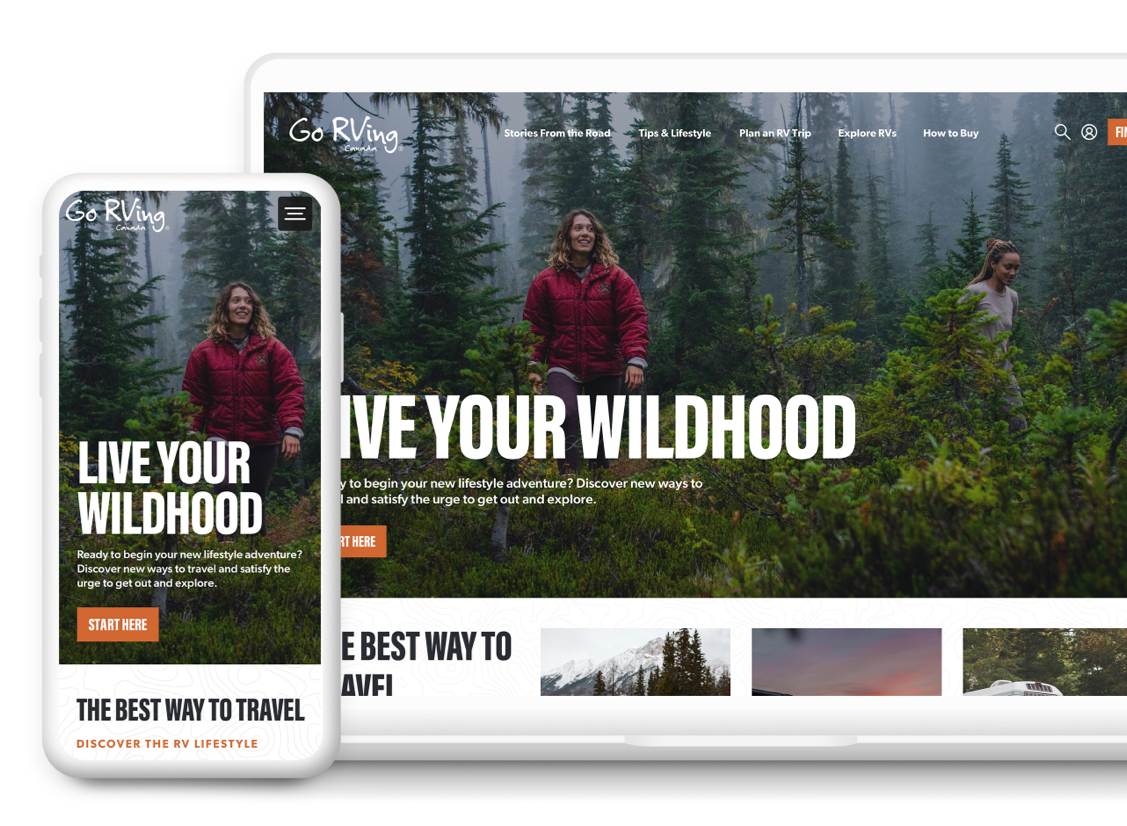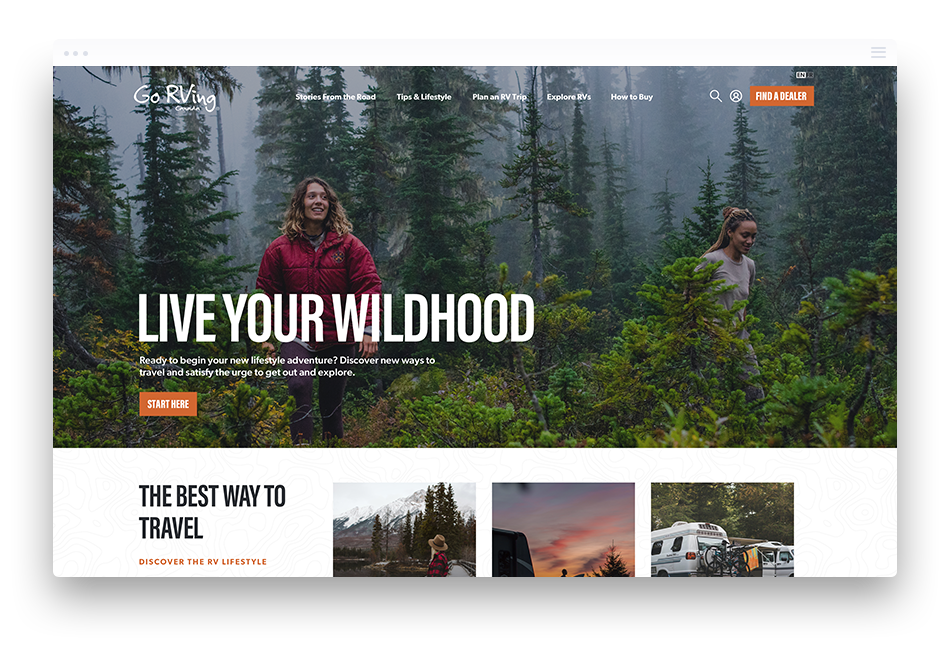 FEATURED PROJECT
Go RVing Canada
Turning digital marketing on its head with a reimagined web design and user experience to improve user engagement and deliver on KPI's for stakeholders.
Digital Branding
UX (User Experience) Design
Information Architecture
Responsive Website Design
Art Direction & Consulting
Custom WordPress Development
Interactive Tool Development
Search Engine Optimization
View project
Let's make something.
Whether you need a custom platform imagined or a hand-crafted WordPress website, our web development team has the experience and creativity to build frictionless solutions for all industries.
Start a project