Custom WordPress web design for agencies that communicate around the world.
You don't often come upon a brand that operates in many different countries around the world to communicate with audiences big and small about some of the most influential topics our society revolves around day in and day out. Crestview Strategy does just that – working with governments, agencies and various other public organizations with a global position to shape their messaging and build strategic campaigns to communicate to the masses and drive our global community.
Our web design team was tasked with helping the agency rebrand and launch a new custom website design that would serve as a digital hub for their expansive global team and provide a platform for their analysts to showcase the depth of their experience through publications, case studies and thought leadership articles.
Website Design Goals
Discovery and Research – collect and analyze limited analytics data from the existing Squarespace platform to understand the website audience, from their browsing behaviour to technology preferences.
Brand Refresh – carry the newly minted brand and design system across a completely custom website design crafted to showcase the expansive team and share their unique insights and articles.
Improve User Experience – the pre-existing website was full of experiential challenges and limitations for both website visitors and content administrators. Our UX designers reimagined the on-site user experience to offer a more intuitive and engaging user experience.
Custom UI Design – building on the newly refreshed brand, a new user interface design was planned to engage audiences around the globe and increase click-through rates to analyst profiles and thought leadership content.
Custom WordPress Development – to provide simpler, more intuitive day-to-day management of the website and information hub for government agencies and organizations the world over.
Search Engine Optimization – optimizing page structure, content and website performance with our technical SEO expertise to improve core web vitals and increase organic search engine rankings.

The Web Design Process
Website Strategy
Many website designers can whip up an eye-catching interface design that, on the surface, makes an impression and demands a second look. The difference between an attractive design and the best website design is hidden in post-launch analytics. Understanding how the audience finds the website and engages with the interface design is key to delivering long-term success online. The data doesn't lie, and it becomes evident in a short period of time if a design is working or not.
The first step in our custom website design process is created to tackle this challenge head-on and develop a strategic foundation from which we build a tailored project plan for every website we design. Our Discovery phase allows our team to immerse themselves in the analytics, explore use cases, analyze and compare search engine performance between our client and their competition and speak with project stakeholders to understand why we're redesigning the website and who it's intended for.
Understanding who our web designers are crafting the new website for is crucial to the overall project's success. Many designers and clients, for that matter, get lost in this process and design the website for themselves. As self-gratifying as this is, it's a critical mistake and often leaves the website owner scratching their head, wondering why their digital marketing isn't working as well as expected, and conversions are low.
It's important to understand the audience and craft a user interface and navigational strategy by solving the challenges the analytics data shows us. Once we understand who is using the website and what they may be struggling with when interacting or navigating the current site, we can develop a project plan and strategy to solve those challenges and create a frictionless experience for the end user.
Having struggled on the Squarespace platform for years, the Crestview team was ready and willing to work through our Discovery and Strategy process to create a shared project plan that would guide us through the creative process and serve as a road map for their content development.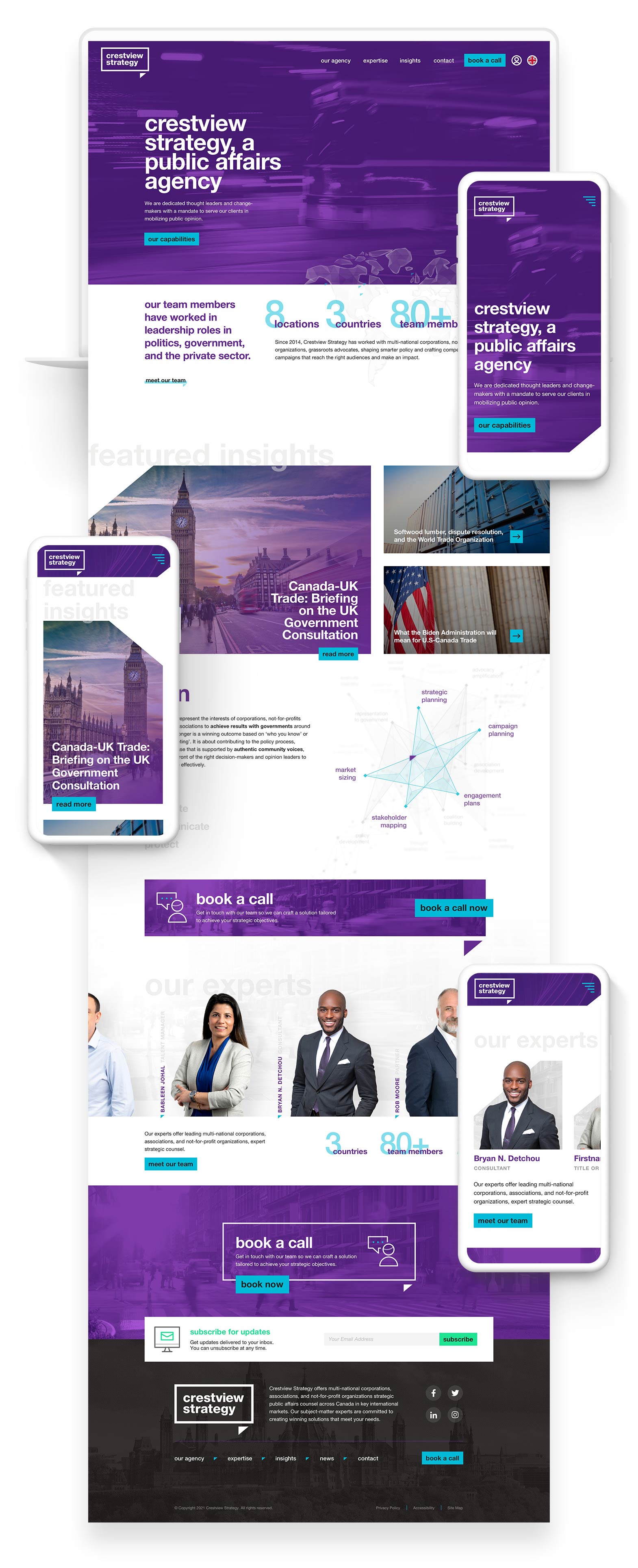 UX Design Strategy
We believe it's important that our clients understand the purpose behind our web design methodology, and we take pride in guiding stakeholders through a thorough site mapping workshop to craft intuitive navigation followed by an interactive wireframing exercise. In this phase of the creative process, our UX designers carefully lay out the information architecture and user experience within each unique type of page and content type planned for the new website. The UX design process is the most important ground-floor phase of the website design process that solves most of the existing experiential issues in the existing website. It allows all team members to review, troubleshoot, and ultimately solve many engagement and conversion issues within the website, all while avoiding the distraction of visual design – the creative design phase comes later.
Wireframes are created and presented using a prototyping tool that allows our team to collaborate and work directly with project stakeholders. This process offers an invaluable opportunity to interact with the page layouts and leave markups, comments and questions directly on the wireframes for our team to discuss and iterate on in real time.
The UX design process ensures that everyone is on the same page from the beginning and collectively working towards the same goals.