A corporate brand refresh powered by a custom WordPress, web design for a leader in AI privacy.
For the better part of two decades, we have helped businesses across Canada and the United States transition from a startup concept to enterprise-level corporations. Our experience working with clients of all shapes and sizes across virtually every industry imaginable is quite honestly second to none.
This year, we received an invitation to join a discovery call with an up and coming AI development house started by a former Facebook executive. With offices already in Toronto and San Francisco, the technology company grew faster than ever and ready to engage in a full-scale digital marketing campaign to carry their business to new heights. However, fully understanding the need for an engaging digital brand and professional-grade website, Parachute was invited to weigh in and help restructure the digital branding and create a new website to serve as the cornerstone of all the marketing efforts to follow.

Defining Our Website Design Goals
Digital brand refresh – Integrate AI had a solid identity to work from. As we aimed to scale up the business and marketing plan, a brand refresh or fine-tuning exercise was planned to polish the identity and produce a more ownable visual brand that could be translated into various media.
Branded website user interface design – initially relying on a Squarespace template Integrate AI did not have much consistency between their brand and digital marketing assets, like the website, social media profiles and downloadable assets.
Custom WordPress development – to manage the day-to-day web marketing and resource management, we opted for a custom WordPress content management system that will allow Integrate AI's marketing team to take the lead and manage the website on the go.
Search Engine Optimization – to improve and own the artificial intelligence market space, on-site search engine optimization was to be woven into our design and development process.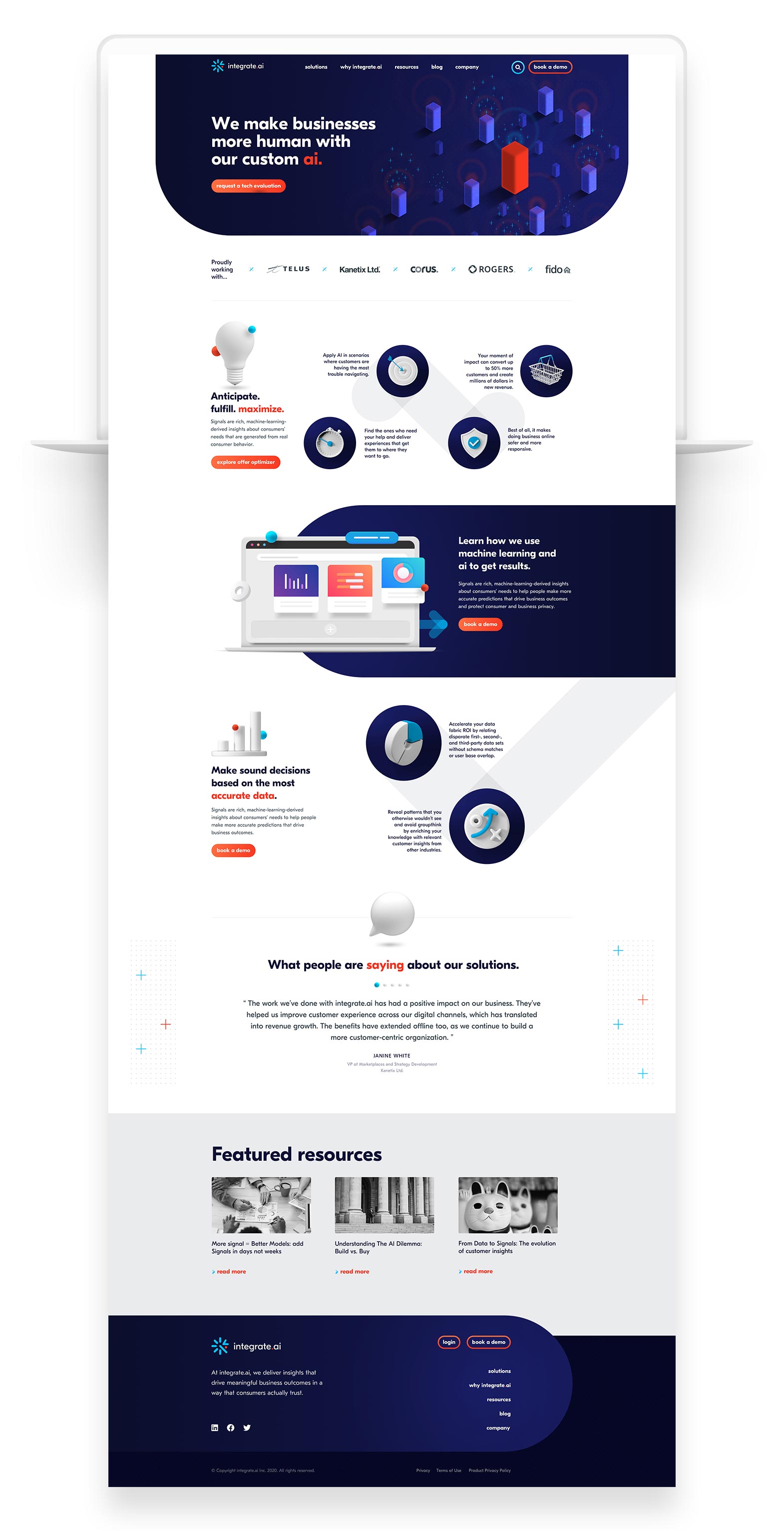 The Web Design Process
Research and Strategy
The most important part of our web design process is the discovery and research phase. The core of our web strategy is based on our initial findings during this phase of the project. Learning more about the audience for which we're creating the new website allows our web designers and developers to be better prepared to address existing pain points in the navigation and user experience. This methodology ensures that we can design a much friendlier and better-performing website for our clients.
We begin with a finely tuned project kick-off questionnaire to compile the necessary login information, data assets and internal brand goals and vision for the project. This exercise helps our team collect and organize vital information to begin our research.
We continue with a thorough competitor analysis to identify benchmarks in creative design and note search engine optimization opportunities with keyword gap research. We thoroughly study existing web analytics and heat mapping data to learn more about the people that currently visit the website and identify how they find the site, what actions they take and where the user engagement appears to be challenged on the website. Using this information, we compare the primary audience's technology and screen resolutions to view the website. We can begin building a new sitemap to address current pain points and create a visual representation of the navigation flow through the website.
Following the site mapping exercise, we move ahead with wireframe design to create a blueprint of the information architecture and user journey throughout each website section. The wireframes are shared with project stakeholders using our best-in-class interactive prototyping and collaboration tool that allows decision-makers to view the user experience design in proper context and provide real-time actionable and informed feedback privately within our team. After working together to refine the wireframe design, we move forward to the creative web design phase.