Custom WordPress website design for health and fitness with brand marketing design support.
We've had the pleasure of working with the team at Precision Nutrition for several years now. Initially, our relationship began with Parachute Design playing a supporting role in the website design and marketing area of their business. Not too long after feeling each other out we gladly took over as the design agency of record fully immersing ourselves in the day-to-day marketing and design projects that Precision Nutrition tirelessly rolls out.
Web Design Goals
Responsive website design –  Precision Nutrition manages a very steady and well-executed marketing initiative, and they may never sleep. Our role required the development of a new, custom design system for future marketing campaigns, landing pages and various marketing assets including social media advertising, digital downloads and remarketing graphics.
Corporate website design – for several years Precision Nutrition handled their corporate website design internally and did a fantastic job with it. Admittedly, they were never entirely satisfied with the overall user interface design, however, and that's where Parachute Design came to the rescue with a new website design evolution.
Custom WordPress theme development – PN has a fantastic internally IT and development team that looks after their various web properties. As we began to take on more of the design workload, our development team began the redevelopment of the landing pages and corporate website design on WordPress. Throughout this period of revamping their digital assets, we worked closely with PN's in-house web developer to create a WordPress architecture that could be easily managed, updated and repurposed for ongoing marketing efforts eliminating the need to start from scratch for each new campaign.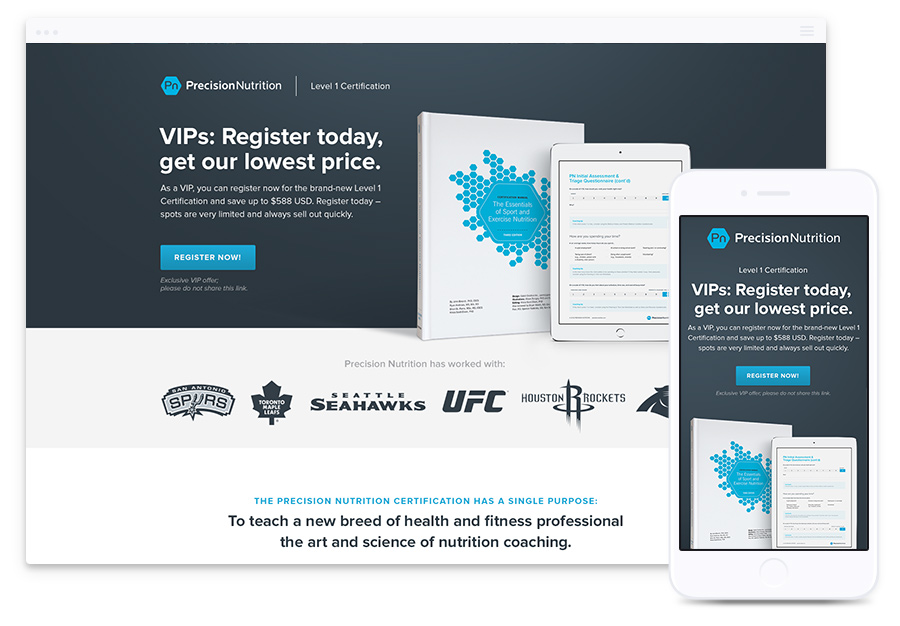 Our Website Design Process
Strategy and Research
Over the course of our relationship with Precision Nutrition we've come to hold a very in-depth understanding of their marketing approach and design style. Having been at the forefront of marketing to health and fitness professionals for so long, PN was able to share a treasure trove of statistics, analytics and proven methodology with our design team to help us form a rock solid design strategy to work from throughout each website design project.
Initially starting with site mapping and wireframing as we would with any new web design project, this practice soon became second nature to our teams, and we now enjoy a seamless workflow that allows us to go straight to design in most cases given our history together.
Web Design and Creative
Working with PN to create their new landing pages posed a new challenge for our design team. Unlike our web design for Boomerang Health, Precision Nutrition is unique their effort to provide detailed, in-depth information that is head and shoulders above everyone else in the field. Managing this amount of information and presenting an attractive user interface to prospective clients in a balanced, easy-to-read page layout put our web design skills to the test.
After our initial design work was was field tested and passed with flying colours we used this approach to develop the digital brand further and expand it across a full slate of online marketing campaigns.
Once our first few marketing campaigns successfully launched, we shifted our focus to the corporate website redesign. Similar to the landing pages, the overarching challenge with this web design project was managing large amounts of information, however, in addition to this challenge, we were tasked with taking an "information first," or "grass roots" design approach. We welcomed this design challenge in parting with the contemporary reliance on strong hero imagery to communicate first with the view rather than typography or page content leading the messaging. Through daily collaboration with PN, we pared down the initial website design concept until we arrived at a clean and elegant website interface that paved the way for PN's content-first approach.
"I've been in the online space for 17 years now and I can honestly say, without hesitation, that Parachute is the best design team I've ever worked with. They're super-talented, extremely knowledgeable, highly responsive, and lightning fast. If you're looking for professional design, done at the highest possible level, you owe it to yourself to consider Parachute. I feel extremely lucky to get to work with Jay and his team. Just don't take my spot on his roster!"
Dr. John Berardi
Co-founder, Precision Nutrition
Custom WordPress Theme Development
After completing the initial pilot campaigns for the new design, we collectively reviewed their performance before fully committing to our new strategy. After determining the new approach a success, we began working closely with PN's in-house development team to template and catalogue each design element and page layout. This process allowed us to create a library of styles, advanced custom fields and page modules that could be used to create new landing pages on the fly without the need for a website designer or developer reducing the time and budget required to deploy future campaigns by more than fifty percent.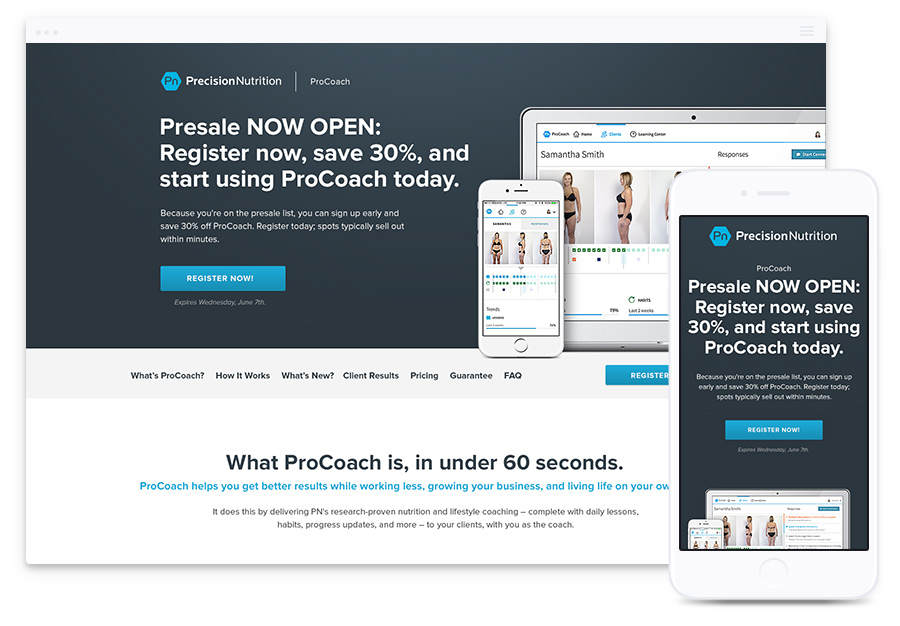 Advertising Design
Following the design and development of each campaign throughout the year, our graphic designers work on a variety of social ad design, remarketing and digital download materials for PN clients. These materials are used across all digital platforms to promote landing pages and informational assets created earlier in the marketing process.
Website Deployment
Precision Nutrition played a very active role in the quality assurance and user testing of all web assets. Through the use of physical, "device-in-hand" testing, as well as device emulators, our teams worked together to find and iron out all display issues and bugs before each scheduled deployment.
Ongoing Partnership
As the design company of record Parachute Design continues to fully support the day-to-day design and development needs and support tasks for Precision Nutrition so that they can focus on what they do best, but sharing their industry leading health and fitness research with the world.
About Parachute Design
Parachute Design has been a fixture in the Toronto website design industry since 2003. In addition to our expertise in custom WordPress web design and development, we also offer a range of services including corporate branding and custom logo design for health and fitness organisations among many other industries.
Contact us today at 416-901-8633 or complete our online proposal planner to get a quote for your next project.