Custom web design and digital architecture strategy for ASPIRE – Toronto Finance International's talent development platform.
ASPIRE aims to attract the next generation of financial services talent by uncovering the diverse, challenging and innovative nature of financial services for students, and facilitating access to opportunities in the sector.
Earlier this year ASPIRE received support from both the Government of Canada and Ontario Provincial Government to fund a three-year marketing campaign and brand new custom website design and contest portal development. Our Toronto Web Design Company was invited to review the project and submit a formal web design proposal for the project.
After a thorough vetting of our professional references and experience in professional website design for financial services, ASPIRE awarded our Toronto web design agency the exciting new website design and development project.
Determining Our Website Design Goals
Website architecture and user experience design – having survived with a single page website before acquiring federal and provincial government funding, ASPIRE's website analytics was quite basic. In this case, to successfully design a new website and navigation architecture our experienced web designers had to rely on years of professional experience and knowledge.
Website user interface design – to complement the redesigned website architecture and provide an intuitive and contemporary user experience with a custom website user interface design would be necessary. The new UI design would also strengthen the growing ASPIRE brand and instil more confidence in students, schools and employers in the financial services industry.
Custom WordPress development – ASPIRE staff would require unrestricted ability to manage the new website and contest on a day-to-day basis. WordPress was chosen as the content management system given its easy-to-use nature and flexibility regarding design and function.
On-site search engine optimization – to accommodate the marketing efforts planned for the following three years our web design team was tasked with providing the latest and most significant features in on-site search engine optimization to ensure the new website reached peak performance in relevant web searches.
Development of the ASPIRE Challenge Contest and applicant tracking platform – once the public-facing website was successfully deployed, efforts would be shifted to the design and development of the ASPIRE Challenge Contest platform that allows ASPIRE to accept, review and track student submissions, schedule interviews and share individual feedback with participants.
Accessible information and resources – operating in Canada on behalf of government agencies for Canadian students, universities and employers, requires absolutely accessibility and inclusivity. The website would be designed and developed to meet today's accessibility standards, and all information and resources would be available in both English and French.

Our Website Design Process
Project Discovery
Our partnership with ASPIRE began with an on-site meeting downtown Toronto to review the goals for the new website design and student contest platform to define our direction and bring all participants into the fold. During our kickoff session, we also helped the ASPIRE team identify key pain points or challenges with the original website. This exercise helps our web designers create a design strategy from the get-go to address and eliminate such challenges later in the project.
Following our kick-off meeting, we invited the ASPIRE team to participate in our famous website design questionnaire to help inspire creative thinking and carefully extract our client's impression and understanding of their brand. Through this fun-focused experience, both our creative web design team and our client become more familiar, and we are able to begin compiling actionable feedback and direction for the strategy and website design phase.
Following the completion of the questionnaire, our web designers begin analysing top competitor websites to understand industry benchmarks and identify tactical visual marketing points before the creative design phase. During this period we would also dig into our clients' website analytics, however in ASPIRE's case, having operated with a single landing page to-date, the analytics data was quite basic leaving our experienced web design company to rely on knowledge and best practices.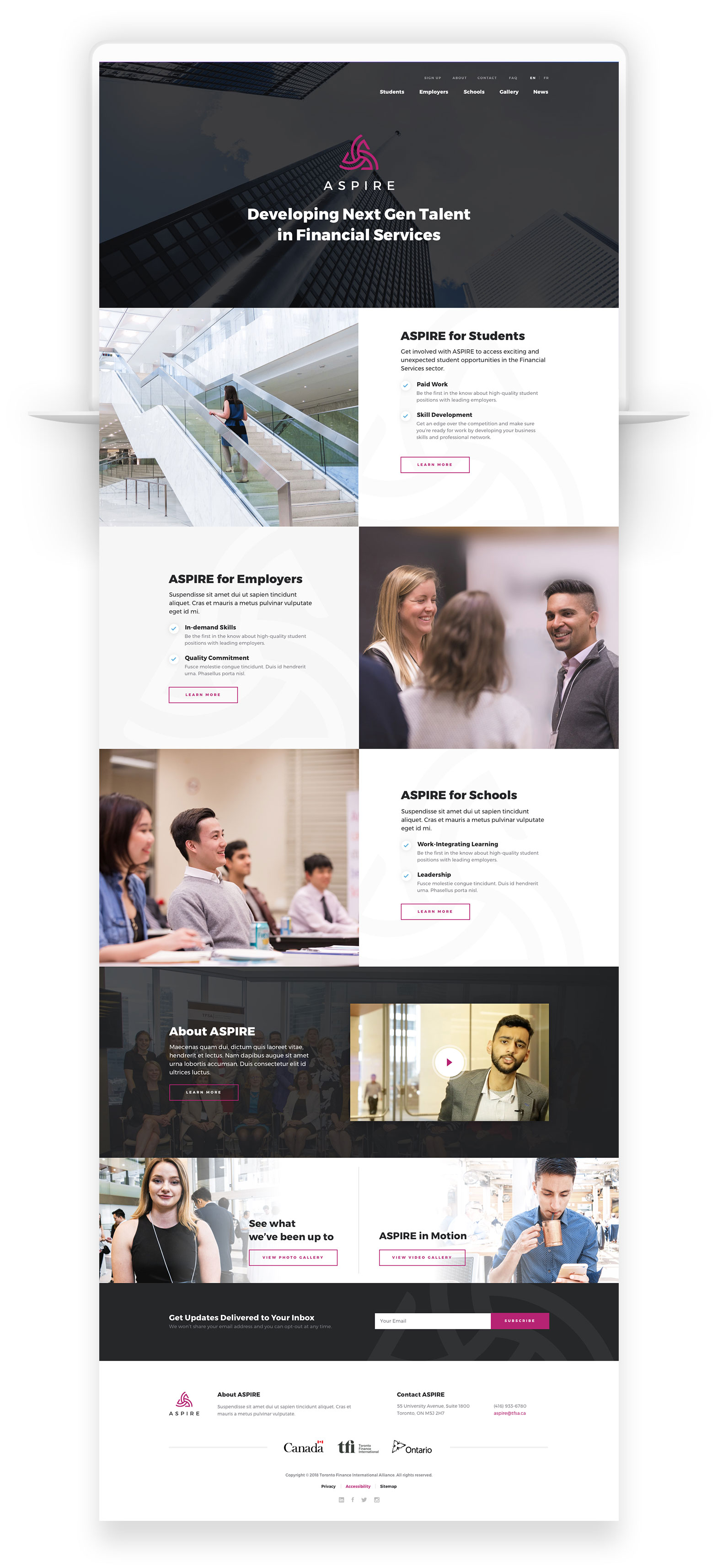 Web Design Strategy
Our website design strategy phase is where the new website begins to come alive, and our clients start seeing tangible elements of the project. We kick off the strategy phase with a site mapping exercise based on the initial discovery work and client feedback collected earlier. Viewing the new website navigational structure at this stage gave ASPIRE the opportunity to understand and review our proposed design in a visual context.
The sitemap exercise is an opportunity to bring overlooked information forward for the user as well as address drop-off points discovered in the analytics user flow that often leads to increased bounce rates.
Following approval of the new sitemap is the wireframing stage, which is where the new website begins to take shape in the form of a digital blueprint. Our web designers rely heavily on wireframing to identify all unique page layouts required within the new website without the distraction of polished design. The wireframes also offer both teams a valuable opportunity to review and discuss page architecture to ensure the desired user flow is achieved within the final design. In basic terms, wireframing serves as a master plan for our Toronto web designers to meet the project goals.
To provide ASPIRE with a realistic and true-to-life of our proposed web design strategy, we presented the wireframe design within a digital prototyping tool that allows both our team and our clients to experience the user interface wireframes as they would behave in a typical web browser or mobile device. Once inside prototype, ASPIRE team members could sketch directly on or leave detailed comments on the wires for our design team to collect and respond to in real time.
This type of end-to-end engagement provided ASPIRE with a thorough understanding of our website design strategy and involved all parties in the decision-making process. The most substantial benefit of this workflow is its ability to significantly decrease the need for design revisions during the creative web design phase that follows. Our web design strategy saves our clients time, money and helps us deliver the results our clients have come to value and expect.