Which Website Builder is the Best Fit For Your Business?
The days of looking through the phone book for a plumber or the closest coffee shop are long behind us. Nearly 90 percent of people now use the internet when they need to find local businesses, including stores, restaurants, and professional services like lawyers and accountants.
Yet, only about half of all small businesses have a professional-grade website set up. Of the 50 percent of businesses that do have a website, many are not performing at the highest level they could be and many present subpar user experiences due to slow load speeds, confusing or unprofessional layouts, and other problems that may have consumers quickly looking for other businesses instead.
Developing a professional website is an important step in bringing your business to the 21st century, and increasing your chances of success, but simply having a website isn't enough on its own.
This is where the Wix vs. WordPress debate becomes an important conversation to have with your business partners and marketing team.
Many small business owners turn to simple and low-cost site builders like Wix to build their first website, and to be perfectly honest, it's a great platform to use to get your foot in the door so-to-speak. However, despite the ease of use and accessibility of this popular web application, it can be difficult to build a large, high-performing, successful business site with it as your ability to create professional, custom website design is limited.
WordPress is a popular alternative. But is a WordPress site really a better choice?
If you're ready to upgrade your business' website to make it faster, smoother, easier to use, and more professional, keep reading. We're breaking down what you need to know about Wix vs. WordPress, and how to make the right choice for your business.
First, it's important to understand how you begin using the Wix website builder vs WordPress.
If you're ready to move from Wix to WordPress, try our 9-step Guide to Move from Wix to WordPress.
What is Wix?
Wix is best known as a very straightforward, easy to use website builder that any do-it-yourselfer can use to build their first website to get their new business off the ground. Its key feature is the ability to use a drag-and-drop tool to add, change, and remove website elements within your website even if you don't know how to set up a website.
No HTML coding or complicated backend building is required to create your website using Wix and you may choose from a variety of basic themes and add ons within the Wix platform to get started. These simple out-of-the-box features make it an ideal tool for beginners with little or no web design experience to get their new business website up and running quickly and cheaply. Wix offers an attractive option for existing business owners in a hurry to get a new website up and running as quickly as possible while they look for a professional web designer.
Wix's star-studded advertising campaigns have helped make it a household name, which only adds to its reputation for being a great tool for beginner website owners not yet ready to tackle the learning curve or feel more comfortable with dedicated customer support.
Start with a Domain Name
The first step to building a website on Wix is to choose a custom domain name. Like many website building tools, Wix offers both free and paid domain names.
If you opt for a free domain, your website domain will look like this: domainname.wixsite.com/yoursiteaddress. This may be fine for someone setting up a new Wix blog, but it's not very appealing to someone trying to look as professional as possible or who is serious about SEO, so paying for a custom domain is likely the best option for most users. You can use a domain name that you already own, such as a dot.com, dot.ca or dot.org domain, or simply purchase one through the Wix website builder.
Keep in mind though, if you do choose to add your own custom domain name, you'll need to also upgrade from a free Wix account to a paid version that will add a steady cost per month.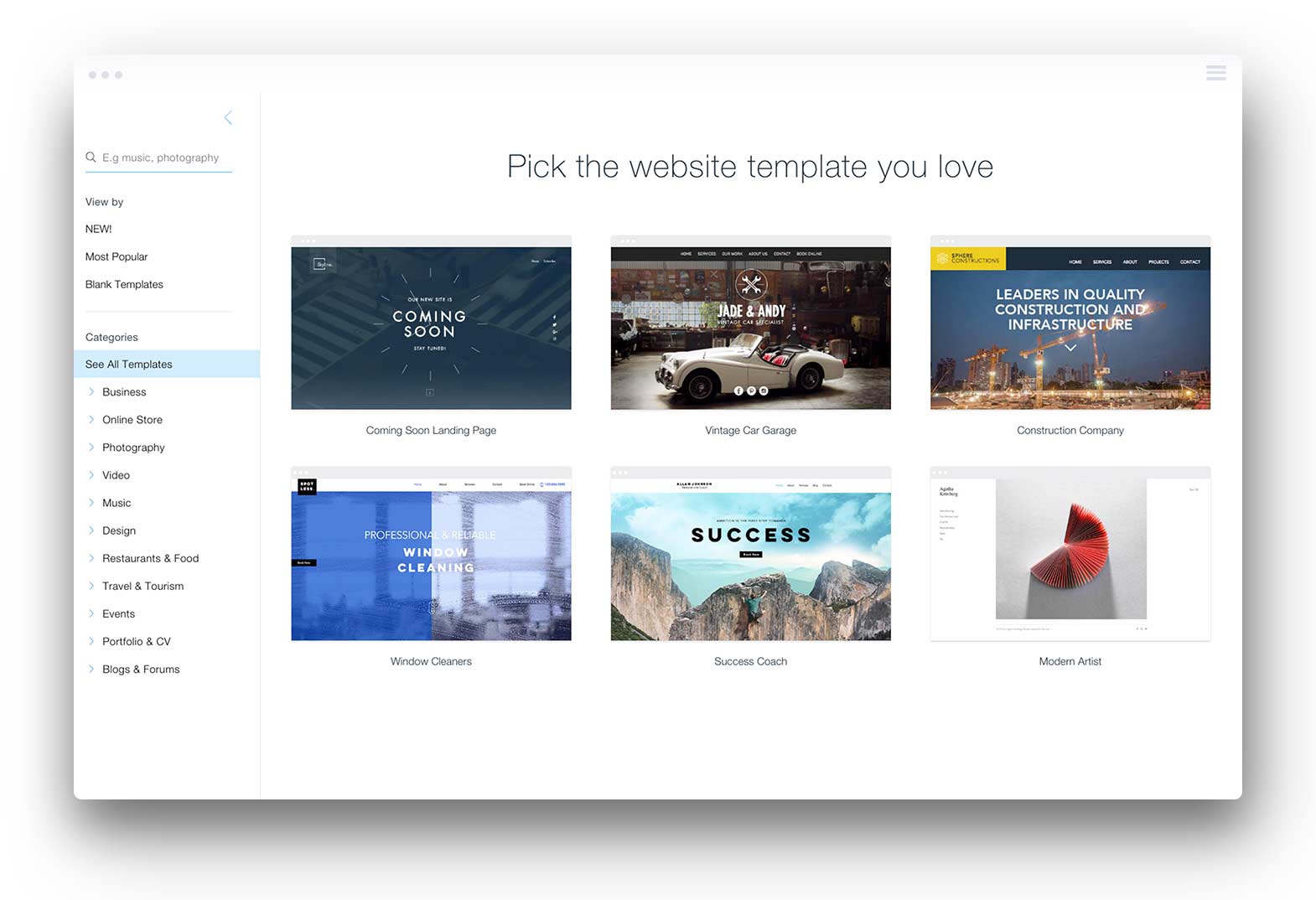 Choose a Free Pre-designed Wix Template
Once you've chosen a domain, the next step to using the Wix site builder a website is to choose a template. Your template is like the blueprint of your website – the artwork that people see when they visit your website in a web browser.
Using a pre-built template is a big part of the ease of use that streamlines the website building process. Rather than setting up things like landing pages, menus, or blog pages, the template has everything already built-in and ready to go for page content. All you have to do is choose a template, and then make a few adjustments and consider some customization options to get the site ready to go.
Wix has hundreds of free templates to choose from. This includes a variety of templates designed specifically with business websites and e-commerce in mind.
Customizing Your Wix Site
Using the pre-built template you've chosen, you can then begin customizing your Wix site. The basics will be built right into the template making it one of the easier to use website builders. This includes things like changing menu names, adding titles, setting up page content, etc.
For other, more custom changes, you'll need to visit the App Market. This allows you to add other features to your websites, like an eCommerce store, a photo gallery to showcase your products or a widget to help you know how visitors are using your site.
Some of these apps are free to install, while others cost a set fee per month or require a payment plan.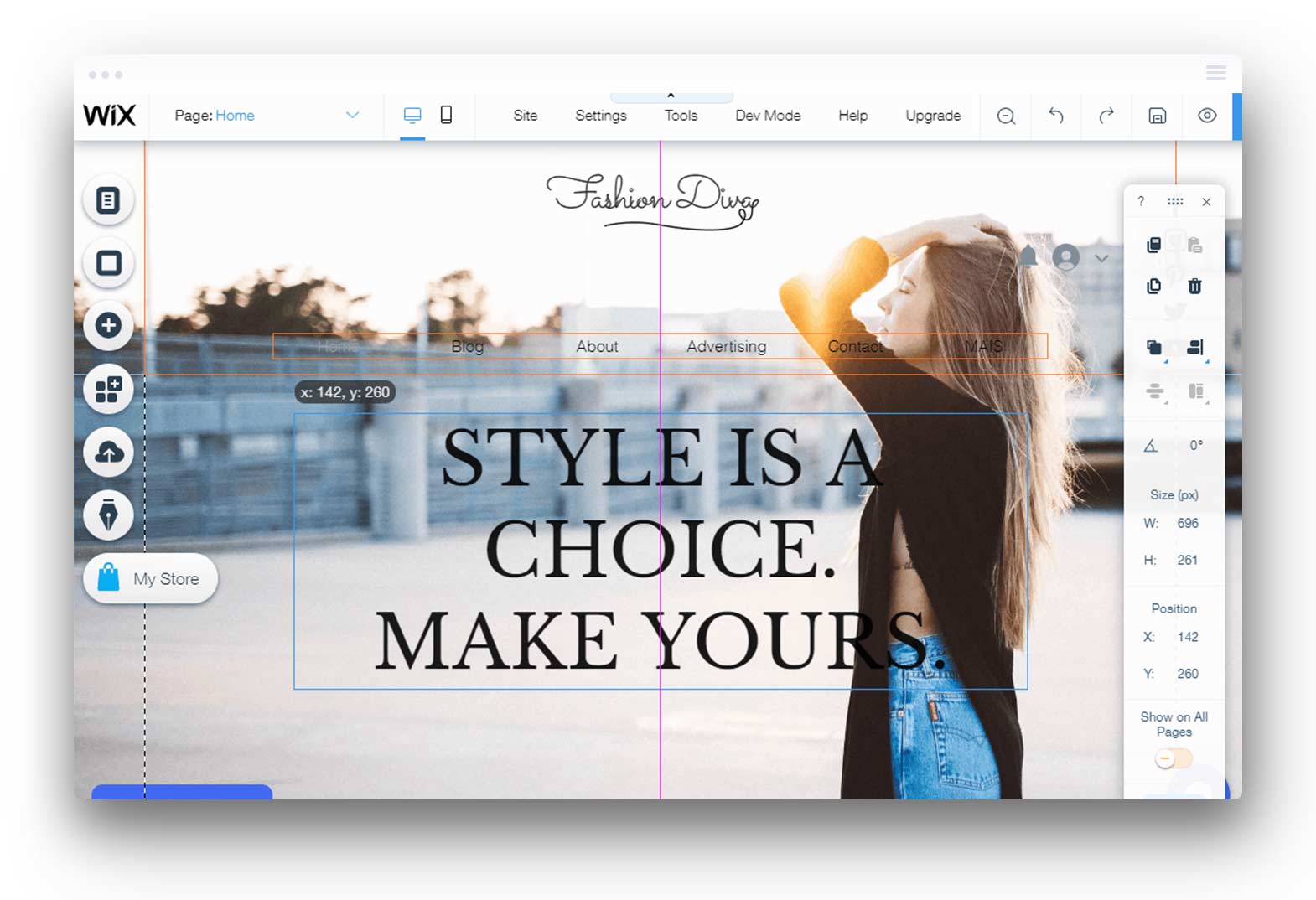 What is WordPress?
WordPress is an open-source content management system and powers one-third of all websites online today. When it comes to website management platforms, no one is more popular or widely used than WordPress. Open Source platforms are free to download and customize to meet your business' unique needs. This means that, unlike Wix, WordPress is a platform that can be used in far more flexible ways and can be self-hosted. You can even integrate WordPress into websites that you've already built and coded on your own or hired a professional web design agency to create for your e-commerce store. Unlike using Wix, this allows you to use WordPress's plugins and interface to easily manage custom-built websites.
WordPress also features tools and templates that allow users to build a website directly on the platform similar to Wix. Much like the Wix website builder platform, site owners with little to no experience can choose a domain and template, build a website, and manage it using the tools provided and resources available by WordPress. The key differences between Wix and WordPress are that WordPress is completely free for everyone to use and it is extremely flexible and customizable which allows business owners to scale their website from an entry-level website to an enterprise-level e-commerce website easily.
WordPress.com Vs. WordPress.org
Perhaps the most confusing part of working with WordPress is figuring out why there is both a WordPress.com site and a WordPress.org site. If you're looking for a similar experience to Wix, you'll want to use WordPress.com. WordPress.com is a hosting service that features a website-building platform.
You can choose from a variety of free or paid themes that make it easy to get your self hosted site up and running quickly. Their templates are divided into categories depending on how you plan to use them for your new WordPress site, ranging from templates for personal blogs or full-scale business sites.
Depending on the paid plan that you choose, you can also use a variety of included plugins or WordPress themes to optimize your site and add various features to it.
However, WordPress.com is very restricted in how much it allows users to customize their experience compared to those that utilize the self-hosted version of WordPress.
You cannot add your own custom theme and there's no ability to upload third-party plugins from outside of the platform. Your website must also comply with the platform's terms and services, and if it doesn't, WordPress.com retains the right to suspend your site and take it offline.
While there is a free version of the platform, you can't use your own domain name with it, so your domain will have wordpress.com attached to it which won't fly with most small business owners looking to take their SEO marketing to a more professional level. You can upgrade to use your own domain or purchase one through the platform, but you'll be stuck paying by the year or month for the service option that you choose.
If you're looking to build a custom business website that can be fine-tuned, optimized for search engines and grow with your business, you'll want to use the self-hosted platform available from WordPress.org.
What is WordPress.org?
WordPress.org is a popular platform that's open-source and free to use as well, but the difference is you will download the software and install it on your own hosting platform. With the self-managed WordPress installation, you'll need to bring your own existing domain name as well, which is necessary for anyone serious about growing their business and running a top-notch SEO campaign. WordPress.org will help give you full control of your website and allow you to customize your website in any way you wish, a level of freedom that is a unique identifier between Wix and WordPress.
The WordPress platform makes it easy to customize your site, update web pages, content and deliver highly professional and personalized experiences to your web customers, and even monetize your site through an eCommerce plugin like WooCommerce. Adding a calendar and online booking feature to allow customers to book appointments can also be done with relative ease and little-to-no cost if you source free third-party WordPress plugins, API or embed code.
Unlike WordPress.com, the WordPress.org version also ensures that you retain all ownership of your website and it's content. WordPress can't take down your site because it's against their terms. You download and install WordPress on your self-owned hosting plan and all your page content, imagery and blog posts are 100% owned and managed by you.
Our web design agency specializes in creating highly customized WordPress websites that serve as a tool to control and manage your business' website, and act as the foundation for all of your digital marketing initiatives.
Wix Vs. WordPress: What You Need to Know
Both WordPress and Wix offer easy-to-use website builders perfect for those with no coding or web design experience. But that doesn't mean that they are equals when it comes to building business-grade websites.
Let's take a look at how the two platforms differ, and why one is the clear winner when it comes to using Wix or WordPress building your online brand.
Customizing Your Web Design
One of the biggest benefits of upgrading from Wix to a custom WordPress site is the chance to customize every aspect of your business's online presence and tailor the user journey within your website to your unique audience.
While Wix and WordPress themes can be a great starting point, they are far from your only option. You can upgrade to paid WordPress themes rather than the free options offered by the site. These offer more professional designs but do not include any more features or options to customize your site or retain control over it than you have with the free templates.
Or, you can do your own coding or hire a professional web design company to do that for you. Adding your own code or building a site from the ground up means that it can be unique, designed with your customers in mind, and fully customized to best suit your business. Using WordPress also guarantees that your website will be unique to your brand and not just a shared template that a thousand other businesses are using. This is a fundamental difference between WordPress and Wix.
When you use a template, you'll have to adjust and fit your content and features into that theme. The same isn't true for a custom-built site. Menus, calls to action and interactive website features can be placed wherever they best fit to optimize the user experience. Features like photo galleries can be added and moved around with relative ease. The entire website can be built with your company's specific audience and brand in mind if you choose to use WordPress, whether that means utilizing lots of images, smartly-placed white space, or over-the-top pops of colour.
If you're operating an eCommerce store on your website, every aspect of that store can be customized, from the size of your product thumbnails to the number of products that appear on each line. You can even control the type of checkout experience and automated email communications the CMS sends to paying customers with ease.
Having full control over your web design and features might not be a huge benefit for a casual blogger, but if you're looking to help your business grow and thrive on the web, it is a must-have for your company's website. When it comes to custom website design, Wix just can't compete with WordPress.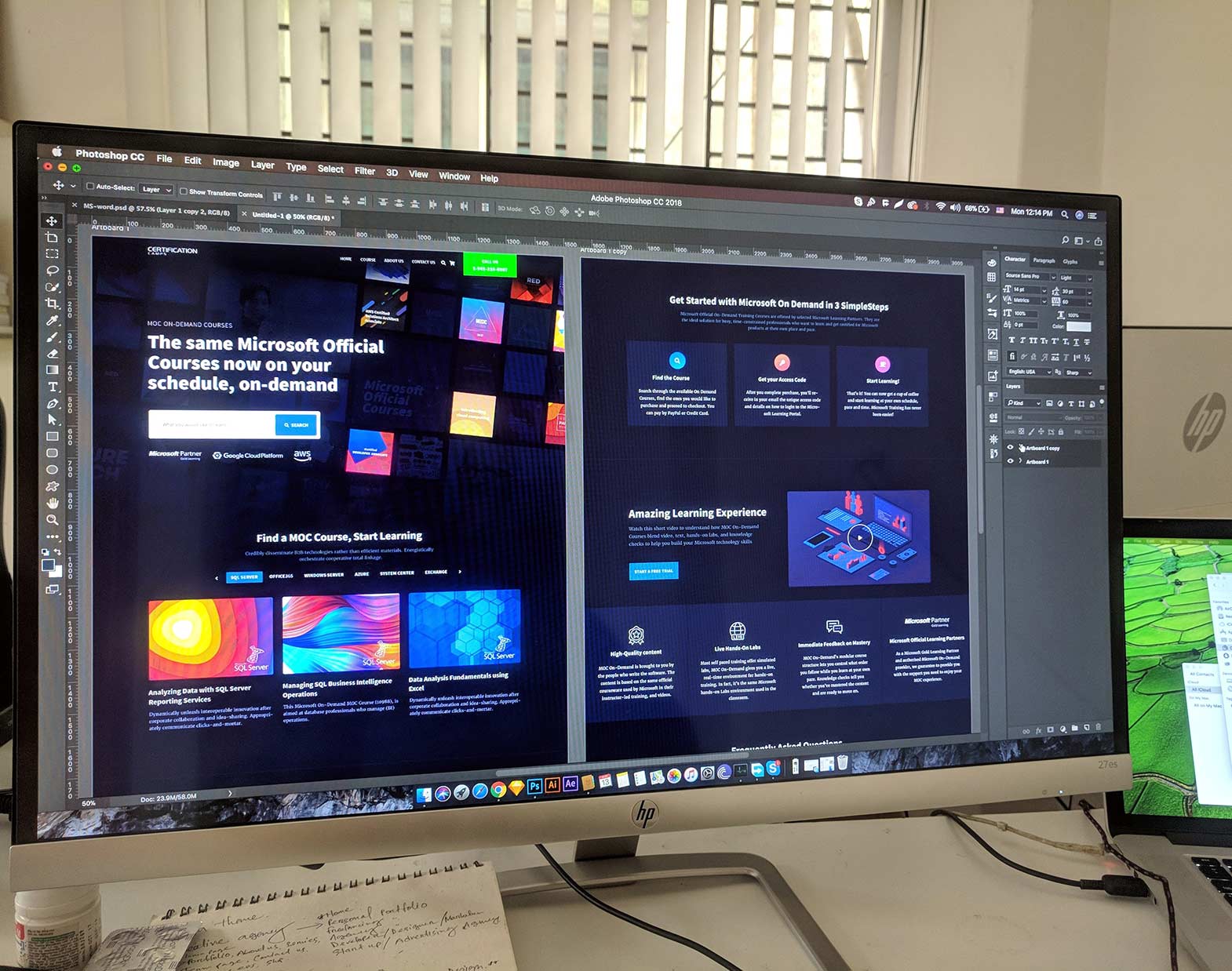 Creating an Intuitive Mobile Website
Today, more than 50 percent of all web traffic now comes from mobile phones. Most web builders realize that a large percentage of web traffic happens on the go and for that reason, many templates on Wix and WordPress are designed with mobile versions included – also known as responsive web design.
These smartphone-friendly themes are optimized for viewing on a smaller screen and includes both cellphones and tablets. These versions do things like streamline text boxes, stack pictures, resize diagrams, and move menus so that they can still be easily accessed and are optimized for SEO.
But while a theme may come equipped with a mobile version, that mobile version may not work well for your business website. It may result in content, images, and products being moved or shuffled around on your site, which could change what your customers see and experience when they visit your site from their phones.
When you choose to work with WordPress vs Wix to build your website, you'll also have a chance to create your own mobile-friendly version. That way you can ensure that you aren't losing any valuable web traffic and offering a highly optimized browsing experience to your users.
Ensuring That Your Site is AODA Compliant
In 2005, AODA, or the Accessibility for Ontarians with Disabilities Act, was established. This act ensures that all Ontario residents have equal access to any resources, including those located on the web and it doesn't matter which platform your website is built on.
This means that website owners have a responsibility to ensure that there are no barriers on their website that could prevent an individual with a disability from fully utilizing the site.
Common disabilities that can cause individuals to have trouble using standard, non-compliant websites include:
Blindness
Deafness
Impaired motor skills
Slower reading speeds
There are a variety of regulations that website owners need to follow to make sure that their site is accessible to anyone with the above or other disabilities. Fortunately, there are many WordPress plugins available to help flatten the learning curve when it comes to making your website accessible. Many include a built-in text resizer makes it easy for those who need the larger font to read the content on your site. Optimizing your website code for screen readers allows web visitors to use screen reader technology to read aloud the text on your site via audio. This allows individuals who are visually-impaired to use your website efficiently.
Pre-built themes and plugins available on Wix or even paid templates on the WordPress platform may not necessarily meet all AODA standards out of the box. To ensure that your Ontario business website is compliant, it's a good idea to hire a web design company that is familiar with these accessibility and compliance regulations and can help you build a site that is free of barriers that could keep your customers from using and interacting with it.
Another reason to keep in mind when considering Wix and WordPress for your next site; a custom WordPress design is inherently the best option for Ontario business owners.
Control Your Own Web Security and Updates
One aspect that Wix offers that appeals to startup businesses or casual website owners is that the web builder handles all security and updates to the website for you which flattens the learning curve when it comes to website maintenance and security and offers customer support.
You won't have to worry about running updates on your themes and plugins or doing website maintenance to keep the platform functioning. You can also use apps from the App Market to monitor your online store and security, making it all easy to do even if you don't have a lot of experience with managing websites.
However, with updates and much of your Wix site's security out of your hands, this can put your business' website in a tough spot. You'll be at the mercy of Wix tech support for updates to keep your website functioning. And you won't have full control over the safety and security features that you need to implement, which might increase your chances of a security breach, putting your website data and your customer's information at risk.
If you don't have experience with web security, it's best to leave this task to the professionals. This is only possible if you have full control over your website and its code, which you simply won't have with a Wix site. This aspect alone is what drives many business owners to stop using Wix and upgrade to use WordPress. Just about every hosting provider that offers WordPress hosting will automatically update the WordPress core software to maintain functionality and security for you when patches are required. It's in their best interest to keep their servers safe and secure from harm. This means you'll only need to worry about keeping your WordPress plugins up to date from time to time.
Never Lose Control of Your Content
With WordPress.com or a Wix site, you never have full control over your website or the content contained within. Both platforms feature extensive terms of service that all users must follow simply to take advantage of the drag and drop editor and easy first-time setup using the website builder.
If your site fails to follow their terms, the platform can take away access to your site, take it off the web, or otherwise shut it down. Without warning, you could lose your business website and any content hosted on it. When this happens, if you can't quickly fix the problem, your business will be left without a website for customers to visit or shop from until you can build a new one or return your old one to service.
With a custom WordPress website, you are the only one with control over your website and content. As long as you are not selling anything illegal on your online store, no one can remove your CMS access, limit features and functionality or shut your website down.
Why WordPress is Better for Businesses Than Wix
As you'll need to provide your own domain, custom site design, and web hosting, you might be wondering why you even consider WordPress and just use Wix. The truth is that while you can set up and run a business website without WordPress, it is an invaluable marketing tool that offers unparalleled flexibility and SEO power. WordPress allows you to reap the benefits of a custom site that you have full control over, while still providing a number of convenient tools to help you manage your business' website. All without having to worry about paying a fixed service fee per month.
Some of the tools you'll have access to include:
Easy, simple content management for making changes to your site, adding new products, or posting blog articles
Free plugins, including those for backing up your site, tracking metrics, and more
Tools for maximizing Search Engine Optimization to help increase your site's ranking on popular search engines like Google.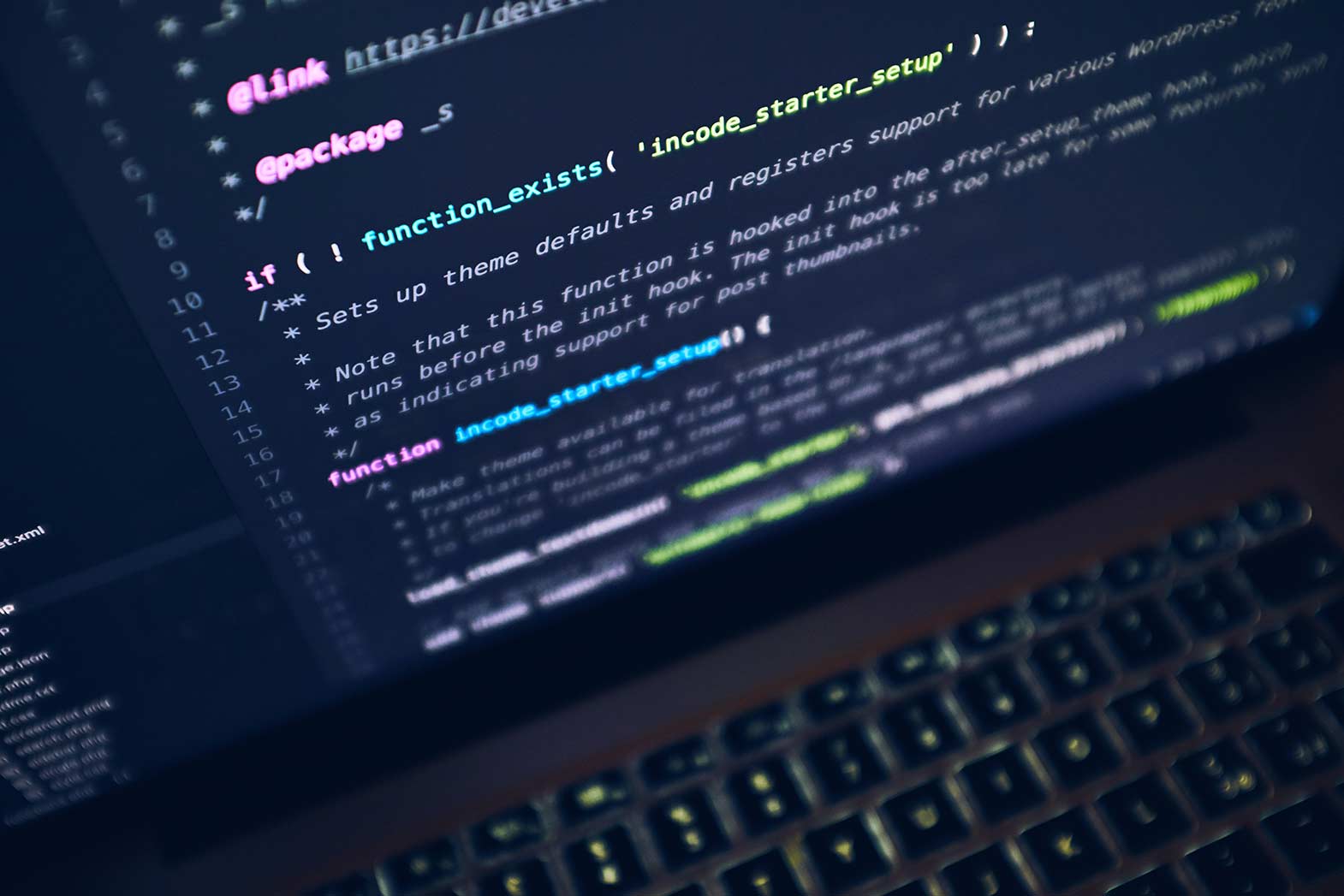 What You Need to Know About Creating a Custom WordPress Site
Building your own custom website and deciding to use WordPress ensures you have full control of your website. This means that no one can take it off the web, and you aren't restricted to a set theme or plugins. However, with this level of control comes responsibilities.
For instance, it'll be up to you to backup your site. If you don't back up your site, you run the risk of losing all of your content if something goes wrong. If you choose a web host that offers managed WordPress hosting they will provide an automated daily backup service that takes this responsibility off your shoulders, however.
In addition to backing up your website, you'll need to perform regular website maintenance and manage software updates to maintain functionality and a healthy website. This isn't something that users on the Wix and WordPress.com platforms need to worry about but is a reasonable tradeoff for complete control and ownership of your website.
WordPress also offers a variety of plugins designed to help you back up the content on your site to an external platform or even just download it to your computer. You can also easily run any available updates directly from your WordPress backend, with just the click of a button.
While WordPress.com is free to use, you will need to arrange your own web hosting, which in its own regard is a must-have for any serious business owner. Choosing a platform that allows you to take advantage of the speed and performance optimizations that play a role in search engine optimization as well can power your SEO efforts in one fell swoop. With so many WordPress hosting options available, this gives you the freedom to choose your favourite and to consider the benefits that one host might have over another for your website.
Many web hosting platforms offer specials to users so that you can try out their services for a month or even a year at a discounted rate. While it is time-consuming and a bit complicated to transfer your existing website from one host to another, it can be done. So if you find that you are unhappy with your web host, you can always make a change later on.
However, if you choose to let us help you set your business up for success with a custom, professionally crafted WordPress website, we'll also recommend that your site is deployed to a managed WordPress hosting service.
For just a few dollars more each month compared to other hosting options, you'll get increased security, advanced performance enhancements, easier management of your website, and more.
You've made it this far...
We hope you're finding this content useful. Let us help you achieve your goals.
Get a Quote
How to Switch From Wix to WordPress
If you already have a website built on the Wix platform and you're ready to upgrade your business' online marketing the natural transition from Wix to WordPress is one our firm has loads of experience with and can make the switch easy for you.
Whether you're dealing with slow website speeds or wishing that you could customize certain aspects of your site, as your business grows, it's likely that you'll find that your existing Wix website just isn't growing with you.
This is a conversation we have with many small business owners when they are ready to transition from startup mode to a more serious and professional business. When you create a website using a free or paid template on Wix or WordPress, there's no room to grow or later customize this template. That means that you can't bring in a professional web designer and start changing the code or moving around major aspects of your site. For this reason, Parachute Design does not work with existing Wix and WordPress templates. Instead, we offer fully customized WordPress design and development.
It's usually best to start from the ground up with a new website and allow our professional web designers to craft a winning design strategy to ensure your custom website is an online marketing powerhouse. Using our experience and creativity we design and develop a website that is conceived to meet your specific goals – not a template that many other businesses are already using, maybe even your competitors! This will give you the most freedom to build an intuitive, beautiful, functional website that you will be proud of and your customers will love. Making the decision to use WordPress also ensures that you'll have a website that can easily grow alongside your business, so you won't need to redesign again in the near future.
Luckily, if you bought your own custom domain name, you won't have to give that up either. Instead, you'll simply transfer it to your new website and maintain your current SEO value and existing search engine rankings after we implement our rock solid 301 redirect strategy. This means that you can wait until your new business website is built before moving your domain over to avoid any downtime at all.
Even if your current Wix website isn't performing the way you'd like, it's best to leave that site active or at least live with a message to your customers about coming changes, that way they won't think that your business has simply closed.
Why Should You Upgrade to a Custom WordPress Website?
There are a number of indicators that might let you know that it's time to upgrade your business' website and weigh the pros and cons of Wix vs WordPress.
One reason is that your web design no longer matches your business' brand and style, making it tough for customers to recognize the connection. We as consumers often decide what to buy because of subconscious indicators. One element that carries a big subconscious effect is a company's brand. You absolutely want your customers to feel connected to your brand, and to see your products as a way to achieve a certain goal, emotion or lifestyle. Branding, including everything from the font you use to the style of your product photography, is a huge part of that experience you need to consider when creating a custom website design. This is simply something to seriously consider between Wix and WordPress. Only one platform can offer the flexibility to achieve full brand control.
It's difficult to emulate a company brand with a preset web template as you will find on Wix. If your business' brand has evolved, your website should reflect that in every aspect of its design. Some brands are timeless, while others reflect trends in the market. Whether your brand is timeless or not, your website still needs to reflect the common trends and UX practices that customers expect from a business like yours. For instance, menu options that allow customers to search for products by certain categories are the standard today. If your e-commerce store lists all the products in one long web page, it will leave your site looking outdated.
You also want your website to be as easy to use as possible. As you add to your site and expand your company, your website design may need to be updated to keep it user-friendly. The same is true if you decide to do a major launch of a brand new product or service. A simple drag and drop approach to build a website simply won't allow you the flexibility to grow.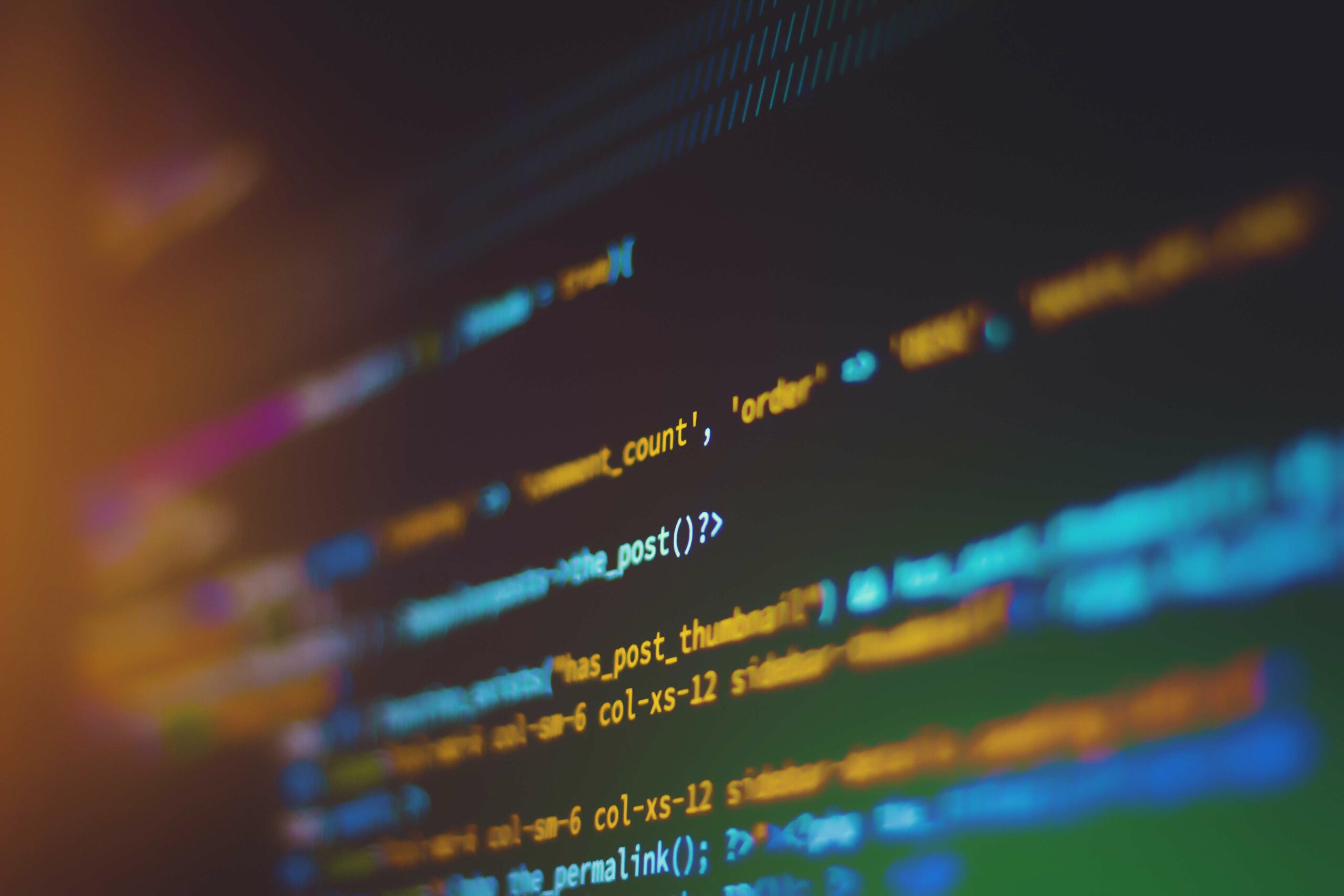 How to Decide When it's Time to Hire a Web Design Company
Building a website from the ground up rather than using a pre-built template is harder than it might seem. Not only does it require advanced knowledge of code, but also knowledge of web design and user experience best practices and trends.
You'll need to know which features, layouts and colours work best, and where they fit into the overall user interface design of a website. This means understanding how web visitors use various types of websites and functionality across many different industries and demographics, where they expect to find certain navigational tools and more.
Unless you have advanced web design experience, building your business site is a job best left to the pros. A professional web design company will do more than simply build you a site. They will learn about your business, your customers, your products, and any dreams you have of growing your business. Armed with this knowledge, they'll design a WordPress site that's not only beautiful but also focuses on ease-of-use and is SEO optimized for organic search. No matter how great a website looks, if customers can't instantly find what they're looking for, it will never be effective in converting visitors into customers.
Instead, great web design should fade into the background. While you want your customers to enjoy the experience on your site, what should really shine is your business and brand itself. From your unique branding to your products to the messages you want your customers to read or hear, this is what should stand out and a professional web design can achieve this.
Once your site is built the web design company won't stop end there. They'll also help you fill your site with products and content that take advantage of search engine optimization so that people will find your business naturally. You'll spend less money on marketing and be able to focus your time and budget elsewhere to grow your business. A great web design firm will also have expertise in setting up an online store, or even setting up a blog so that you can update your customers on what's going on with your business.
While you'll hopefully have a long, successful working relationship with the web design company that you choose, if your site is built well on WordPress, it's one that you can continue to use even if that relationship does end.
Launch a New WordPress Website for Your Business
Now that you know all about the benefits and drawbacks of Wix vs. WordPress, it's time to decide whether your business website needs an upgrade. Carefully weigh the pros and cons and decide, is it going to be Wix or WordPress?
If your website is out-of-date, difficult to use, slow to load, or otherwise no longer working for your business, odds are that its time to move on from your Wix site and begin the website building journey in WordPress with a professional web design team – this is what we're best at, and we can help make the transition from Wix to a custom WordPress site easy and stress-free.
We have more than 17 years of experience in the most competitive web design market in all of Canada. We've consistently stood out as a top web design company, thanks to our creative, functional designs, our attention to detail, and the ease with which we work with clients from all different industries.
From law firms to health and fitness companies and everything in between, we've helped clients launch beautiful WordPress websites that cater to their customers, and that is search engine optimized to stand out on the web and rank well on social media. We have built a six-step web design process that allows us to best serve our customers from the start, and that allows you to stay involved in the design process at every turn.
Launching a new website for your business is a big step and a big investment. With the right design, you can take your business to the next level, and launch a site that will help you reach new customers, sell more products, and keep your company growing for years to come.
If you're thinking about redesigning your business website, we can help. Contact us today to learn more about our custom WordPress services, and how we can help your business shine on the web.