Website Maintenance is Important to Maintain the Integrity and Security of Your Marketing Investment
Did you know 94% of people make their first impression of a business or brand based on its website's design? An enormous percentage like that is hard to ignore. If you've ever discounted the value of website design before now, it's time to rethink your view on the importance of a professional website design and optimized user experience.
Setting up a professional website for your business or brand is challenging and best left to professional web designers and developers. In most cases, after launch, a website will require long-term website maintenance and you would be wise to factor in a website maintenance plan into your annual operating budget. Once your new website is deployed and ready to serve as the foundation for your digital marketing, it's important to keep up with web maintenance tasks to ensure you're offering an optimal experience to visitors and maintaining a secure website people can trust.
What Is Website Maintenance and Support?
Most websites, including custom WordPress websites, require regular "check-ups" to maintain their security, site performance and search engine optimization health. Consistent website maintenance is an essential part of upkeep for any site, but even more so for an eCommerce business. If you operate a CMS-driven website you will find that your web host will update the core software automatically to ensure that they are doing their part to keep their servers running optimally and secure. When the core software has been updated any plugins or extensions running on your website will need to be updated to stay current and compatible with the core.
To comply with these updates and ensure your website doesn't fall victim to any number of functional, security or performance issues, you must make sure to schedule regular website maintenance with your web design company. Each and every business has different methods of operation, marketing and daily or monthly needs, and so too does their website. Below are some of the most common reasons you need to budget for a maintenance plan for your website.
Staying Current With Software Updates
Different kinds of updates impact a website in many different ways. These updates may come from extensions or plugins used for e-commerce purposes, added or customized functionality within your web design or even SEO services, and more. There are also regular be updates from internet browsers, server-level updates from your web hosting platform, and search engine algorithm updates that require consistent website maintenance to stay on top of.
Some updates require manual intervention and cross-referencing with your current website configuration before updating, while others occur automatically and can affect different elements of your website content and associated digital marketing.
Keeping current with software-related updates consumes a lot of time and energy. Engaging in a website support contract or website maintenance plan with your web design agency can save you time and allow you to focus on running your business instead of constantly monitoring your website and obsessing over your digital marketing.
Keep Your Website Secure and Safe From Harm
If any aspects of your website require special attention to site security or data privacy, you need the support of a professional web developer. Cybersecurity is increasingly important to protect against automated bot attacks, site hacks, and privacy breaches. In fact, 43% of last year's privacy victims were small businesses.
That's not a small enough percentage to be easily overlooked, especially for a website that serves as such a fundamental piece of your business. A web maintenance contract ensures that professional levels of cybersecurity and proactive measures are implemented on your website to prevent would-be attackers from gaining access and causing damage to your business or brand.
Your web developer may also suggest employing an enterprise-level website application firewall (WAF) like Cloudflare that is designed to use artificial intelligence to block malicious attacks before they happen or deploy automatic lockdown and safety measures should an attack occur.
Website Analytics and Data Tracking
Whatever your website's main purpose may be, it's safe to say it generates valuable customer data that can be used to improve your business. Website maintenance can also play a key role in helping you track and make sense of this information from month to month and utilize the data to its full potential for your company. Running regular Google analytics reports may include highly detailed SEO reports and performance metrics on website visitors and user interactions.
These metrics provide actionable ideas and recommendations for marketing, improving user experience, and optimizing various webpages both humans and search engines alike. When you track scroll events, page clicks, or click-through rates, you can monitor user behaviours with the use of powerful click-mapping tools to understand how well your website is engaging with your audience and converting visitors into customers. Having a website support agreement with your web design team can offer invaluable data collection and reporting to help you make better business decisions and fine-tune your digital marketing.
Improving User Experience
User experience is affected by many factors within a website. Page load time, broken internal or external links, broken page layouts, or unexpected functionality or interactions all impact your users' experience on each web page. All of these metrics factor into your core web vitals score and send a signal to search engines and humans to gauge the authority and effectiveness of your website.
Your website should also adhere to common accessibility standards to ensure all visitors are able to browse and navigate your website efficiently. Accessibility is a very important topic in the web design field today and keeping current with accessibility standards also requires regular website maintenance tasks by your developer.
The best way to ensure a great user experience on your site is to invest in a professional website design. To maintain that optimized experience you should perform regular updates and make sure to take advantage of one of your web designer's maintenance packages.
Making It Mobile-Friendly
With over 5 billion people on mobile devices, it's a no-brainer that your website needs to be mobile-friendly. Although your site may not have billions of visitors (or even millions right now), odds are that a very significant portion of your web traffic comes via mobile devices. The best way to optimize your site for mobile and stay on top of the constant evolution of devices and viewports is with a professional web design support contract.
Apple, for example, releases two new iPhone models per year. Many of these new devices feature different screen sizes from one generation to the next. Keeping up with these changes in the physical environment your website is expected to perform in is a choice every website owner has to make. Our web design company has a tried and true process of identifying the fluid breakpoints between device generations to ensure changes like this carry minimal impact on the websites we create for our clients and therefore keep their maintenance costs lower.
WordPress Maintenance
If WordPress powers your website, you'll most likely need more specialized support as there are many ways to further optimize and fine-tune a PHP-driven website to deliver the results your business will come to count on. With a specialized WordPress maintenance contract, extensions and customized plugins will run seamlessly and efficiently at all times.
The open-source content management system powers one-third of all websites that exist on the web today and naturally draws a lot more attention from malicious bots and hackers than content management systems that are less prominent. Our WordPress experts have worked with the CMS for well over a decade and have built one of the most trusted and comprehensive WordPress security guides available.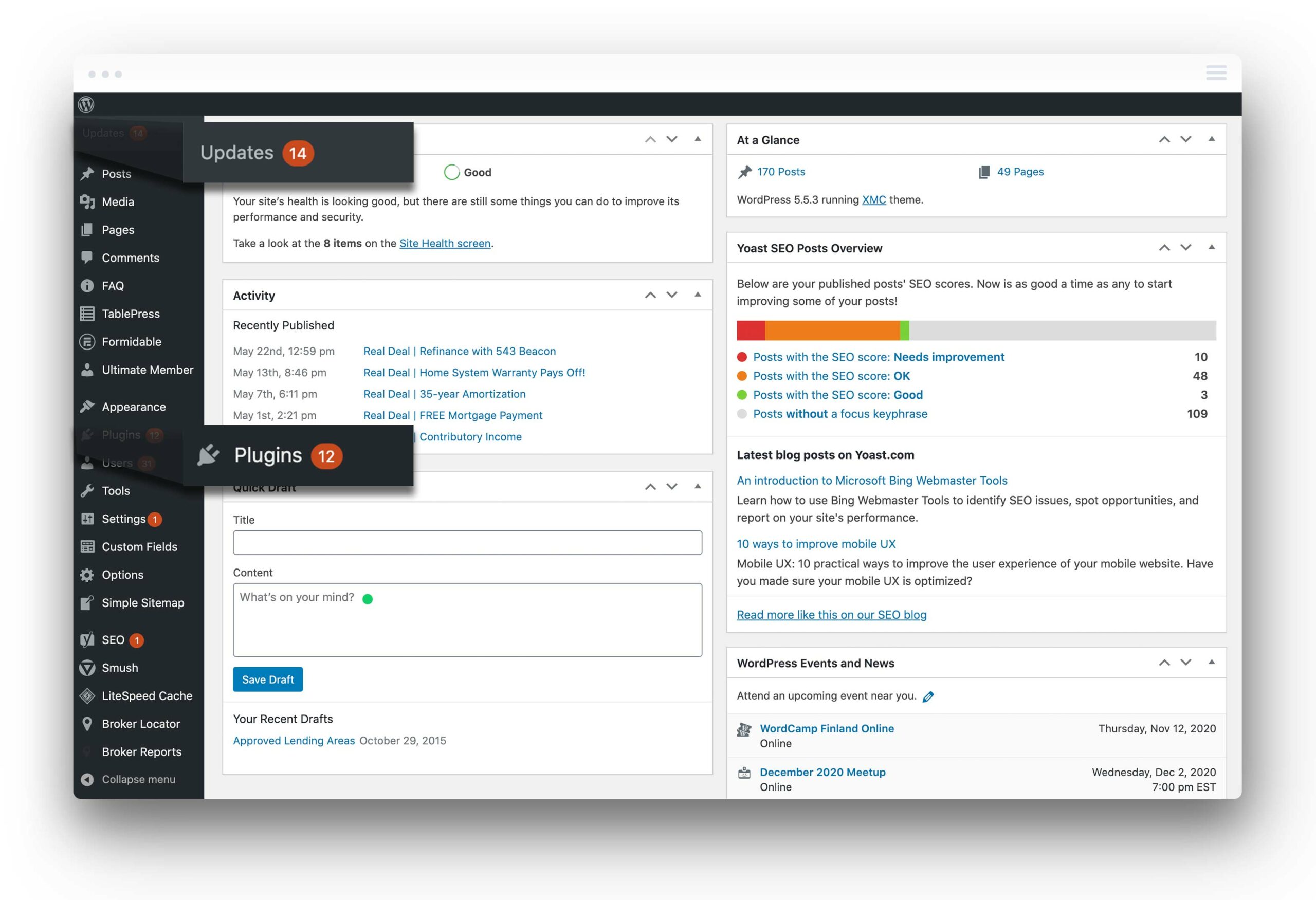 Do I Need a Website Support Contract?
Certain tasks must be completed weekly, monthly, quarterly and yearly. Staying on top of all of these tasks can quickly become a full-time job for any business owner to keep a well-maintained website operating for their clients or customers. One of the most common questions we receive is "What does website maintenance include?" and to be clear, it's not an easy question to answer as most websites require unique attention depending on their overall design and make-up.
However, there are different approaches to website maintenance services and many web designers are able to work with their clients to tailor maintenance plans to fit the needs and budget of their small business. Depending on the type of maintenance and support your website needs we can break site maintenance into four distinct groups.
Weekly Updates
Every week, your website should have top-level elements checked. Your pages need to load without error or broken links. Any contact or lead generation forms must function fully and transmit information to the correct inbox or integrated CRM platform.
Spam comments or posts need to be removed if they've been saved in your content database. 404 errors need to be fixed or redirected and content such as blog posts and plugins may require updates as well.
After making all of these changes, you'll need a fresh backup of your site if your web host does not provide automated daily backups. This process stores the previous version of your site to protect from content and data loss.
Monthly Maintenance
Every month, your content needs a high-level audit. Determine which posts or page content needs optimization, which should be removed, and assess any potential keyword gaps to fill in your digital marketing. Aside from auditing content, you should also have a regular process in place to evaluate your website analytics and identify anything with the potential to causes performance or page experience issues.
There are many cloud-based SEO services or tools that can be easily integrated within your website to automate this type of analysis and provide you and your web team with itemized website health reports. These tools can flag many different issues within your website so that you can easily prioritize and begin addressing issues before they cause significant damage, including:
Checking SSL certificates
Available or recommended security updates
Content audit
Customer engagement and behaviour
Search engine optimization rankings
A/B and multivariate testing
Search engine visibility
Usability and accessibility
Social media mentions
Security scans
Page speed and performance
And more
Most business owners already have a long list of important marketing and sales metrics to analyze and act upon. Instead of investing your time and money into finding the best analytics tools and learning how to use them proficiently, it may be in your best interest to consider working with a web design and development expert that can take these tasks off your plate. Web professionals also have the background and experience to make sense of the data and work with you to streamline goals each month and keep website maintenance costs in check.
Quarterly Support and Maintenance
Every quarter in addition to standard software and plugin updates, it's good practice to give your website a more thorough review from top to bottom. Overall, you should make sure to evaluate the current site structure, information and consider modifications to the user interface design and improvements to further optimize your website's performance and search engine visibility.
While reviewing content, make sure to examine current digital marketing and ad campaigns for necessary revisions to make better use of keywords and visual design elements. Making minor, data-driven adjustments to on-page elements like popups, web forms, and other calls to action can result in improved conversion rates.
The quarterly review should also include a survey of important SEO-focussed elements such as meta titles and descriptions. Depending on current industry trends, these may need adjustment to amplify impact or to focus on alternative keywords and phrases entirely.
Annual Website Maintenance
Annual website maintenance is still straight-forward but consumes more time than other types of maintenance. It involves a review of all site content, keyword strategies and design. The content audit may also include the updating of all dated references from the current year for the upcoming one.
While reviewing your web content, perform more extensive audits for accuracy, grammar, typos, and relevance as concepts and best practices may have changed since you last published this information.
Be sure to check the renewal date on your SSL certificate to ensure it does not expire unexpectedly and leave your website open to unsecured connections.
Afterward, evaluate your content metrics. Adjust peak performing content with any needed updates. Determine what content needs removal, repurposing or rewriting to perform better in search results and offer more value to your audience.
Ensure that your domain name is renewed in advance of its expiry. Review active email addresses and remove excess or unused accounts to declutter your server.
You may also consider if a more comprehensive website redesign is needed if your branding or marketing goals have changed in the last year.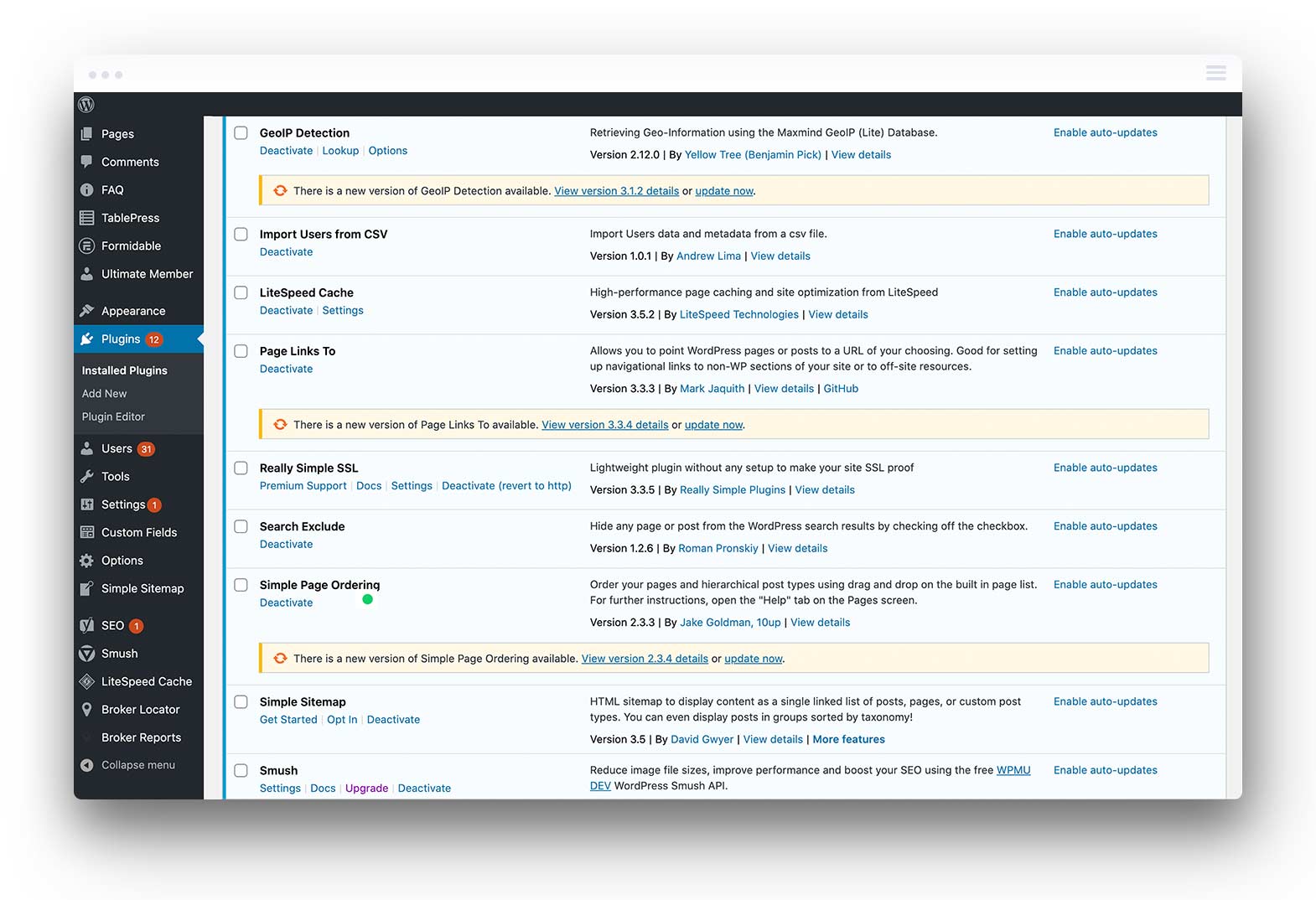 How Much Does It Cost to Maintain a Website?
Website maintenance costs vary from company to company and website to website. However, at this stage, it's clear how much time, effort and expense go into a well-maintained website, so before committing to any website maintenance services there are a few factors to consider when reviewing website maintenance plans; these include:
Purpose and size of your website
Level of custom content
Scalability of services for business growth
Experience with website maintenance
Priority for website support and update
The time needed for maintaining your site
What type of maintenance best suits your budget
Careful considering these factors, along with your web maintenance budget, will help you choose the right plan for your business. Before you seek out a maintenance package, you should consider the average website maintenance costs to avoid overpaying. Cost may be broken down by different factors, too.
Domain name and renewal – dependent on your web host's pricing, package, and fees; often runs $10 to $15 annually
Web hosting – varies by hosting needs (shared, virtual private server, dedicated, cloud, managed) from $10 to several thousand dollars per month
Site architecture updates – fixed pricing or as-needed maintenance for updates and testing
Content – hiring freelancers or paying staff for content creation
SEO services – working with an SEO specialist for on-page SEO (separate from website design, off-page SEO)
Each of these elements varies based on the amount of support needed. Most often, your budget and cost are determined by the size of your business, your digital marketing strategy and whether or not you are operating an eCommerce website or portal that contains private user data.
Website Maintenance Cost and Tiers
How much does website maintenance cost? That's a loaded question. Your site's size and intended use directly impact the cost of support. The bigger the site and the more complex the functionality contained within your site is, the more you should expect to pay per month in website maintenance costs.
Personal Blogs or Portfolio Sites
A site this size likely includes less than a few hundred visitors per month. Hosting fees and domain registration run fairly low at this tier and most often, content creation is managed through the content management system by the website owner.
Keeping costs low for a personal blog or portfolio site is possible and owners easily explore free tools and templates to reduce website maintenance costs until the site begins to generate more revenue. The need for highly customized plugins or an SSL certificate is much rarer in these instances.
Your biggest focus is likely to include anti-spam plugins and content production. The investment in website maintenance begins here, with small regular checkups on backup health.
Other costs remain low until you begin investing in more digital marketing and paid advertising per month, which will carry you into the next website support tier.
Small Business Sites
If your website serves as a source of revenue generation for your company, you will likely be required to invest in more technical support. You will need to explore a more encompassing maintenance contract that covers the basics like software updates, SEO marketing tips and quality assurance testing. At this point in the game, you will want to make sure you plan before your web site becomes too big to manage.
Standard eCommerce Sites
As a regular revenue source, any e-commerce site needs to run smoothly and efficiently without experiencing any downtime or significant glitches. You should strongly consider using professionally contracted web support if your business depends on online sales to bring in revenue. Entrusting your website maintenance and care to a professional web design company helps to avoid major problems in your online income stream related to the online checkout process or otherwise.
A standard eCommerce site requires less intensive support than more robust or highly complex transaction-based websites, but they do require regular web maintenance.
Custom eCommerce Sites
A customized eCommerce site requires dedicated around the clock support. This is the type of site that requires weekly, monthly, quarterly, and yearly check-ins. Without a maintenance plan, a site like this can run off the rails fairly quickly leaving you without the ability to complete sales and can cripple your revenue stream leaving you with an expensive price tag to repair the site once the damage is done.
Hiring the Right Company for Website Maintenance
Understanding the value of professional website maintenance services not only helps put website ownership in perspective but also helps business owners set their annual operating budgets. At Parachute Design, we specialize in custom WordPress design and development and offer two months of complimentary website maintenance and support with each and every website we build. This post-launch support period allows us to more accurately gauge the type of support each website will require going forward and provides insight into the value and importance of professional website maintenance services to our clients.
Contact us today to learn more about our custom website design and development process and how regular website maintenance can provide the stability you need to grow your business.