Why You Should Invest in a Custom WordPress Website
A question we're asked all the time is How much does a WordPress website cost? This is a question more than half of all website owners will face when they start a new business and launch a website or consider upgrading their existing website because WordPress is the most popular CMS on the planet, powering nearly half of all websites that exist today.
The short answer: it depends.
Technically, a WordPress website doesn't have to cost you anything other than a basic web hosting fee. However, you can't set up a reliable business website on WordPress using the free version; choosing one of the many free themes.
What you spend on your website depends on how professional, reliable, functional, and secure you want the website to be.
The bottom line is that the more you invest in your website, the more value your website will offer. That's the general idea of building a site in WordPress.
So, how much should you spend, considering the many premium themes and free WordPress themes available? Figuring this out can be confusing for anyone who has never built a website before, as there are various costs involved in building and maintaining a professional website, from web hosting to a custom domain, on top of any WordPress costs related to custom design and development.
To help figure out how much you should invest in a custom website, we break down the average WordPress cost and look at various options to create a fully functional WordPress website.
Curious about what our agency charges for a hand-crafted WordPress website, learn more here.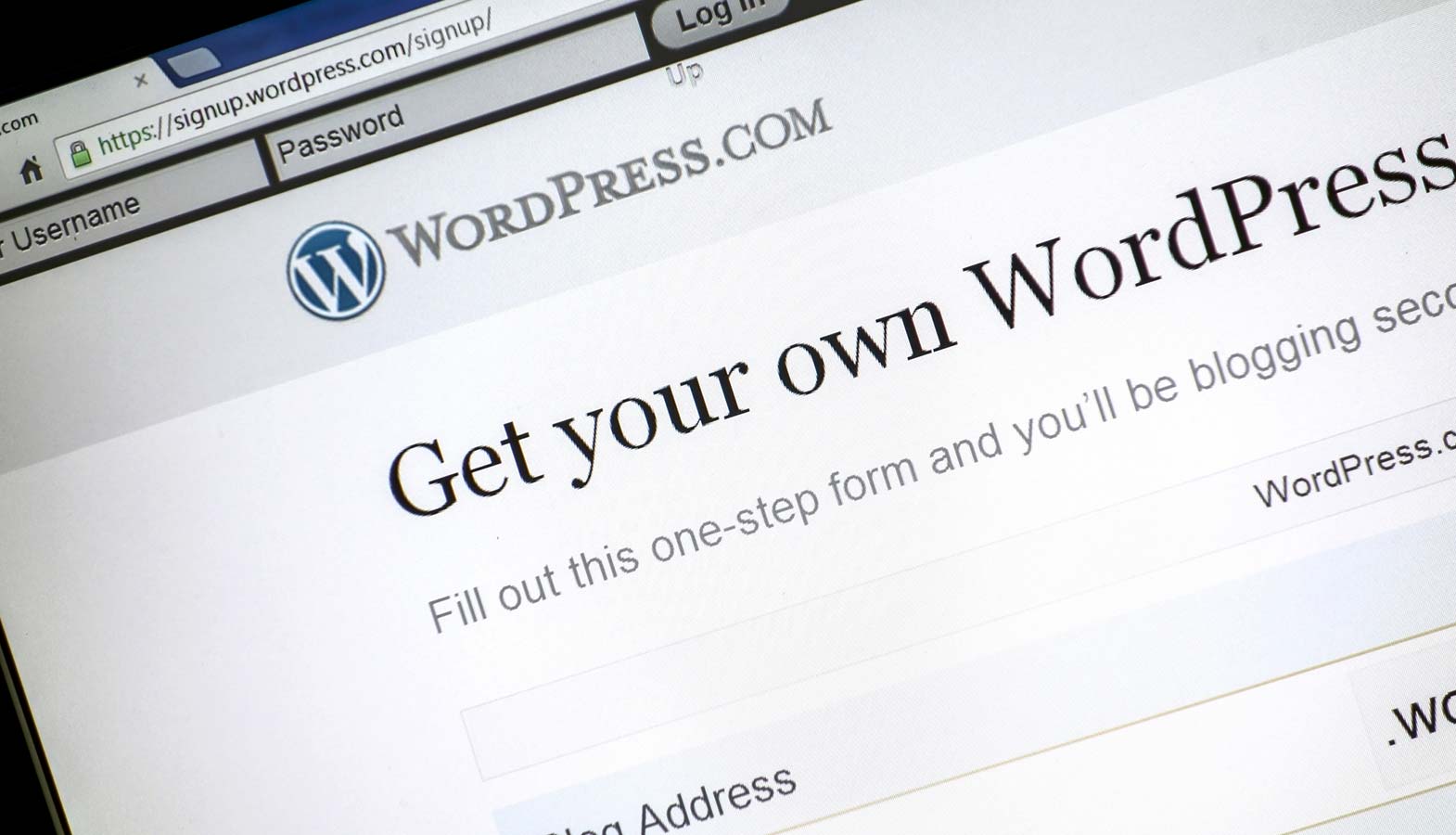 How Much Does WordPress Cost?
WordPress pricing can range all over the map. Creating a website for next to nothing using free themes and free plugins is possible. You could also spend hundreds of thousands of dollars developing a custom, enterprise-level WordPress site.
Let's break down the various costs involved in building WordPress websites.
The WordPress.com Plan
First, it's essential to understand what WordPress is and how it works. WordPress is a free, open-source software anyone can use to build a website. Yes, completely free; that's the beauty of open-source.
There are two different versions of WordPress available: WordPress.com and WordPress.org.
WordPress.com
WordPress.com is a free tool that lets you build a website from scratch. It includes everything you need to get your hobby blog or small business website up and running (including web hosting and a free domain name), and you can choose between paid templates and free themes to easily modify the design of your website within the parameters of the template you choose.
If you want to get rid of the "WordPress" slug in your domain name, you can pay for a personalized site – starting at $3 per month and use some basic WordPress plugins.
However, this option is designed for hobby bloggers, not professionals or legitimate businesses.
These websites are over-simplified, and they won't offer the performance or customization your business needs to thrive. And although you might be able to get a functioning website off the ground for next to nothing, this website won't support your business in the long run.
WordPress.org
WordPress.org is a free, open-source platform you can download and install on your own managed WordPress hosting platform. We refer to this when we talk about building a WordPress website.
Although this version of WordPress is free, building a best-in-class, highly functional website will require investment in creative design and development services unless you're a skilled WordPress developer. For example, you will need to budget for a web hosting plan, WordPress development, additional software for an eCommerce website, and premium WordPress plugins, to name a few.
The great thing about WordPress.org is that it gives you limitless options in terms of customization and performance. If you're serious about creating a professional website that powers your digital marketing and helps grow your business, a hand-crafted WordPress website is the most important investment you can make.
You can design your website as simple or advanced as you like, taking virtually any form and function you can dream up. This differs from WordPress.com, where the predetermined free templates limit your website design and functionality.
Using WordPress to build a website doesn't cost you anything. However, suppose you want a WordPress site with outstanding functionality and performance. In that case, you will need to invest in professional web design and development and consider one of several premium web hosting providers.
Although WordPress is technically free, WordPress pricing depends on how far you want to customize your business's most valuable marketing tool.
Get a Quote
Power your business with a custom WordPress website – Get a free quote.
Get a Quote
A Custom Domain Name
When building a WordPress website, you'll have to purchase a domain name. This is the actual name or address of your website that you will use in its URL.
The cost of a domain name can vary greatly, depending on how popular or potentially high-value the domain name or domain extension is. Many web hosting providers will offer a free domain name if you sign up with their service, but be wary of these offers as they're typically a gimmick to make a quick sale.
These days, there's a good chance any trendy domain names have already been snatched up. This means you'll either have to pay a lot of money to someone holding and selling a "valuable" domain name, or you need to get creative about your domain name.
Buying a new domain name costs around $10 to $20 per year.
Once you purchase the domain name, you renew it yearly for this meagre fee.
When you purchase your domain name, you'll need to consider whether it will be .com, .org, .net, or a variety of other domain extensions.
Understanding the differences between these options and what they mean is important. Of course, most business websites choose a .com domain, which makes the most sense unless you're in Canada and go for the .ca domain extension.
The exact price of your domain name depends on the registrar you buy it from and what the package includes. Shopping around and comparing options before purchasing your domain name is always a good idea.
However, this should never be a major expense for your business website.
A Web Hosting Provider
Before you can launch a WordPress website, you'll need to have a hosting provider. Web hosting is essentially renting space for your website to live on the internet.
Hosting providers offer the facilities you need to create and manage a website and make it accessible on the internet. This is achieved through servers, which house the website's data and code.
You generally pay for web hosting as a monthly or annual fee. Without this, your WordPress website won't be able to get online. The price of hosting can vary quite significantly depending on the type of hosting package you choose. Some plans may include premium support, pre-installed WordPress or access to a premium plugin.
Types Of Web Hosting
When you choose web hosting, here are some of the main options:
Shared hosting: The cheapest option is sharing a server with thousands of other websites. Shared hosting is not the fastest or most secure option and definitely not recommended for business websites.
Dedicated hosting: Where your website has its own dedicated server. A good choice for many business websites, especially those with a WordPress ecommerce website.
Virtual Private Server (VPS): A more advanced type of private server hosting that offers greater data privacy.
Cloud server: A fully virtual server where all your data is stored on the cloud. This offers complete control and flexibility over your website data.
Managed server: When the web server you choose is fully managed by someone else, all technical fixes or updates are always taken care of to ensure your WordPress website is always performing at its best. These hosts will even install WordPress through the click of a button.
The wide range of WordPress hosting plans means there is also a wide range of hosting pricing.
Cheap shared hosting could cost you a couple of dollars per month, while an advanced managed server could cost thousands of dollars per month. The web host you choose will significantly impact how your website performs.
This is the first area where WordPress website pricing can differ in a big way. If you're creating a WordPress website for your business, it's important to consider dedicated hosting at a minimum and preferably a more advanced server – avoid the free plan. This will let you create a faster, safer, better-performing website.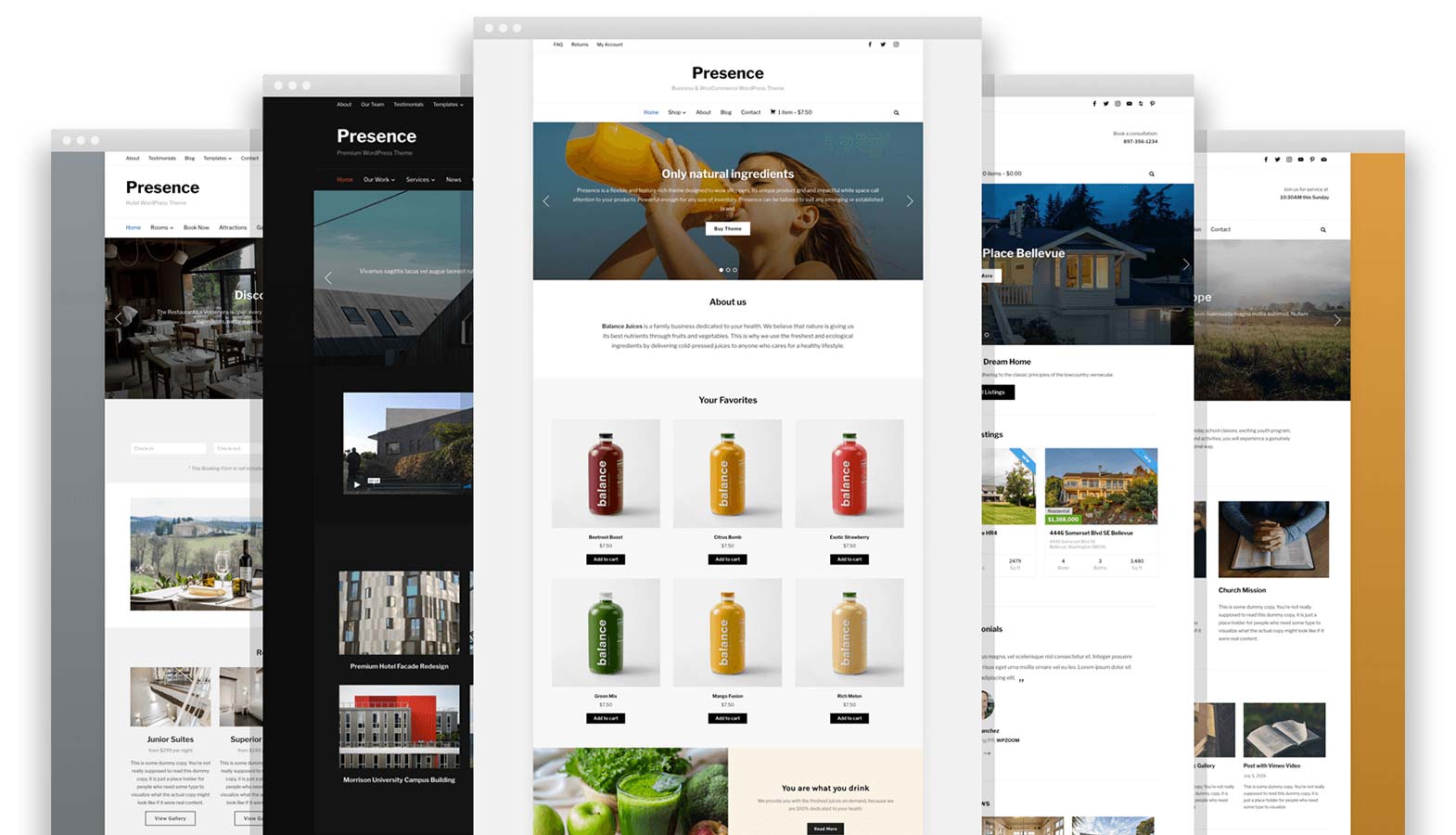 Website Theme
Once you have your custom domain name and hosting in place, you can start to build your WordPress site.
When you do this, your WordPress site will need to be built on a theme. This determines your site's basic layout and functionality and allows the CMS to populate the pages with content using the assigned interface design. WordPress is fully customizable, so your WordPress theme won't be too restrictive, and you can change the colours and other elements to suit your branding.
Each year, some WordPress developers release a new theme named after the year. These premium themes are solid choices, and they're generally well-maintained. This means you shouldn't experience significant bugs or issues with these themes to keep your WordPress costs predictable.
You can use these WordPress themes and the core WordPress software to quickly and easily stand up a website. However, WordPress websites with these themes can look generic or limited as anyone can purchase them and repurpose them for their own use but never really create a unique brand.
You could also opt to buy a premium theme. To build a WordPress website with premium themes will generally cost a couple of hundred dollars as they are more complex and customizable.
If you're going to purchase a theme, it's important that you spend time shopping around before you choose a WordPress theme. Changing themes after your website is built is possible but could be time-consuming and costly.
Also, make sure to review any theme you decide to purchase carefully. Some WordPress themes may look great, but they could compromise your website's performance or security.
Your other option is to get a custom WordPress website built by a web designer. This ensures that your website is unique to your business and reflects the vision you have for your site.
WordPress Plugins
WordPress offers unlimited functionality and absolute customization. This can be achieved by adding different plugins to your WordPress site.
Plugins are the different tools or "add-ons" that add unique functions to your website. You can use plugins to improve search engine optimization (SEO), set up redirects and lead generation, increase security, build tables in your content, create an eCommerce store, Google Analytics integration, and more.
Essentially, there are plugins available for everything you want to do on WordPress.
When choosing plugins, there are free and premium plugins to consider. Again, the cost of premium plugins can vary greatly depending on how advanced the plugin is and what support is included with a license. This can all add up to the cost of your website.
While loads of different plugins are available, it's important not to overload your WordPress website with them. This could slow your site down and result in bugs or security issues if the plugins are not properly maintained.
The general rule of thumb is only to use the essential plugins that your site needs.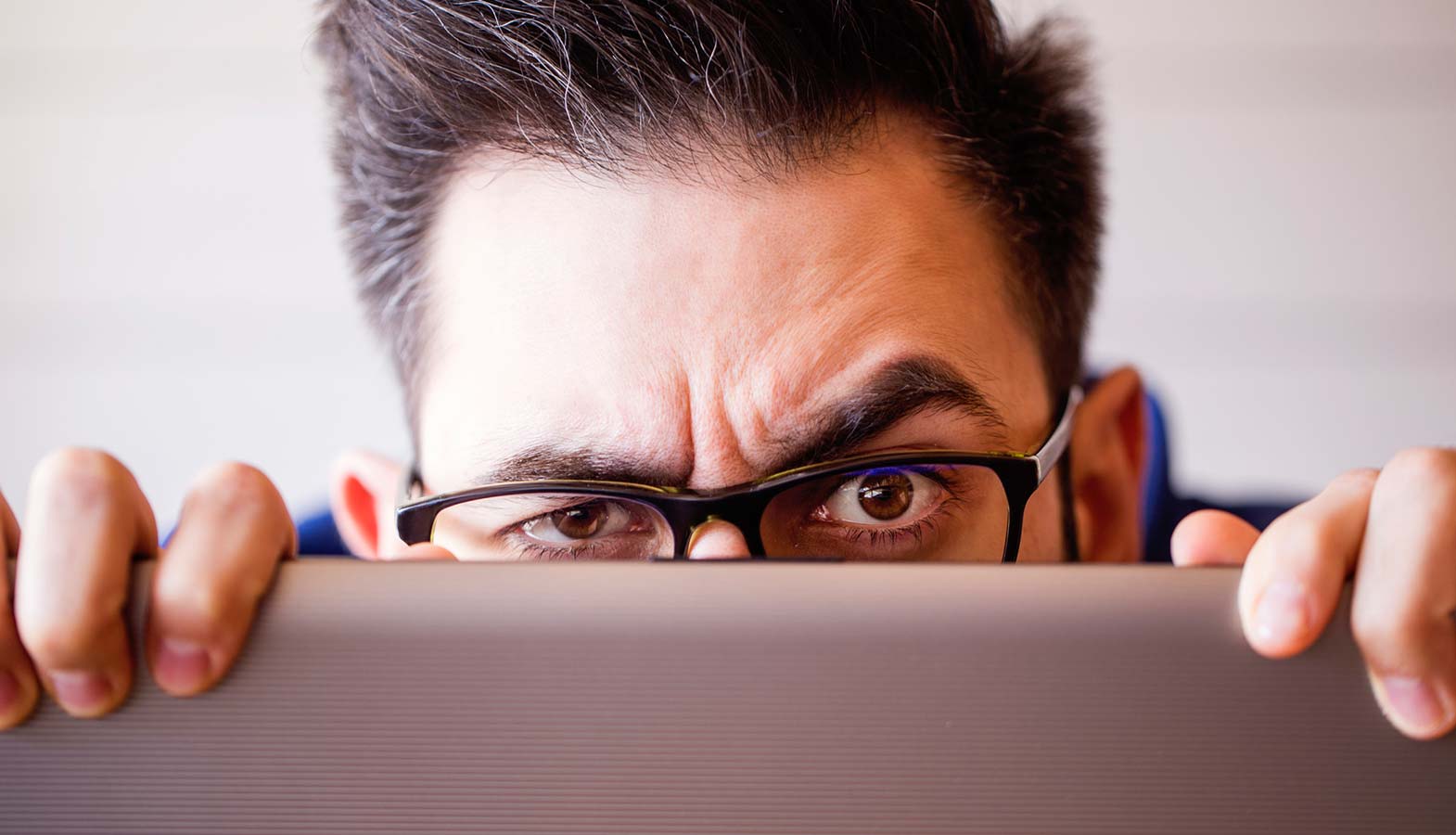 WordPress Security
An essential part of building a WordPress website is making sure it's kept secure at all times. Website security is incredibly important – especially for a WordPress eCommerce website or B2B website that processes payments and deals with valuable data.
Investing in proper security measures is something you should never compromise on with your WordPress website or any website. 90% of all website hacks are the result of lazy website owners.
The cost of maintaining a website and WordPress security can also vary greatly. Security costs should be next to nothing if you're running a simple WordPress blog. Most web hosts offer a free SSL certificate, while others might only cost you a few dollars per month.
However, if your site has many complex pages and stores valuable data, security costs can begin to add up as they would with any website.
WordPress website security includes a few different factors. You'll need to update your website regularly and ensure all elements work correctly. This means keeping your software and hosting up-to-date, ensuring your site is set up with the right security plugins and features and consistently monitoring any potentially vulnerable areas of your site for security threats.
When you start a website, you'll also need an SSL certificate to prove that your website is safe for web browsers. This should be included in your hosting plan most of the time.
Web Design and Developer Fees
Until now, all the costs involved in starting a WordPress site have been pretty standard and minimal if you plan to create a self-hosted WordPress site.
WordPress users can access hosting and a theme and create their site. It's possible, but if you don't have web development knowledge or website-building experience, a lot can go wrong with that site.
Not to mention that you could miss out on a lot of exciting functionality and options that you could get from a more custom WordPress experience.
The true value of WordPress, compared to other website builders and fully-hosted website platforms, is that WordPress lets you customize your website in any way you like. This means you can create more robust WordPress sites beyond what a premium theme can offer.
In order to craft a fully custom WordPress site, you'll need to hire a web design agency with the experience and development skillset to create a strategy and execute it for you. This opens up endless possibilities and lets you create a website that looks and performs exactly the way you need it to.
If you build a website on a free WordPress theme, your site will look and feel generic – there's no getting around it. You will likely experience challenges putting together the right pages and features to build success for your business by converting visitors into customers.
You can create truly unique, standout websites by working with an experienced web designer or developer who understands how to design exceptional experiences and build high-performance websites.
Does WordPress cost money? No, but your website is your business's most important marketing tool, so it's worth investing in building it professionally.
Why You Need Custom Design and Development
You need a custom design to ensure your website looks original. The price for professional-level interface design will vary depending on how many pages templates are required in your website and what kind of custom design elements these pages will include.
Then, you'll need to work with a website developer to ensure your website functions and performs properly. This concludes things like adding unique interactive elements to your website and ensuring that your site's basic operations are up to scratch.
Far too many people who develop websites themselves end up with behind-the-scenes issues on their websites that they don't even know about, which can cause irreparable harm to their brand and search engine performance.
These issues could affect how the website performs, damage the user experience and perception of the business, or even compromise security and lead to a data leak.
Without an experienced web developer managing these issues and ensuring the website is well-maintained, it's only too easy to overlook them and find yourself in trouble down the road.
Additional WordPress Costs
There are always extra services and features to consider when you build a WordPress website. From your SSL certificate to SEO performance, updating the website with content or managing the website to address bugs or issues that arise over time as the core software and web browsers evolve, maintaining a website has a cost.
Once you've built a website, you don't just set it and forget it. Maintaining and ensuring that the website always performs at its best is an ongoing exercise.
For example, SEO performance is fundamental to the success of your business. Without SEO best practices, your website may not attract sufficient organic traffic making your ROI and investment in WordPress costs moot.
There's a lot that goes into technical SEO, so it's important that you work with an expert developer who can help you bring your website up to par.
Another WordPress cost example would be building an eCommerce site. WordPress sites can use WooCommerce to access eCommerce functionality. WooCommerce is a free plugin, so technically, it's possible to do this for free at the root.
However, eCommerce WordPress websites will need a variety of extra areas of development in order for them to function at a high level and convert visitors into paying customers. This will likely involve development for things like marketing automation, security, marketing, and overall performance.
Even the best WordPress website will need to be updated or revamped every 3 to 4 years to stay current. If you build your website properly on a good foundation, this update will be easy and fairly straightforward, only involving a few cosmetic touches. If your website is poorly built, properly updating it can be costly.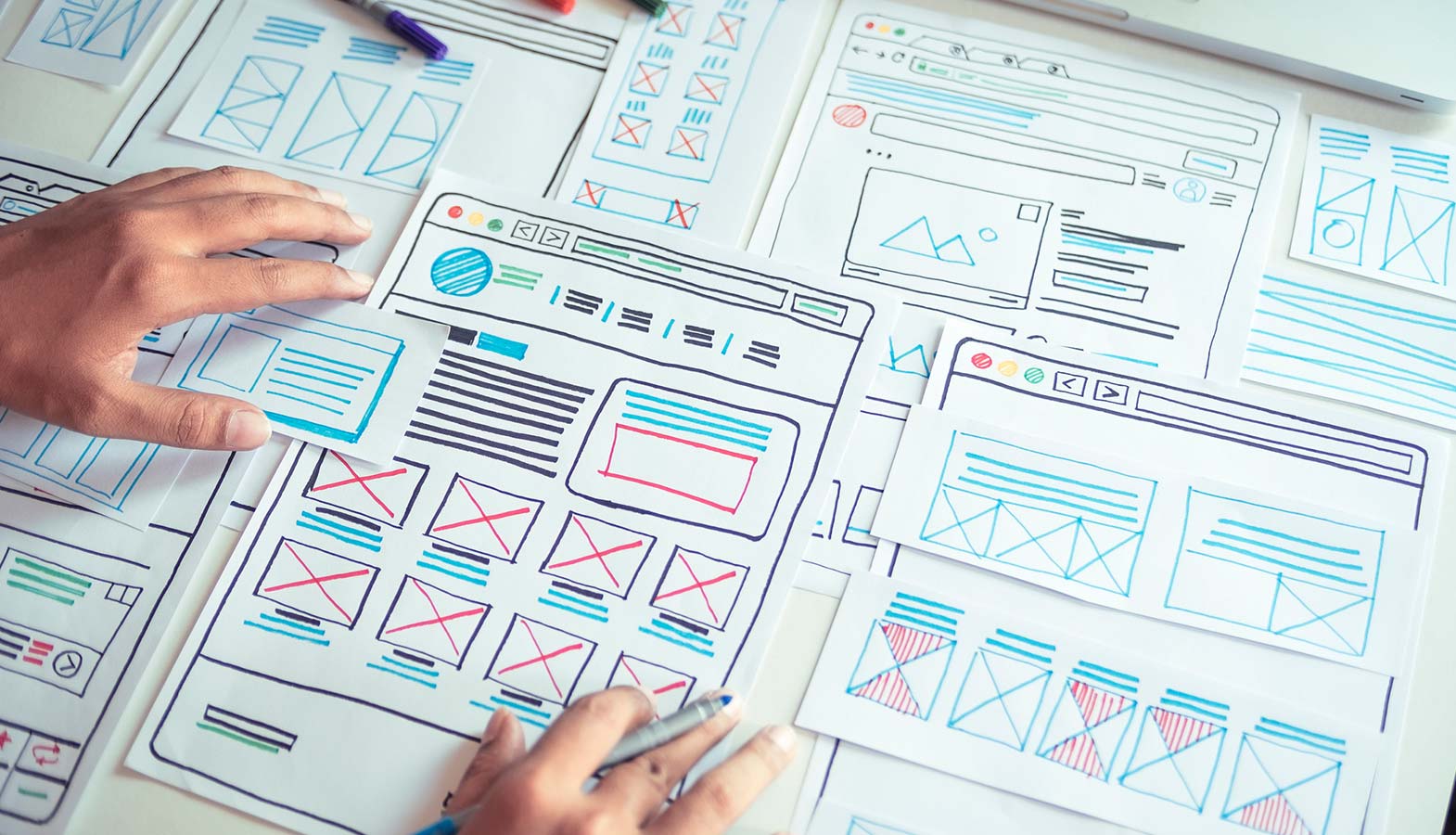 The Cost Of A Custom-Built WordPress Website
WordPress website costs can vary greatly depending on how you build your website to meet your needs and business goals.
A cheap website showcases a lack of professionalism and makes it difficult to build brand credibility and trust. More often than not, the low-budget approach will lead you down a path ridden with hidden and unexpected costs. If you don't invest in your website and level up from the get-go, you could end up paying thousands of dollars to fix issues on your site and spend years fixing damage to your SEO and brand credibility, which you can't put a monetary value on.
A business-grade website that doesn't perform properly and meet audience expectations will give way to various indirect costs to your business. Beyond the obvious loss of traffic, low conversion rate and missed opportunity to reach potential customers, the cost to "fix" a poorly designed and built website can often result in fees that exceed the cost of building the website properly the first time around.
How Much Should a WordPress Website Cost?
At Parachute Design, we only build hand-crafted WordPress websites that are the product of more than 20 years of experience applying a time-tested web design and development methodology that is proven to deliver results for our clients.
Using average WordPress website costs, we land in the middle of the spectrum with a typical budget between $50,000 and $ 150,000. The average WordPress website cost depends primarily on two factors:
The total number of unique page layouts required within the website design system;
And the unique functionality or complexity required within the site to achieve the owner's needs.
Technical SEO, interaction design and UX strategy are all part of our standard web design process and typically do not factor into overall WordPress website costs.
Investing more in a custom-built WordPress website means you create something well-planned and executed that speaks to your audience and builds brand credibility. Together, we craft a one-of-a-kind website that truly encompasses your brand and vision with the flexibility to power your digital marketing and organic search engine optimization strategies.
Most importantly, avoiding paid themes and hiring a professional web designer is a wise investment in your business, ensuring that you have a WordPress website that can grow with your marketing needs for the long term.
Similar to the experience of buying a car, you can always purchase a cheaper option that gets you from A to B. However, you'll spend thousands of dollars maintaining and fixing that car to keep it running. It definitely won't turn heads and leave a lasting impression as you drive by, either.
Conversely, if you purchase a brand-new luxury vehicle, you can relax, knowing that your car will perform at a high level and turn heads everywhere you go.
The same principle applies to your website. Investing in a quality WordPress site from the start will ensure greater value and success over the long term.
Get a WordPress Website Design Estimate
So, how much does it cost to build a WordPress website? WordPress website pricing can vary from a few bucks to hundreds of thousands of dollars. The free version is a great tool for startups, but growing brands need a business website that will power their digital marketing and engage prospective customers.
You get what you pay for. When it comes to WordPress costs, an investment in a professionally crafted custom website ensures your business will have access to the many benefits of the world's most popular content management system.
Hiring a professional WordPress developer will ensure you get beautiful, responsive web design, fast performance, powerful SEO, and so much more right from the get-go and you'll never look back.
To get a quote to design and build a custom WordPress website for your business, fill out our proposal planner, and we'll follow up with an initial estimate.