The nature of the web and our connected global community puts creative talent at our fingertips and offers many more options for businesses to consider when choosing a creative professional for their next website design project. In some cases, this may make choosing the right web designer more challenging for business owners, but when it comes to selecting the right fit for your business our Toronto web design agency believes that the more options a company considers initially, the more informed decision they can make. After all, investing in a new website design is not only a considerable time and financial investment for a business owner but also critical in driving their business forward and meeting sales and marketing goals.
Before choosing the right web designer, it's best first to determine who will be able to meet your needs best and deliver on or above your expectations. Some businesses opt for an established agency with the experience and full-scale design and development team to carry the project from conception through deployment, while others prefer to work with a freelance web designer. Each partnership offers unique benefits and challenges. It's important to understand the nature of each relationship before committing time and money to the project.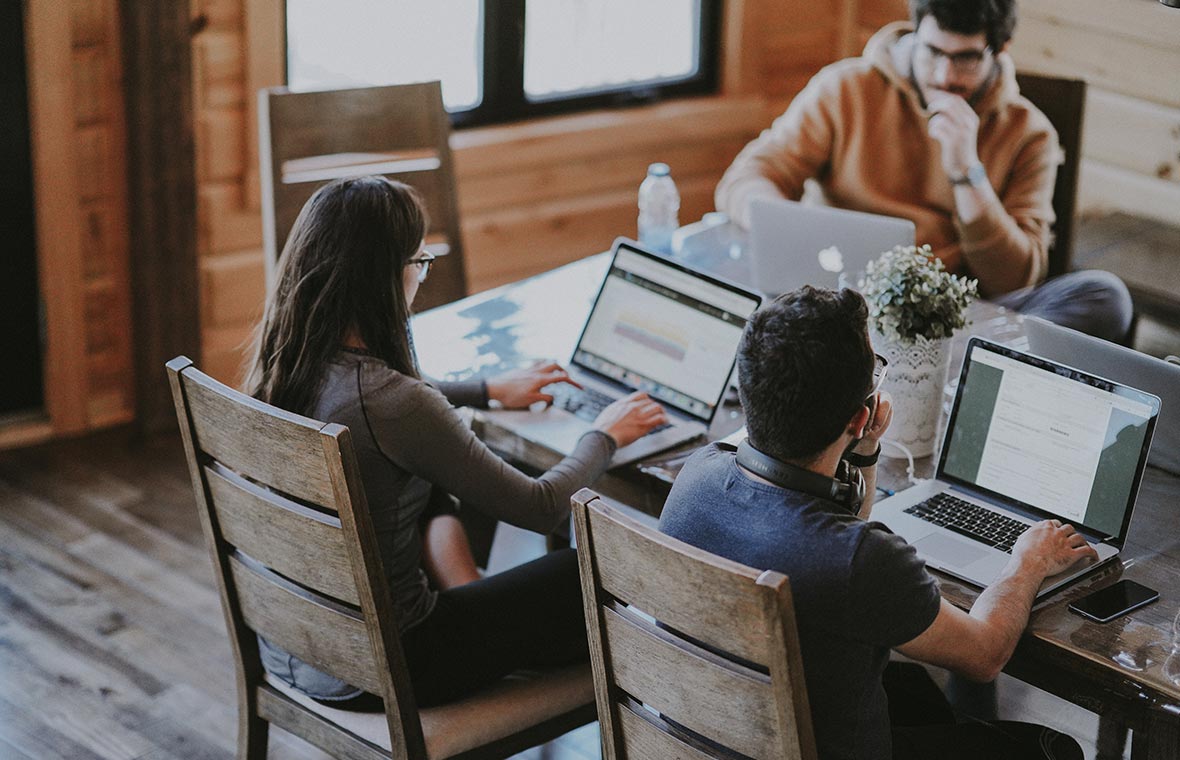 Working with a Web Design Agency
Website design agencies, in general, are more credible. Agencies, big or small have established a reputation within the web design industry and strive to uphold that reputation amongst their community and industry peers. Web design agencies will more often have collected online reviews which ultimately hold them accountable for their creative services and client relationships. Our Toronto web design agency has a range of fantastic reviews on Google, Clutch and UpCity to showcase our ability and commitment to successful relationships.
Web design agencies tend to offer more diverse expertise. Large web design agencies often employ their SEO copywriters, web developers, and website designers which means their clients do not necessarily need to worry about hiring multiple professionals or freelancers to complete their project. Parachute Design is a boutique web design agency based in Toronto, meaning we have a team of creative website designers and web developers under our roof, but rely on a trusted network of copywriters and photographers to join our team on an as-needed basis. Our business model has evolved since 2003 and allows our web design firm to remain agile and offer competitive pricing while providing the full-scale agency experience to our clients that require additional services.
Web design agencies can provide more resources. Many agencies enjoy larger project budgets to devote to project resources and better technology. Our Toronto web design firm offers unique project management and prototyping tools to our clients that many freelancers may not be able to invest in. Additionally, our web design company can offer fully managed WordPress hosting on a dedicated server keeping our client's websites safe, secure and providing the ability to scale services up or down as needed.
Website design agencies offer better, more focused web support. Offering web support is a huge advantage a web design agency has over a freelance website designer. Many agencies have personnel to provide dedicated web support. Clients that are committing significant resources to their website and digital marketing materials expect that the web design agency they choose to partner with will be able to support their website after deployment. Our Toronto web design agency enjoys an added advantage in this regard as our team is entirely virtual and spread across three time zones. This aspect of our business allows us to support our clients before and after regular business hours.
The Cons of Working with a Web Design Agency
Web design agencies are usually more expensive. Depending on the agency you choose to partner with they may have multiple people working on your web design project. By nature, this full-service approach will often incur higher rates to account for the dedicated resources on the project. Additionally, many web design agencies have flashy studios that carry with them significant overhead. In 2009 our Toronto web design company decided to become virtual and eliminate the cost associated with a brick and mortar office. This decision immediately allowed us to offer more competitive rates than a large scale agency, yet still, provide the agency experience to our clients.
With some agencies comes bureaucracy. Within large scale web design agencies we often see additional processes and deeper project management hierarchy. In our opinion, this practice does not offer any benefit to clients as projects tend to slow down and require more budget. Our team strives for a smooth experience having all client communication travel through one point of contact ensuring there is no confusion when it comes to project responsibilities, timelines and deliverables.
Working with a Freelance Web Designer
The Pros of Working with a Freelance Website Designer
Freelance web designers are inherently cheaper. Freelancer web designers can set their own hourly or per project rates allowing them to be more flexible when it comes to budgeting than a web design agency. Freelance designers usually don't have to worry about overhead, office space or employee salaries which allows them to offer lower rates than a full-scale design firm. However, freelancer designers tend to bill by the hour meaning the final project cost may not necessarily align with your expectations at the start.
Freelance website designers can be more specialized. Freelancers are sometimes more specialized in a specific area of design or niche creative services. A freelance web designer can be a great fit if you're not looking for a total website overhaul, but more focused on a particular feature to add to your website.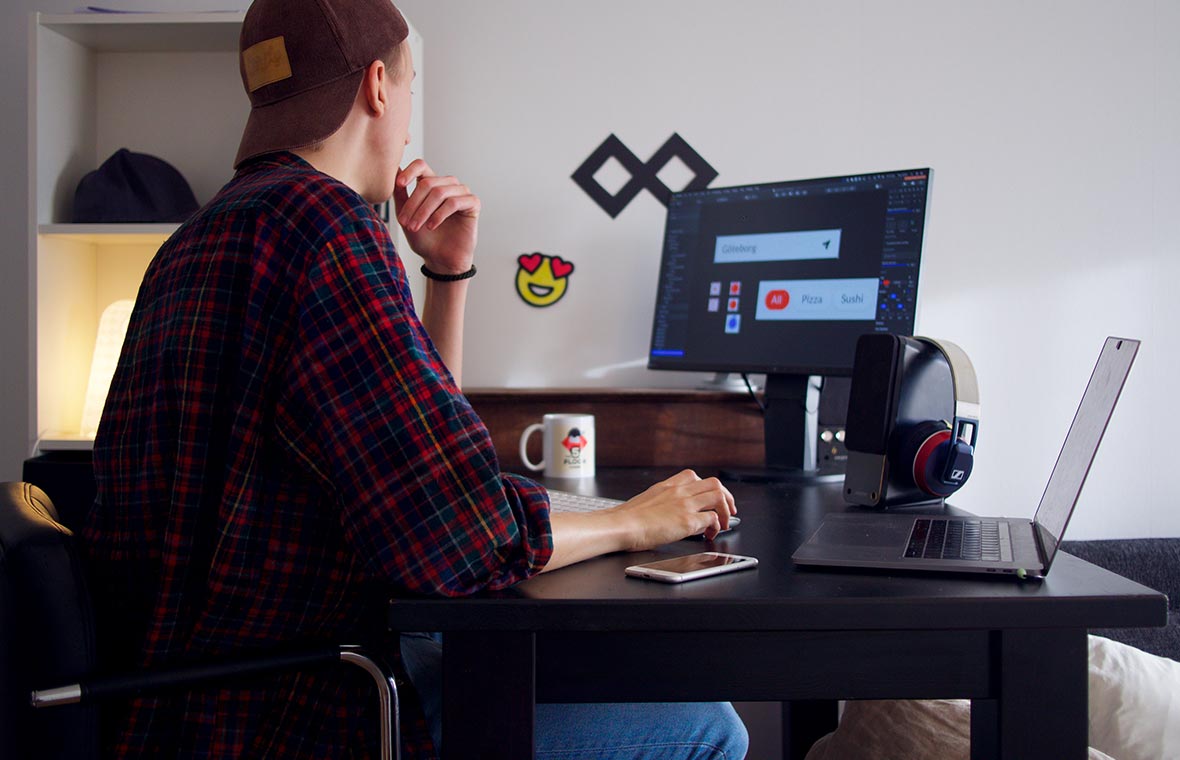 The Cons of Working with a Freelance Web Designer
No creative team, less creative resources. Freelance web designers are most often working solo and do not have the support of a larger creative or development team to support them. The singular approach means that you are usually at the mercy of their schedule given that they can only take on one or two projects at a time. In contrast, working with a web design agency most often affords you a dedicated creative team for your website project. In most cases, website design and development is a big job and often requires hiring more than a single freelance web designer to complete. You should expect to also hire a website developer and maybe a content writer or photographer to help drive your project across the finish line.
Freelancers tend to offer slower turn-around times. Freelance designers in many cases juggle more than one project at a time and may not always be readily available when you need them. If your freelance designer is talented, they are likely to be backlogged with work and may not be able to provide creative services or website support as quickly as you would like. Web design agencies often have customer support staff available to answer your questions, support your project or connect you with the right person for the task.
Freelancers have less accountability. Compared to web design firms, freelancers rarely feature public reviews, so the onus falls upon the business owner to thoroughly vet a freelancer through their portfolio and past references. Professional references are great. However, you should expect them to only share references with positive experiences rather than open public reviews that provide a complete picture. In general, online reviews tend to be a more reliable method of vetting a service provider as they more often note both the positive and negative aspects of the provider.
Project management falls upon the business owner. In the case that your business hires multiple freelancers to complete a website design and development project, you must be prepared to play the role of the project manager. Project management is no easy task, even for those with experience in the web design industry. As the project manager, you must also be prepared in the event that all the freelancers you plan to hire do not work well together or have overlapping skill sets and methods of completing their tasks. If everyone doesn't fit together nicely, you could be looking for a replacement which will cost you more time and money.
Why Most Businesses Should Work With a Web Design Agency
Due to the complexity and varying components of a web design project, most businesses are better off working with a web design agency compared to a freelance web designer. Website design agencies have the resources and support to take on a full-scale WordPress design and web development project from strategy through deployment and offer the ability to support and help manage the new website for years to come.
Some business owners may choose to hire a freelancer, or multiple freelancers to handle the various aspects of their website design project to save cost, but ultimately end up investing significant time acting as the project manager. Without the creative and project management experience required to successfully undertake and deliver the results needed to drive a modern business forward, these owners may come to regret the decision.
Unless your business is in the early stages of start-up mode, we highly recommend hiring a web design agency to plan and execute your digital marketing strategy effectively. The additional investment up-front will surely save you thousands of dollars long term.
About Parachute Design
Since 2003 Parachute Design has been a leading Toronto web design agency. Over the years have developed a time-tested six-step website design and development process that delivers successful solutions for our clients. To learn how we can help take your digital branding to the next level call our Toronto web designers at 416-901-8633.
If you are interested in receiving a free estimate from our website design agency simply complete our web design proposal planner.