A Step-by-Step Guide to Migrate Your Squarespace Website to WordPress
Many small business owners and startups rely on website builders to get their business off the ground. Squarespace is a popular builder that makes this process quick and easy for the average person. However, as your business grows and matures it will quickly outgrow the Squarespace site and you will find that you need a much more robust, custom website to power your digital marketing.
When you begin to feel limited it's time to consider moving from Squarespace to WordPress where the flexibility in both front-end design and backend functionality is virtually unlimited.
Both Squarespace and WordPress are among the most popular website management tools for businesses large and small. Both of these platforms allow you to create beautiful websites on a custom domain name without any technical knowledge or coding skills. However, the WordPress platform is more customizable and is a better option for established businesses that are ready to roll out a sophisticated search engine optimization strategy or digital marketing plan.
We help many businesses each year move their website from Squarespace to WordPress.
What Is WordPress?
WordPress is a website builder and content management system (CMS) that powers more than one-third of all websites on the internet because it's easy to use and extremely customizable.
The CMS platform is an open-source system that anyone can download use to build a self-hosted WordPress website. Born in 2003, the platform first served as a simple blogging platform. 20 years later, it has transformed into a full-fledged CMS.
You can use WordPress to build all kinds of websites. This includes blogs, community sites, complex eCommerce stores and enterprise-level B2B sites.
WordPress is built using PHP and MySQL and has the support of creative and innovative developers around the world consistently improving the platform.
WordPress.com vs WordPress.org
People are often confused or unaware of the difference between WordPress.com and WordPress.org. For the purpose of this article, we are referring exclusively to WordPress.org.
WordPress.com is a separate company that offers a blog hosting service. WordPress.org is focused on the development of the WordPress software. To create a self-hosted WordPress site you download the application from WordPress.org.
Using WordPress to Build Your Website
WordPress is free. However, you'll need your own web hosting and domain name to begin using it.
A web host is a place online where all your website files are stored. A domain name is your website's unique address.
WordPress is so popular with users around the world because you can use it to make any kind of website you want. Seriously, there's no limit to what you can design using WordPress. It's perfect for starting small, one-page sites or you can use WordPress to build a robust eCommerce platform.
Soon after you've installed WordPress, you'll be able to start building your website. After logging into the backend, you'll see an admin panel on the left with links to different areas of the platform.
You can choose a design template (theme) for your website and customize its appearance. There are thousands of free WordPress themes as well as many premium themes that have more advanced features, but for the serious business owner, investing in a custom WordPress website design is the key to leapfrogging the competition.
A key feature of the platform is plugins. WordPress plugins are like addons for your site and they allow you to extend the capabilities of your website by adding new features with the click of a button. To give you a sense of the power of a WordPress site, many well-known companies use WordPress including the New York Times, Microsoft and Sony Music.
The Advantages of WordPress
There are numerous advantages to using WordPress as your CMS.
First off, the platform is 100% free. That means you can try it out risk-free. WordPress also comes with an intuitive interface that's easy to navigate. The entire platform is designed so that is can be used by anyone regardless of experience or skill level.
It's easy to upgrade a new WordPress website as your business grows and your needs change without having to start from scratch.
Many WordPress themes come pre-built with everything you need. But if you're missing certain features, you can extend your site with plugins, most of which are free to use. There are WordPress plugins available for almost any feature including form builders, eCommerce, SEO and even behind the scenes tasks like optimization or importing content.
WordPress is written to be search engine friendly often ranks higher than other sites using common website builders or CMS platforms.
Managing a WordPress site does not require any special technical knowledge. You can manage all updates to the core software, plugins or themes right inside your admin panel with a few clicks of your mouse if you're using a purchased theme. Custom websites require more specialized maintenance to ensure the customizations remain intact through the process of upgrading.
WordPress is a highly secure platform when the site is maintained properly. For further protection, you can install a WordPress security plugin to shield your site from cyber attacks and you can also run automated backups of your website using a backup plugin.
WordPress can also handle different media types so you're not just limited to writing text and displaying images. You can embed YouTube videos, Instagram pictures and even Soundcloud audio directly into your pages.
Above all, the WordPress platform is scalable, efficient and easy to learn. WordPress is a high-performance CMS that offers many benefits to your business.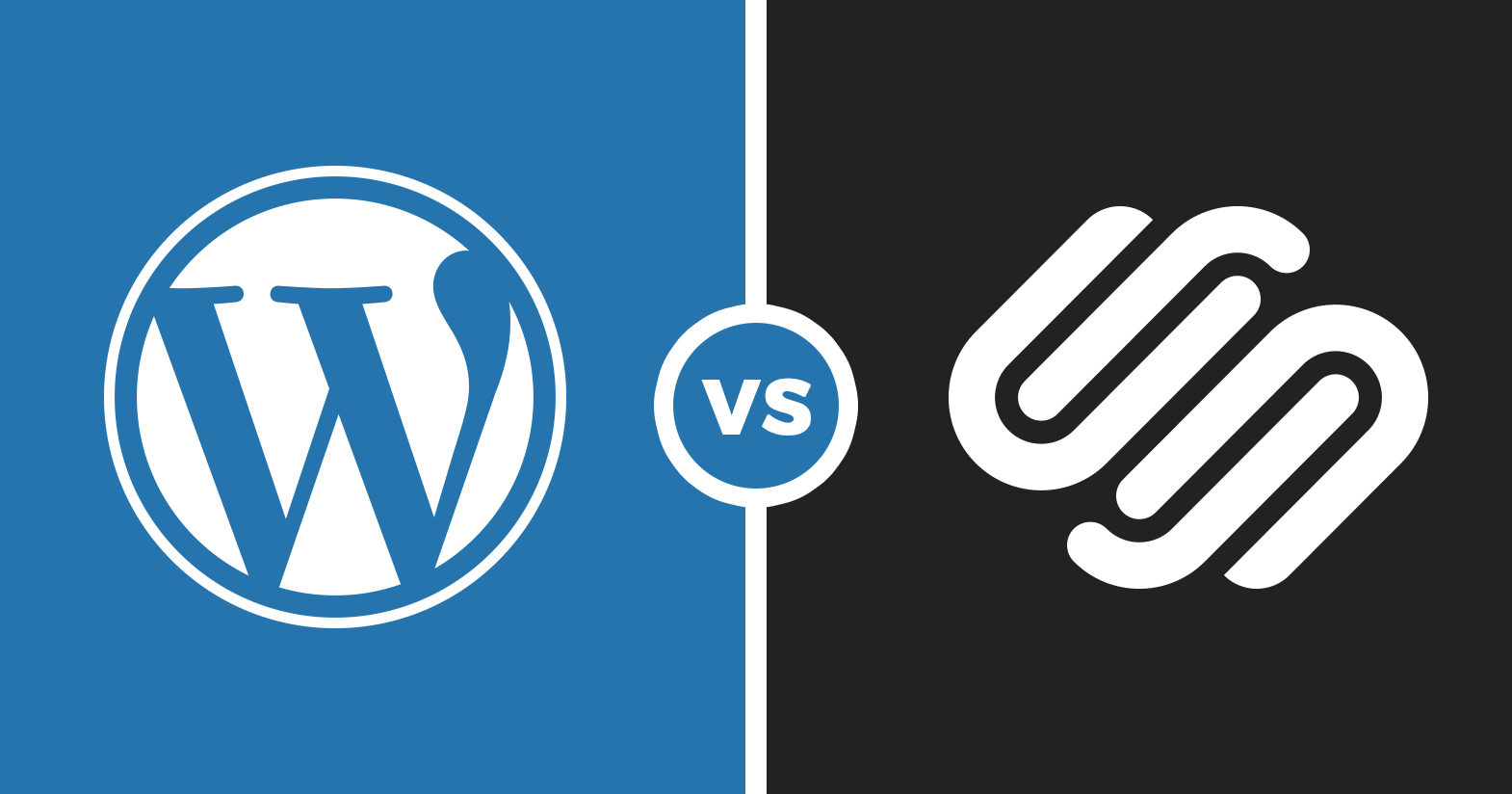 Squarespace vs WordPress
Both Squarespace and WordPress are viable website management platforms, but to understand the difference between them it's important to compare and contrast their features and capabilities.
Cost
WordPress itself is free to download and is an open-source platform with a GPL license. However, to build your site with WordPress, you'll need a hosting plan to point your domain to the associated IP address.
The cost of web hosting depends on which provider you choose and the needs of your business. You can run a website for as little as $3-$5 per month if it's a hobby website or personal blog page. For more serious performance and security features, you'll want to use a managed WordPress host like Kinsta or WP Engine.
Squarespace offers a personal plan starting around $12-$16 per month. This is more expensive than a basic WordPress hosting plan and it comes with fewer features out of the box.
If you want more features with Squarespace, you'll need a business plan which costs between $18-$26 per month, but still carries all the limitations of the platform which will eventually drive you to move your Squarespace site to WordPress.
The Learning Curve
WordPress is an intuitive platform but there is still a learning curve when starting a new WordPress site. There are terms you'll need to know such as pages and posts, categories and tags. You'll also need to learn how to install and activate the plugin you choose to add initially.
WordPress comes with a default page editor that allows you to add custom blocks of content to your site and create beautiful layouts. Most people quickly adapt to their self hosted WordPress site and have no issues moving their Squarespace content to WordPress.
Squarespace is more limited when it comes to designing and adding content. However, this also makes it a bit easier to use in some ways due to its limitations. The visual editor allows you to add different types of content to your blog posts and the rest of the site, but there are fewer options available to apply style changes and custom CSS or design features.
Interface Design
When it comes to website design, WordPress excels. You'll have access to thousands of free and paid 'themes', to control the look of your site. These templates are usually customizable allowing you to change the colours, images and more. For business owners that prefer a custom-crafted website design, they'll want to hire a professional web designer.
Many popular WordPress themes come with multiple layout options and their own drag and drop page builders that allow you to modify the theme to suit your own creativity.
Squarespace also offers ready-made design templates. However, the number of templates available is limited in comparison to WordPress. Options for customization are also limited as access to the theme code and framework is not available compared to a WordPress theme.
Integrations
What makes WordPress so versatile is its huge library of plugins. WordPress plugins allow you to add different features to your site. There are over 50,000 free and paid plugins available and more rolling out every day.
Some plugins are essential to all websites, while others are more specialized and allow you to add features like forums and membership registration to your site or convert your site into a powerful online store.
Unfortunately, when it comes to extensibility, Squarespace falls behind. There are some third-party integrations available for Squarespace but they're limited and not all popular platforms are supported.
You may struggle to extend the capabilities of your Squarespace website and before long you'll be researching how to move your Squarespace site to WordPress.
eCommerce
WordPress is a popular choice for eCommerce websites because it's easy to integrate third-party payment processors such as PayPal, Moneris, Chase and Stripe. If you want to turn your website into an eCommerce marketplace, this can be done with the WordPress plugin called WooCommerce.
Using WordPress and WooCommerce together, there's no limit to the number of products you can list on your site or how you sell them.
On the other hand, with Squarespace, eCommerce is very limited. You can only use PayPal and Stripe as payment gateways which limits your ability to sell in certain countries.
With Squarespace, you can only sell products with their business plan, which makes website operation more expensive.
Why Move From Squarespace to WordPress?
Starting off with a Squarespace website makes sense for new businesses that have little need for a fully customized website. Squarespace offers a simple, affordable solution to many businesses' website needs.
Many small businesses, with little knowledge of web design, choose Squarespace for its fast and easy setup to eventually find that there are too many limitations with a Squarespace site. This is when they call our Toronto Web Design Company to learn more about how we hand-craft custom WordPress websites to suit the growing needs of their business. Once up and running on the world's most popular CMS the sky is the limit and there's no looking back.
How to Move From Squarespace to WordPress
Now that you understand the limits of Squarespace and how powerful and flexible WordPress is, you need to know how to migrate your Squarespace website to WordPress.
Moving your website over to a new platform might seem like a daunting task but it's not as hard as you may think. Follow the steps below to move your website from Squarespace to WordPress with ease.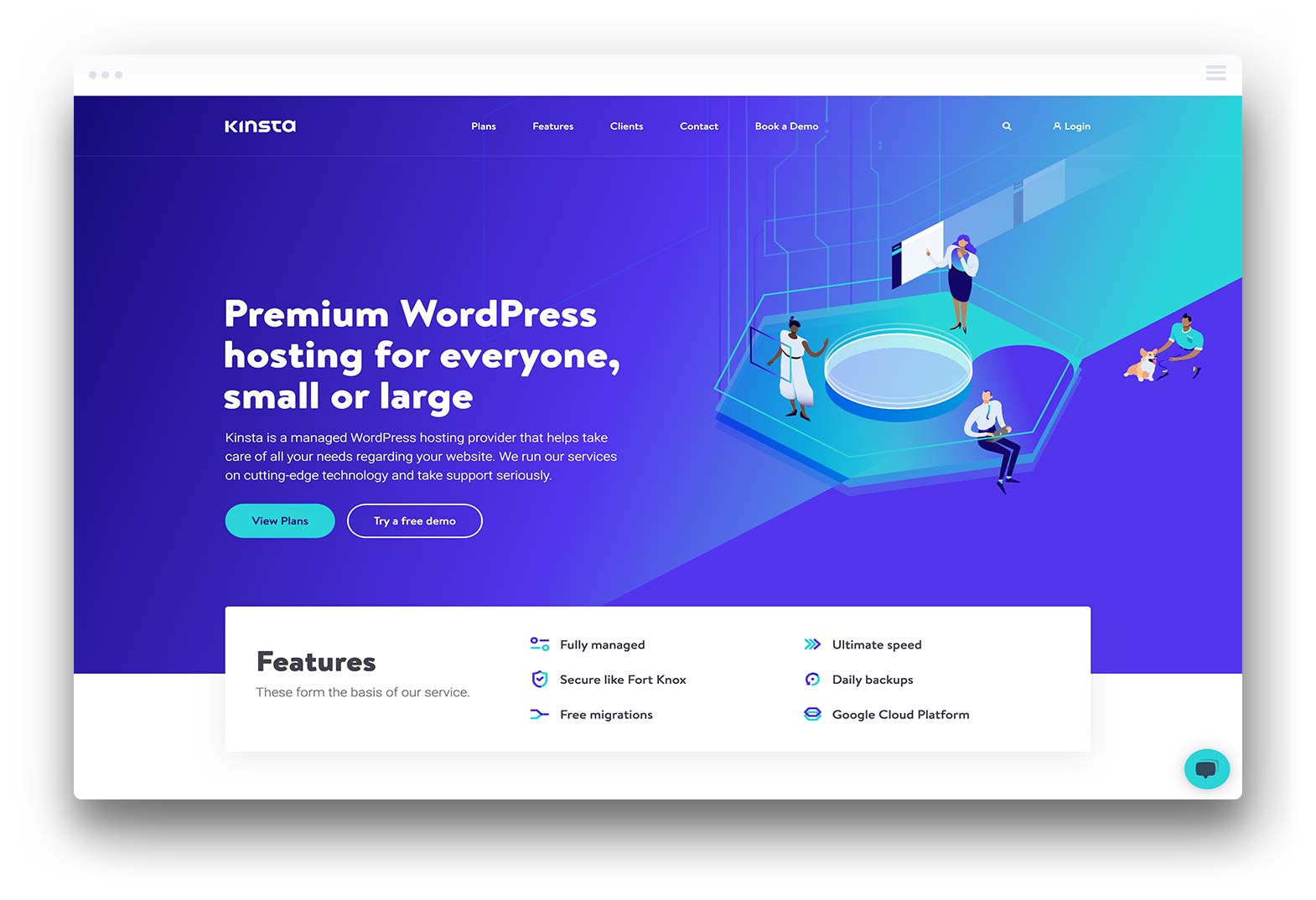 1. Web Hosting Account
First, purchase a hosting plan. Your web host is where you'll install the WordPress platform and begin constructing your new website. Most web hosts offer a one-click WordPress install to make this step as simple as possible.
There are a number of well-known hosting providers. Some of the best web hosts for WordPress websites are:
A basic plan should be all you need to gets started as you can upgrade your plan as your website grows.
2. Domain Transfer
If you were using a custom Squarespace domain name, then you should consider transferring it to your new hosting provider. Domains can be transferred away from Squarespace if it's been at least 60 days since it was registered. The entire domain migration process can take up to 7 business days.
To transfer a domain to a new provider, you'll need an EPP code, also called an authorization code. This can be obtained by following the guide on Squarespace's website.
Once you've moved your domain to a new registrar you will point your domain to your new IP address provided to you by the new web host.
3. Install WordPress
Once you've chosen a web host, signed up for an account and transferred over your domain, you are ready to install WordPress. The platform is famously quick and easy to install and most hosts offer a one-click installation.
Once WordPress has finished installing, you'll be able to login to the admin panel and take a look around to get familiar with the WordPress dashboard.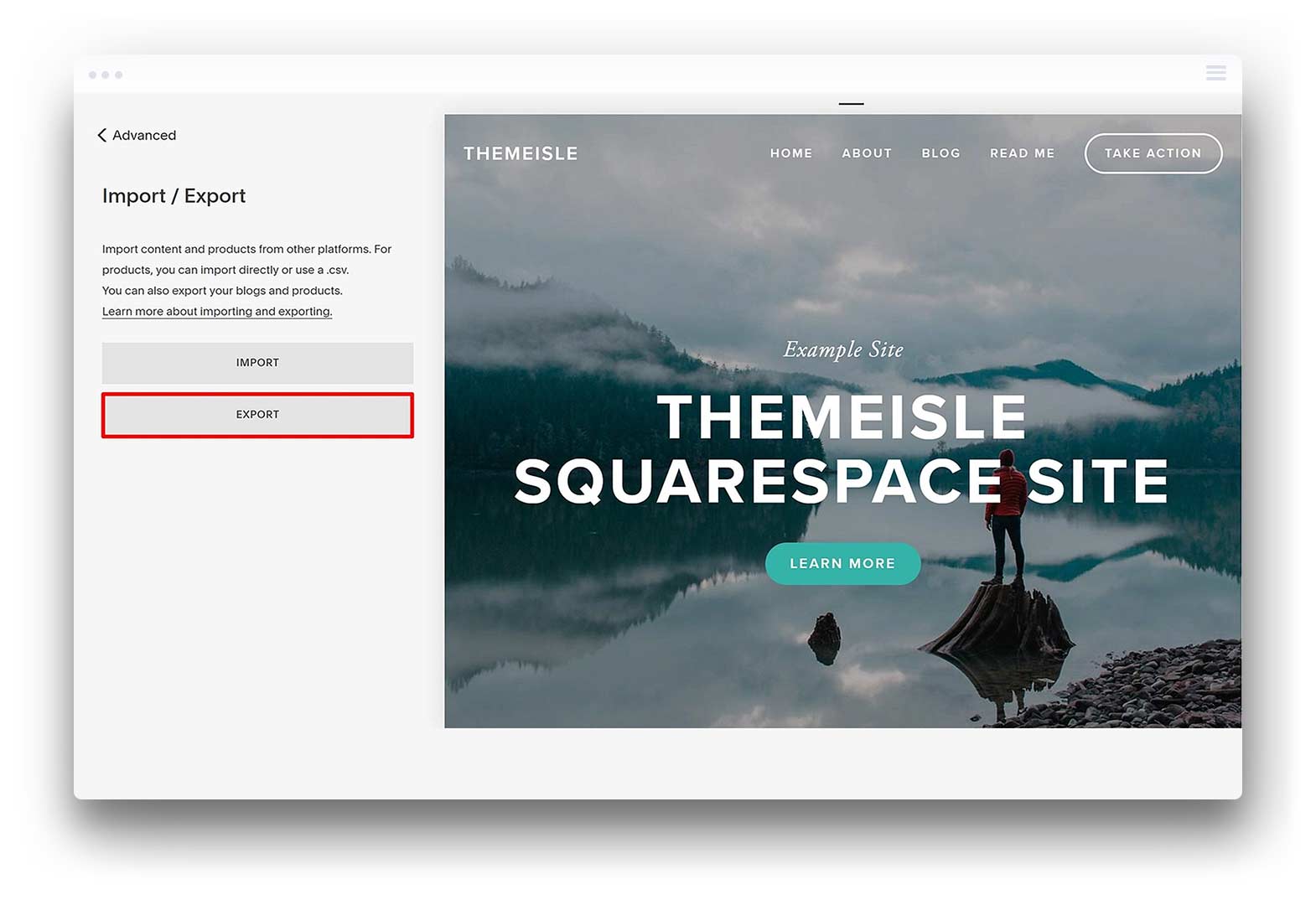 4. Export Your Content From Squarespace
Exporting Squarespace content is relatively easy. By following a few simple steps, their system will generate an XML file that you'll use to import into your new WordPress site.
Unfortunately, due to the limited functionality of Squarespace's export feature, you may not be able to export all your content and some of it may have to be manually copied over to the WordPress site.
Here's a list of all the content that you can automatically export from Squarespace:
Pages
Blog page
Blog posts
Gallery pages
Images, text and embeds
Content that cannot be exported from Squarespace includes:
Audio, video and product blocks
Product pages
Custom CSS style changes
Album and Event pages
The good news is that Squarespace gives you the option to export your content in the correct format for your new website on WordPress making the process a lot easier.
To export your content, go to your Squarespace account, go to Settings > Advanced > Import/Export > Export File.
You will then see a window that displays a WordPress logo. Click on this to continue. Once the export process is complete, click to download your XML file and get ready to import it into WordPress.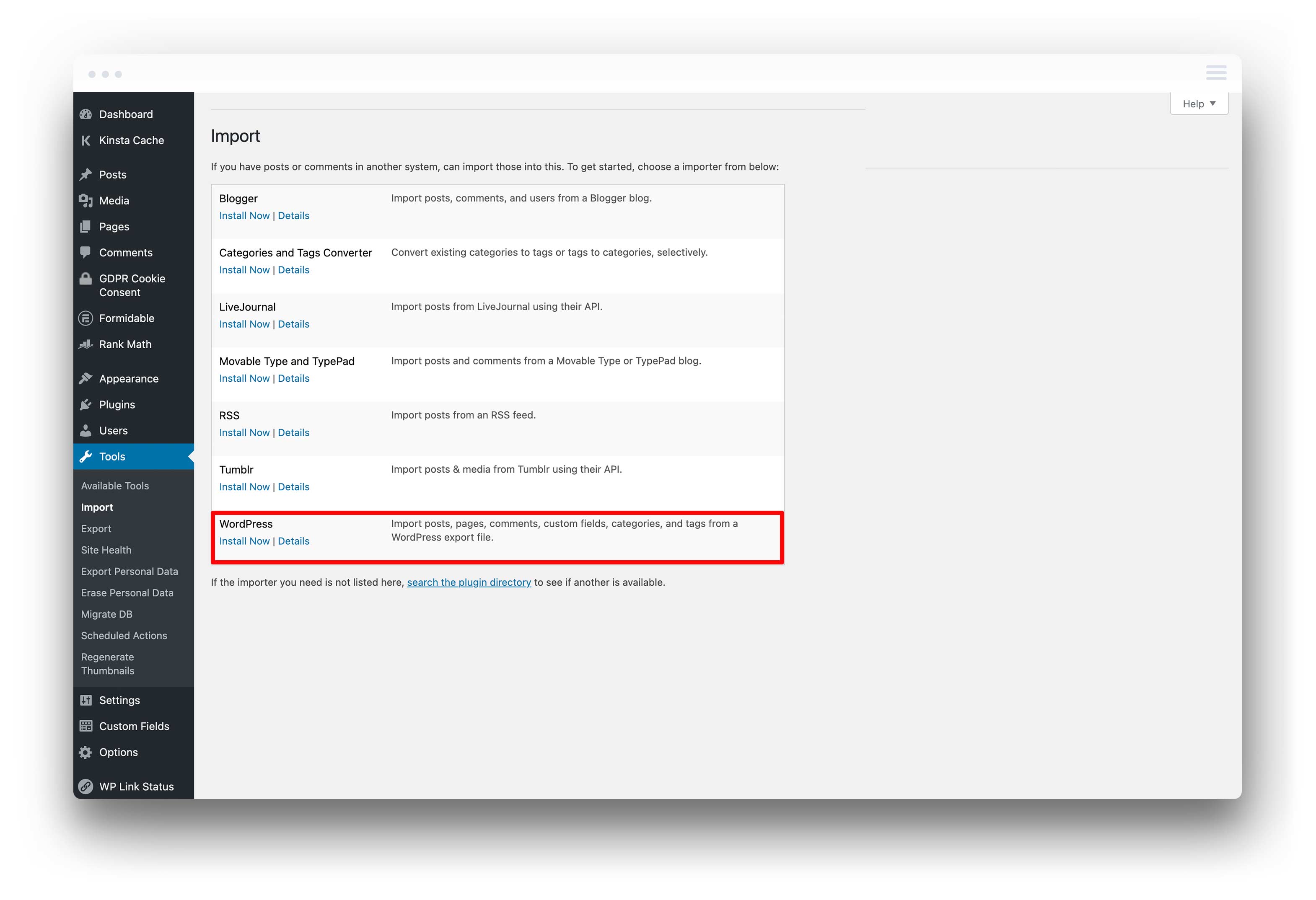 5. Import Content to WordPress
You should now have your XML file containing the content from your Squarespace site saved locally on your computer. Now you need to import this into WordPress.
Login to your WordPress dashboard and the left-hand panel, locate 'Tools' and then click on 'Import'.
On the Import page, you'll see a list of platforms. Your export file is already in the WordPress format, so locate WordPress and click 'Install Now' underneath.
Once the WordPress importer is installed, click 'Run Importer'. The system will now prompt you to choose an import file. Select the one you downloaded previously from Squarespace and click 'Upload file and import'.
Your Squarespace content will now be imported into the new site one blog page at a time. If everything goes smoothly, you should see the Import Settings page appear and there you will need to select an author for the new content. You can choose an existing admin user or create a new one.
Although there is an option to import external images, this won't work. Importing images will need to be done separately and we'll cover that in the next step.
When you're happy, click 'Submit'. The system will now begin importing all of your content. When it's finished, check your pages and posts to make sure they're all there.
6. Import Images to WordPress
The WordPress importer will not import your images from Squarespace but don't worry, there is another way to do this.
The first step is to install a WordPress plugin called 'Auto Upload Images'. Navigate to 'Plugins' in the left-hand panel and then click 'Add New'. Search for the plugin name and click the install now button. Once installed, click 'Activate'.
Now that the plugin is active, you need to edit all of your posts and pages to trigger the image import process. You can do this with a few simple clicks.
Navigate to 'Posts' in the left-hand panel and click 'All Posts'. Next, click on 'Screen Options' at the top of the page. A new panel will open where you can set the number of items per page. Change this to 999 and click 'Apply'.
Now you should see all your posts on one page. To import the images, you need to bulk-edit all of the posts. Select all posts and under the 'Bulk actions' menu select the 'Edit' option.
Now click 'Apply' and then 'Update' (don't change anything, just click update right away). This will now trigger the image import process from your Squarespace website. Images will be stored in your WordPress media library.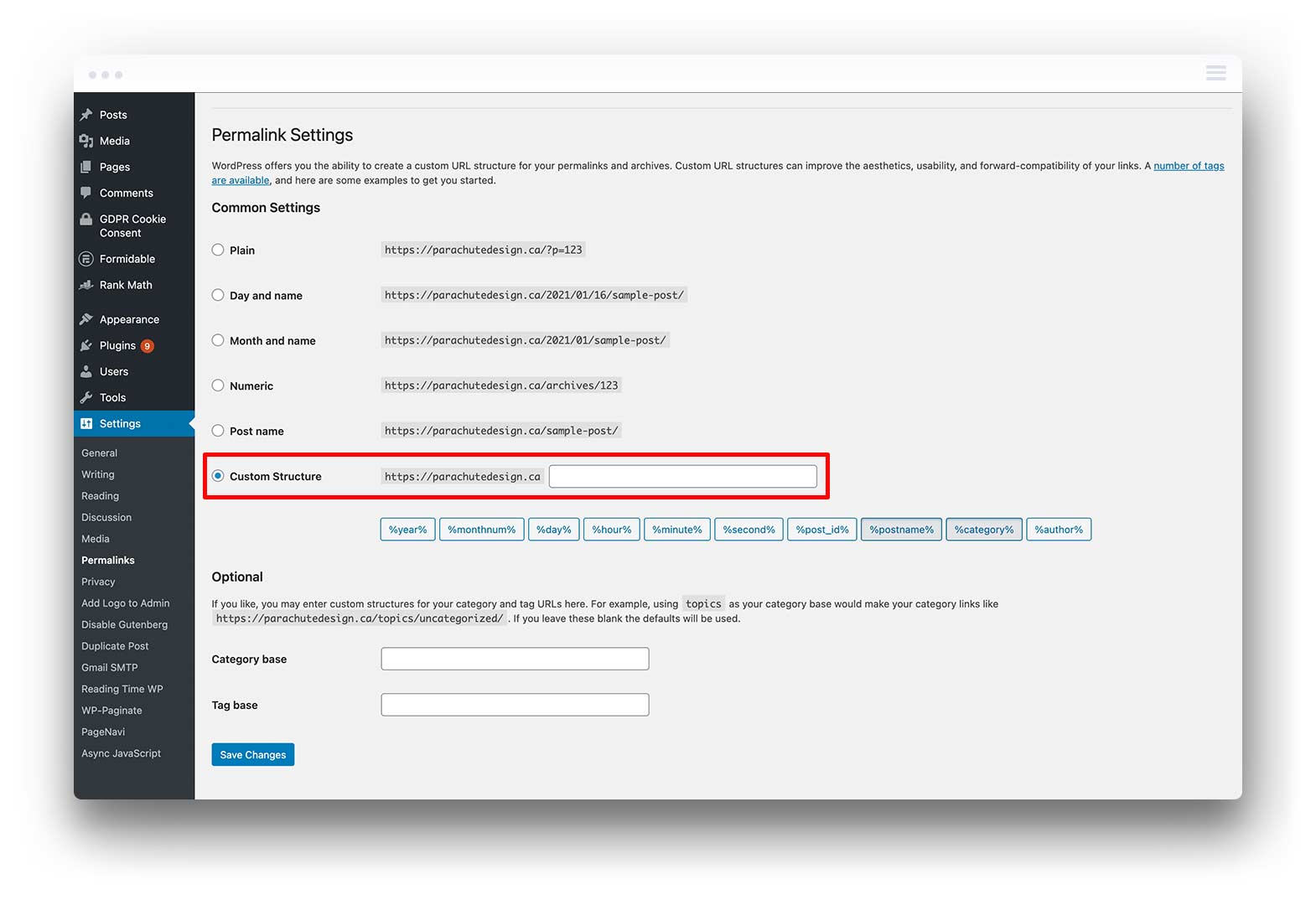 7. Adjust Your Permalinks and URL Structure
One of the most crucial steps when migrating a website to WordPress is fixing your permalinks or URL structure.
You will need to make sure that your new pages on WordPress use the same URL structure as your old pages on Squarespace. If this is not possible, you will need to write 301 redirects to tell Google that the old page has not disappeared, it's just moved to a new URL in order to maintain your rankings. Fortunately, there are many 301 redirect plugins available to make this process simple.
WordPress allows you to customize your URL structure in different ways. You can use this function to make your links identical to the old link structure used on Squarespace in most cases.
For blog posts, Squarespace uses the following structure: https://www.yourdomain.com/blog-1/year/month/day/post-title
To use the same structure in WordPress go to 'Settings' in the left-hand panel and then click 'Permalinks'.
Under 'Common Settings' take a look at the list of URL options. Select 'Day and name' as this is the closest match to the structure used on Squarespace.
Now, look at where it says 'Custom structure'. You'll see now that it says %year%/%monthnum%/%day%/%postname%/. All you need to do is edit this to include the 'blog-1' prefix.
So the final structure should be as follows:
/blog-1/%year%/%monthnum%/%day%/%postname%/
Click 'Save changes' and you're done. Now if anyone clicks a link to your old Squarespace site, they'll be redirected to the new page on your WordPress site.
8. How to Import Other Content From Squarespace to WordPress
eCommerce features like products, along with video and audio files have to be manually imported over to WordPress. This process can take time to complete, depending on how much content there is to move.
If you have products that need moving, you'll have to first install an eCommerce plugin on your WordPress site. The most popular plugin for eCommerce is called WooCommerce.
When it comes to videos, the best option is to embed them into your WordPress website from a third-party video hosting platform such as YouTube or Vimeo. This allows the video platform to carry the burden to streaming the video and ensures your website runs as fast as possible.
9. Get Started With WordPress
Now your site has been successfully migrated from Squarespace to WordPress. The final step is to start learning about the WordPress platform so you can customize and improve your website.
Constructing a WordPress website begins with selecting or designing a theme. WordPress themes are design templates that provide the foundation for your website layout and design. There are free themes and paid themes available. A quick Google search will yield thousands of results.
If you want more features and fewer design limitations, consider choosing a premium theme or hiring a professional web design company to create a custom theme for you. Most themes are highly customizable and give you loads of options around colour and layout.
Plugins can be used to integrate more features into your WordPress website. Make sure to use plugins with positive reviews and good support. Also, read up on how to keep your WordPress website secure.
There are many blogs and tutorials online that explain how to use WordPress in detail. Alternatively, you can hire a web designer who has extensive experience working with WordPress, to build the website you want.
Improve Your Business With WordPress
There you have it! The ultimate guide on transitioning from Squarespace to WordPress.
Squarespace is a popular website builder for small businesses that want a quick and easy option. WordPress is best for rapidly growing small businesses and more established brands that need a scalable and customizable website and content management system.
If you need an experienced website design team to help you build your new WordPress website, contact us today to learn more about our experience helping brands grow.