Understanding the Importance of Wireframing in Web Design
We live in an age where having a website with a poor user experience could cause serious problems for your business. Not too long ago, simply having a website that works and shared basic information was enough to get by. Now, we are living in a digital-first era where your website may be the only way customers interact with you – COVID-19 pandemic aside.
Building a complete and functional website will require a lot of web design and development work. To ensure that you build a website that can meet the needs of your customers, you need to work with a web designer or developer that understands the importance of wireframing in web design.
What Is Wireframing?
Low fidelity wireframes are an integral part of the web design process. Just as blueprints help the client and architectural or construction team plan and execute a new building or renovation, wireframes provide business owners and web designers the opportunity to explore ideas and carefully plan out a website design before the first brick is laid.
Wireframes are simple low fidelity monochromatic layouts that outline the unique page layouts and user journies within a website. Wireframes allow designers to establish the placement of key elements on the page, site navigation, and important website features to design an effective and engaging user experience for the audience. In simpler terms, website wireframing lays the groundwork for the user interface design to follow.
As wireframes are focused on structure and functionality, they're usually very plain looking. Colours, font choices, logos, and most of the design work follows along later once you've figured out the basic information architecture and layout for your site with your web design and development team.
Wireframing is a crucial part of user experience design. Wireframes help to lay out all of the site's features and functionalities and help UX designers and stakeholders visualize the structure and information to display on each web page. This can also be a useful tool for aligning stakeholder expectations and are a great way to get approval when making fundamental changes to the site.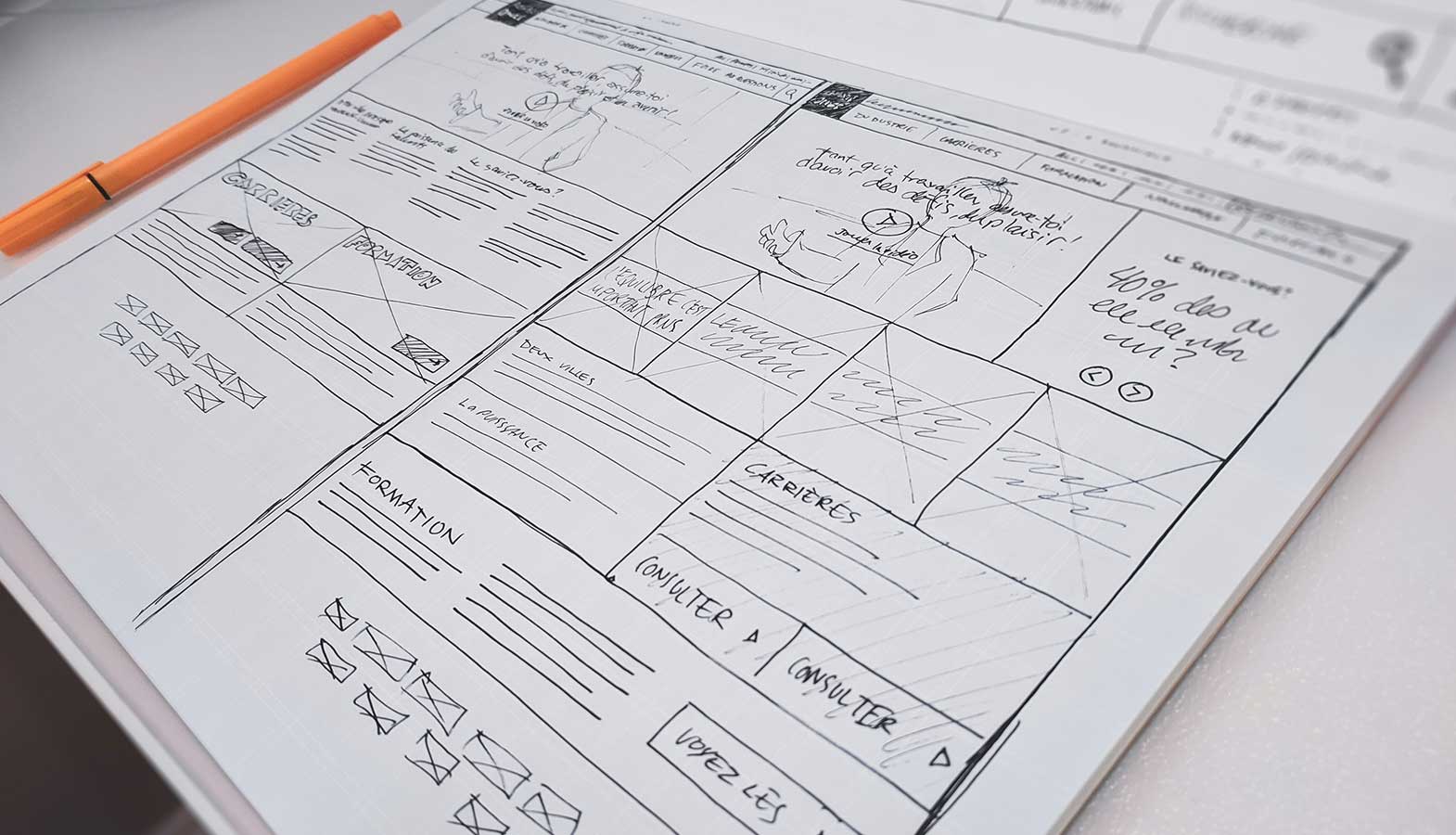 Why Does Wireframing Matter?
Wireframing may not sound like the most exciting part of the web design process, but its importance is paramount in the success of the website. If you don't have a solid experience mapped out before you focus on UI design elements or begin the web development process you could run into some serious hurdles and roadblocks to tackle down the line. When this happens, you're either looking at expensive rework, or bandaid fixes that most often convey a poor message to users and appear as poorly executed afterthoughts.
There's a reason why so many UX experts, web developers, and designers invest significant time in wireframing – they save everyone precious time and money and ensure that both client and web designer are aligned on conceptual ideas and functionality before investing time in polishing design elements.
Wireframes Clarify Website Features
The world of tech is full of industry terms and jargon. That can make it difficult for people unfamiliar with industry lingo to understand certain things. You can't expect the head of finance or CEO to understand what "lightboxes" and "hero images" are. This is where the benefits of wireframing are apparent as a visual tool to bring all decision-makers into the fold before committing to a design. Aside from serving as a blueprint of your new website, wireframing is also an effective communication tool for clients and stakeholders. Having a visual aid can make all the difference when a designer is explaining complex or conceptual ideas to clients.
The benefits of wireframing in the web design process are also self-serving when deciding on website features themselves. When you see everything laid out in a wireframe, you may decide to eliminate pages, features or individual elements on the page because they are simply not needed.
Wireframing Helps to Understand Website Architecture
Wireframe design helps lay the foundation of your website, but the true conception of your website happens with the design of the sitemap. A sitemap is a list of all of the links, pages, and assets you'll need to make your site come together. The sitemap allows the designer to establish the navigational experience within the website and address any pain points within the previous site's navigation.
Sitemaps are also helpful for Google's crawlers and SEO experts, but they offer very little to most clients when it comes to visualizing what the new web site might look like. Low fidelity wireframes do a very good job of visualizing key design elements and layouts of the website that can sometimes appear to be abstract in conversation.
Instead of looking at a map full of links and trying to understand how the completed product will look, wireframes allow the developer to showcase how each content type and user journey will work together to move users from point A to B and ultimately convert. This can be particularly beneficial for web designers to explain ideas and concepts to clients.
Make the Design Process Iterative and Collaborative
A website design isn't something that's set in stone from day one. You're going to need to make changes along the way throughout the design phase, and you're going to want to make it easy for team members to pivot quickly.
A wireframe can make it easier for people to comment on the project plan shared before the web design comes to life. Instead of going through a series of meetings to determine what needs to change, people can voice their opinions earlier on and a UX designer can handle the rest. Creating wireframes before the interface design will save time and simplify the website design process by reducing revisions and change requests.
Wireframe design also makes projects much more manageable by introducing the iterative process. They divide things up and can make it easy for people to work on things section by section or feature by feature.
Save Time and Money
Some people argue against the use of wireframes because they think they eat into their project budget and people's time. The truth is that a well-built wireframe can save you loads of time and money in the long run. Consider for a moment what would happen if you hired a construction company to build a house without a plan. You'd end up doing a lot of unnecessary decision-making along the way instead of approving the plan before construction began.
Imagine how difficult it would be to build a website without a plan. You'll have to make countless edits to the site architecture and the occasional big change just to make something work at the eleventh hour. I'm all for duct tape in the right context, but this isn't it.
Sometimes a small change you make in the beginning can lead to bigger and unintended changes in the future. Eventually, the time and money invested in the project can add up and you'll find yourself way over budget.
When you use collaborative wireframe design tools your page layouts and prototype designs are more calculated and in line with stakeholders' feedback. Developers and web designers know exactly what needs to be built and need little direction when they are able to work from a cohesive plan.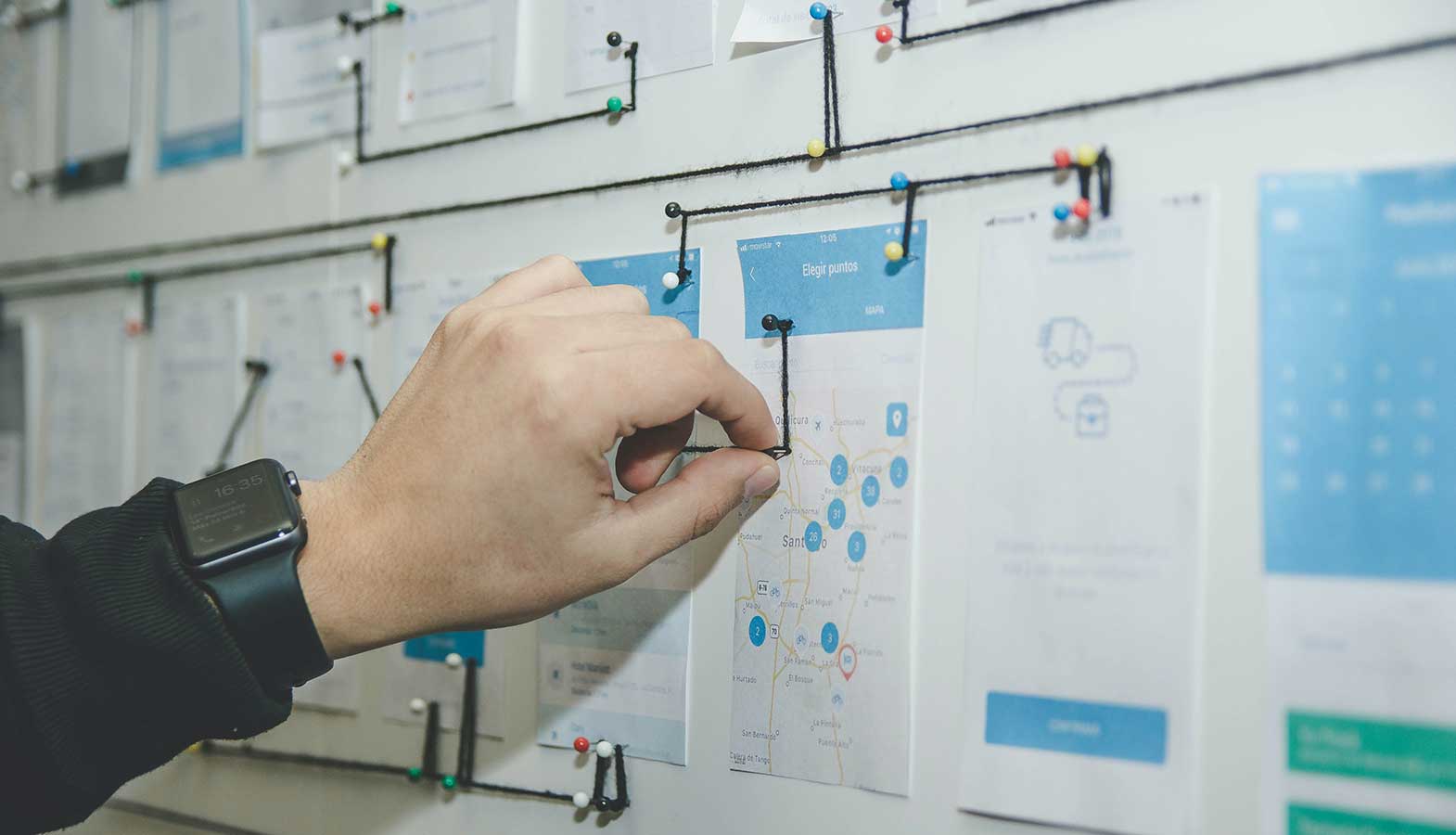 Tips for Creating Effective Wireframes
Understanding how important the wireframing process is we can focus on what you can do to make wireframing part of your own web process to streamline client feedback and deliver websites that drive marketing success.
1. Understand Your Objective
Are you creating wireframes to improve or redesign the user experience on a website? Are you striving to redesign your website to increase the conversion rate or improve lead generation? Or is your goal to explore something completely new or experiment with new element placement within an existing website?
Think purposefully about all elements you're putting into the wireframe and how you expect them to function and work together.
2. Keep Things Simple
Most website wireframes look like basic sketches that focus on functionality and features. They're meant to answer the big questions about the web page design before you get to the prototype development phase, not the small things you can easily adjust later on in most websites.
When you're building your wireframe remember that fonts, colour schemes, specific images, and written content aren't needed at this stage. In fact, it's necessary you leave them out so that your client is not distracted from the sole purpose of the wireframe exercise.
Some clients and stakeholders will be eager to focus on the little things during these project steps, but it's your job as the web designer to take the lead and keep all team members on task and focused on the main objective.
3. Interview Stakeholders and Users
Building a web page is meant to be an iterative and collaborative process. Certain changes are to be expected, but there's plenty you can do to ensure that you don't spend most of your time making simple unnecessary changes on every page.
Take time to talk to project stakeholders and marketing experts and consider many solutions before the wireframing process. Make sure to ask them what they think about the current state of the site and what features or new elements they'd like to see in the future.
Having this data from the beginning of your project will be very helpful when you're trying to prioritize which features to focus on. It can also help give you ideas about updates you can make in the future.
4. Use Annotations and Notes
It doesn't matter if you're hand-drawing a wireframe on paper or if you're using professional wireframing tools. Marking up the wireframes with notes and questions is important for both the client and the web developer later in the process.
We use an incredibly powerful web-based tool called InVision to prototype websites allowing us to mark up wireframes with collaborative and conversational notes while bringing context to interactive elements on the page. Our client is then able to invite their team to join the wireframe review process and play a valuable role in the strategy phase. Each unique page in the new site is scrutinized and refined each step of the way.
Make Wireframing a Fundamental Step in Your Web Design Process
Remember, a wireframe is more than a simple blueprint for your page design. A well-executed wireframe exercise will provide your client and your team direction and is the best way to ensure that your project stays on track every step of the way.
Designing wireframes on your own can be tricky if you don't have the experience and expertise of a website design specialist. For 20 years our creative professionals have hand-crafted websites for clients across North America in just about every industry you can imagine. Contact us to learn more about how we can use wireframes to help revitalize your digital marketing and outline the next steps to grow your business.