Making Sense of the Shopify WooCommerce Debate
Anyone starting a new eCommerce business will most likely find themselves trying to choose between  WooCommerce vs Shopify. These are the two biggest eCommerce solutions that power the vast majority of online stores.
Shopify experienced massive growth during the Pandemic as more business owners moved their businesses online. Now that the world is returning to normal, Shopify has a retention problem as these businesses have outgrown their platform. After establishing a foothold in e-commerce, small business owners are ready to move on to a platform that offers more customization and powerful marketing tools, and WooCommerce is leading the pack by a long shot.
So how do you choose the best e-commerce platform for your business in 2023?
The simple answer is that there is no one-size-fits-all approach when it comes to starting an eCommerce store.
Both Shopify and WooCommerce offer many excellent eCommerce features and abilities. There are clear benefits to using either platform, and there are also a few disadvantages for each.
The right choice really just depends on your business, your specific online store requirements, budget, growth plans, and what you want to get from your eCommerce platform.
In this guide, we'll break down all of the differences between WooCommerce vs Shopify. We'll cover everything you need to know in order to find the right platform for setting up your online store.
If you are already using Shopify and want to learn how to move your online business from Shopify to WooCommerce, check out our comprehensive how-to guide.
Let's get into it!
WooCommerce vs Shopify: Each Platform Explained
Before diving too deeply into the great WooCommerce vs Shopify debate, it's important to understand the main differences between these platforms and exactly what each platform does.
Both platforms are used to create and manage an eCommerce store, but they each use a very different approach to achieve this.
Here's a quick breakdown of WooCommerce vs Shopify.
What is the WooCommerce Plugin?
WooCommerce is an open-source eCommerce WordPress plugin. Basically, this means you can use WooCommerce to transform your WordPress website into a fully functional online store.
WooCommerce is fully compatible with all the functions of your WordPress website. The plugin is free and easy to integrate with your WordPress site.
While WooCommerce has hundreds of available extensions, its core features include:
Shopping functions. WooCommerce gives WordPress owners everything they need to build an online store. This includes payment gateways, a customizable checkout process, a wide range of currencies to choose from, a redirect cart feature, geo-location, automatic tax features, and more.
Simple installation and setup for WordPress sites, including WordPress theme integration
Data control. WooCommerce store owners are in complete control of their customer and online store data
Easy shipping features
Product features that provide complete control over each product in your store
Marketing and SEO features
WooCommerce reports and analytics
A mobile-friendly eCommerce solution
Basically, WooCommerce gives you everything you need to set up an online store and run it.
Unlike Shopify, WooCommerce is a more hands-on solution. Using WooCommerce requires you to choose a separate hosting provider, purchase a domain separately, and integrate WooCommerce with an existing WordPress website.
One of the main things to understand when you compare WooCommerce to Shopify is that WooCommerce is an eCommerce plugin that you add to your existing website. Shopify, on the other hand, is an all-in-one eCommerce-hosted platform.
What is Shopify?
Shopify is a dedicated eCommerce platform that lets you start an online store from scratch.
While WooCommerce is a free WordPress plugin, Shopify is its own platform altogether. Shopify users can get their web hosting, domain, and all the eCommerce tools they need through the platform.
Shopify is a subscription-based solution, with plans available for businesses of all sizes. Users can use the platform to sell through an existing website or even through social media. Shopify is mostly used to set up new online stores from scratch.
Shopify also offers additional features that extend beyond eCommerce. There's the Shopify POS app that works with dedicated Shopify hardware to help businesses sell online and in-store through the same platform.
The platform can also connect to other channels, like Etsy, Amazon Marketplace, Walmart Marketplace, TikTok, Instagram, eBay, and Google Shopping. This means you can use Shopify as a tool to create an omnichannel sales strategy.
Shopify also has a plan called Shopify Lite. This lets you turn your existing website into an online store. However, you can't build an online store with Shopify Lite.
Both WooCommerce and Shopify give businesses the tools they need to start selling online. The main difference is that WooCommerce is a free plugin for WordPress, while Shopify is its own all-in-one platform.
WooCommerce vs Shopify: Pros and Cons
If you want to start an eCommerce store, both WooCommerce and Shopify offer many of the same features. Both platforms give you all the tools you need to set up an online business and start selling.
However, there are also very clear differences and benefits of each platform.
Before we get into the finer details of the WooCommerce vs Shopify debate to figure out which platform is best for your business, let's take a high-level look at the pros and cons of each eCommerce platform.
This will help establish a baseline understanding of WooCommerce vs Shopify and why you might choose one over the other.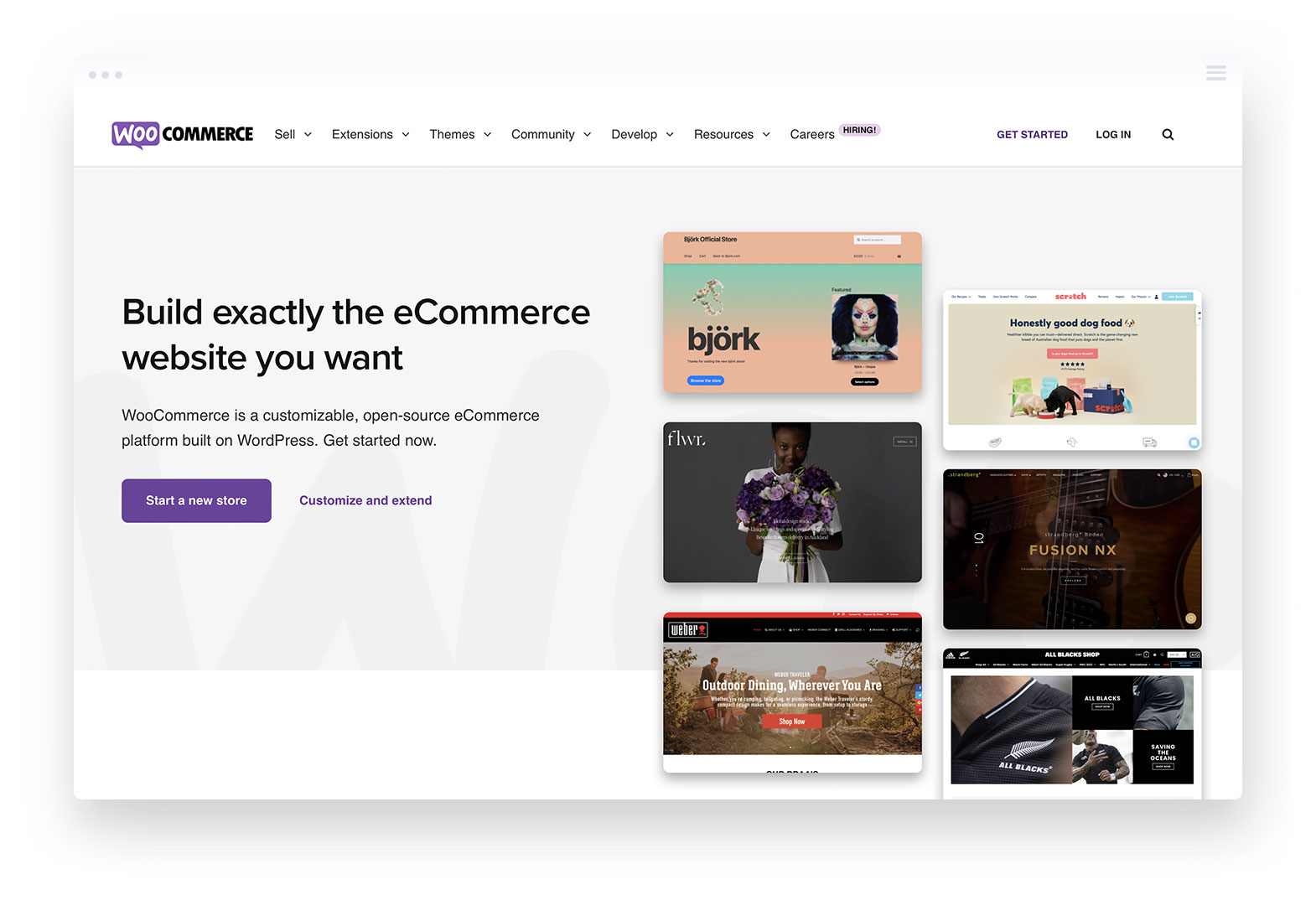 WooCommerce Pros and Cons
Below, we've put together some of the most common pros and cons. Site owners should take these factors into consideration when reviewing WooCommerce for their eCommerce store.
WooCommerce Pros
WooCommerce offers site owners and web designers complete control over the design and customization of their online store. You get a greater level of customization and creative freedom when designing a WooCommerce store.
WooCommerce boasts the most extensive online support community and app store in the world. WordPress also powers more than one-third of all websites on the internet. This means there's no shortage of support and extensions for your WooCommerce site.
WordPress offers the most extensive plugin library in the world. There are loads of integrations and customizations for WooCommerce that are easily available for everyone.
WooCommerce is fast and easy to get started with. The platform can be set up quickly and integrated into an existing WordPress site without interruption.
You can connect WooCommerce to virtually any payment gateway.
WooCommerce is a completely free eCommerce platform. There's no set monthly fee to create and maintain a WooCommerce store. Shopify works on paid monthly subscriptions for each of their plans.
There are loads of WooCommerce themes that you can choose from. The WooCommerce themes available match the style and needs of any business.
WooCommerce Cons
WooCommerce requires more manual input from site owners or their web developers. These people need to consistently stay on top of WooCommerce plugin updates to maintain security and add new functionality to their online store.
WooCommerce online store owners need to use their own web hosting provider and gain an SSL certificate to get their eCommerce store up and running
WooCommerce can be a bit more challenging for those without much technical knowledge or experience. Shopify is generally considered an easier platform to build and manage an online store from.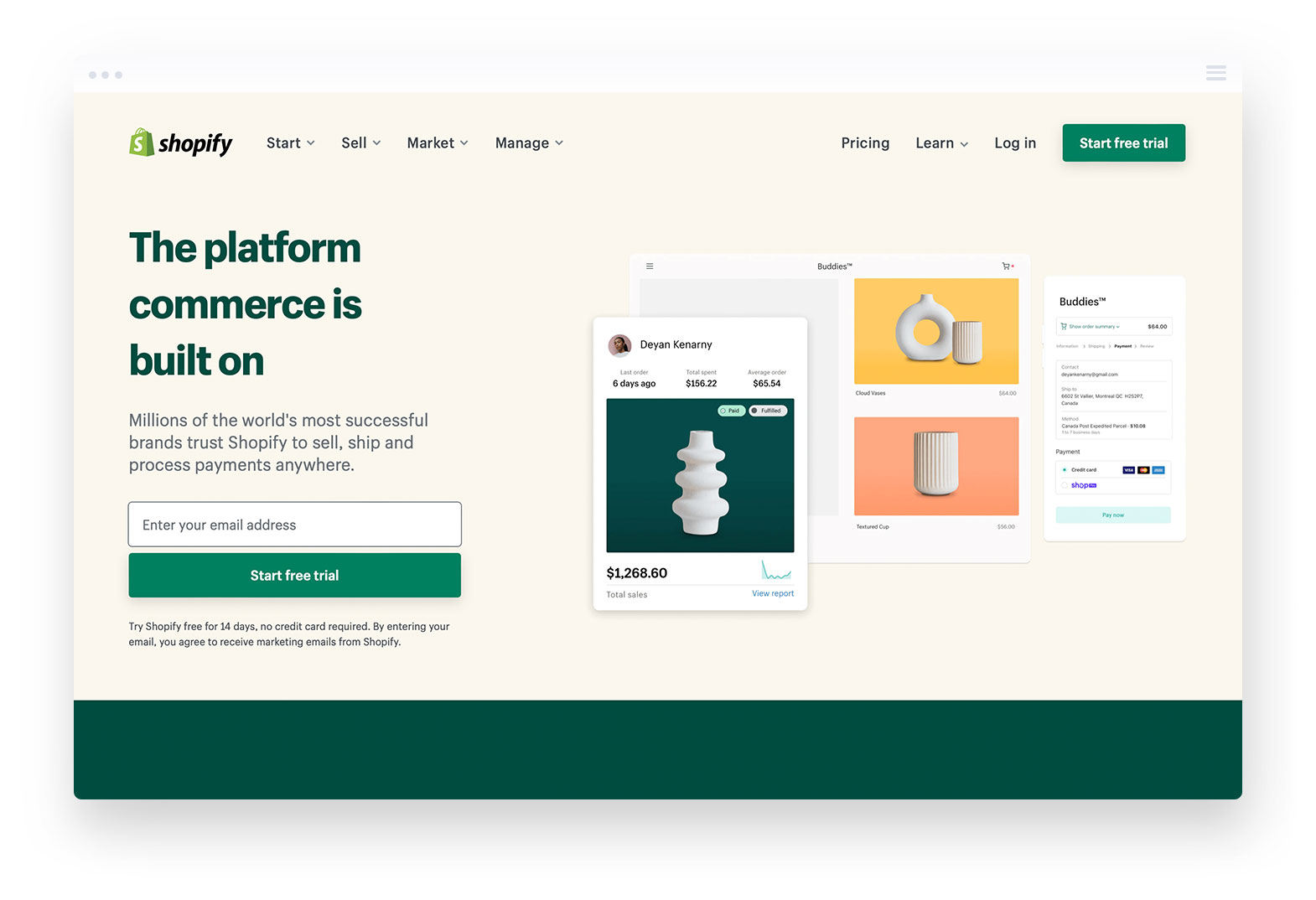 Shopify Pros and Cons
There are hundreds of considerations to make when comparing WooCommerce vs Shopify.
Below, we've outlined some of the main pros and cons of Shopify that any eCommerce store should consider when choosing between the two platforms.
Shopify Pros
Shopify offers a tiered pricing system billed per month, offering complete clarity in monthly fees. Shopify's plans include features for businesses of any size. The most simple Shopify subscription starts at $29 per month, while advanced Shopify is available at $299 per month. There is an even more advanced Shopify solution for enterprise-level companies, as well as a simple $9 per month subscription that just lets businesses accept payments.
Shopify provides hosting and offers an SSL certificate when you sign up with the platform. This saves time and effort.
The Shopify app store offers thousands of third-party applications designed for Shopify stores. This gives you unlimited options for customizing and adding additional functionalities to your eCommerce business.
There are hundreds of professionally designed Shopify themes to choose from. Perfectly branding your online store is easy.
Shopify provides the option to quickly choose and install from a preset list of payment gateways, even on basic Shopify. You can also choose Shopify's own payment gateway: Shopify Payments.
Starting an eCommerce store on Shopify is incredibly quick and easy. You can use simple templated themes that require little to no technical knowledge or website building experience.
Shopify dropshipping solutions are excellent. Shopify dropshipping is easy to get started with, making Shopify one of the easiest eCommerce platforms for this business model.
Shopify isn't only designed for eCommerce stores. Besides being a fully-hosted eCommerce platform, Shopify also offers a POS system for in-store businesses, as well as eCommerce integrations with social media.
Shopify Cons
Shopify users have very little control over their online store. WooCommerce, on the other hand, provides far more control and customization with more WordPress theme options.
Shopify does have limitations on how web designers can customize and tailor their online store branding. Shopify Stores are easy to create, but they offer less creative freedom.
Shopify online store owners have to choose from a limited selection of payment gateways. WooCommerce can be customized to work with virtually any payment gateway.
Basic Shopify is available at a monthly fee of $29, while the most advanced Shopify plan costs $299 per month. Shopify monthly fees only become more expensive as your eCommerce business grows.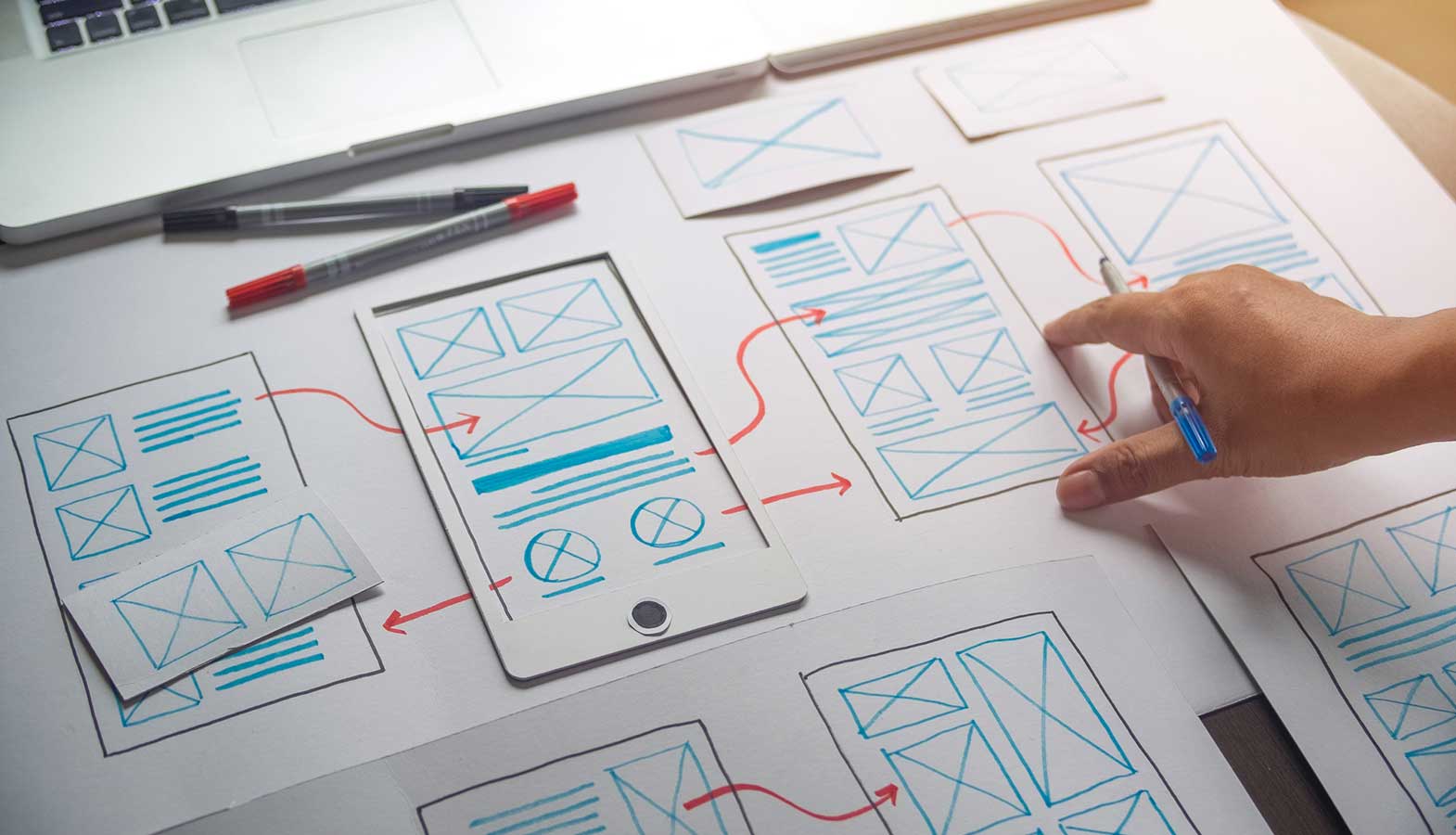 WooCommerce vs Shopify: UI Design
Perhaps the most important difference to consider when comparing Shopify vs WooCommerce is the user interface design.
Shopify
Shopify has a huge variety of professionally-designed eCommerce templates and Shopify themes to choose from.
Shopify themes are created by eternal web designers. This enables Shopify to offer a wide range of styles and themes to choose from for any type of site. These templates are all exclusive to Shopify.
You may get fewer customization options, but you do have a choice of many amazing Shopify themes to match your store exactly.
WooCommerce
A WooCommerce store, on the other hand, can be shaped and moulded using the hundreds of thousands of templates available all over the internet.
Some of these templates are free, while some may cost a one-time fee to use. The cost typically ranges from $20 to $300 to obtain a license and support.
Key Differences
Where the two eCommerce platforms diverge is that web designers can easily create a custom WooCommerce store design from scratch.
If you want to avoid pre-made themes or templates, preset functionality, features, and user flow, then WooCommerce is the way to go.
The entire customer experience can be carefully planned out and tailored to meet the exact needs of any eCommerce site owner.
Parachute Design excels with custom WordPress design and development. Our Toronto WordPress developers have been crafting custom WooCommerce and WordPress websites since 2003.
We have the experience and creativity to help businesses stand out from the competition and take that proverbial next step to grow their business and domain name across social media and the web.
Our support team is also active and accessible to maintain the WooCommerce stores or simply discuss the addition of new features, payment gateways, adjust shipping rates, or compare Shopify and WooCommerce.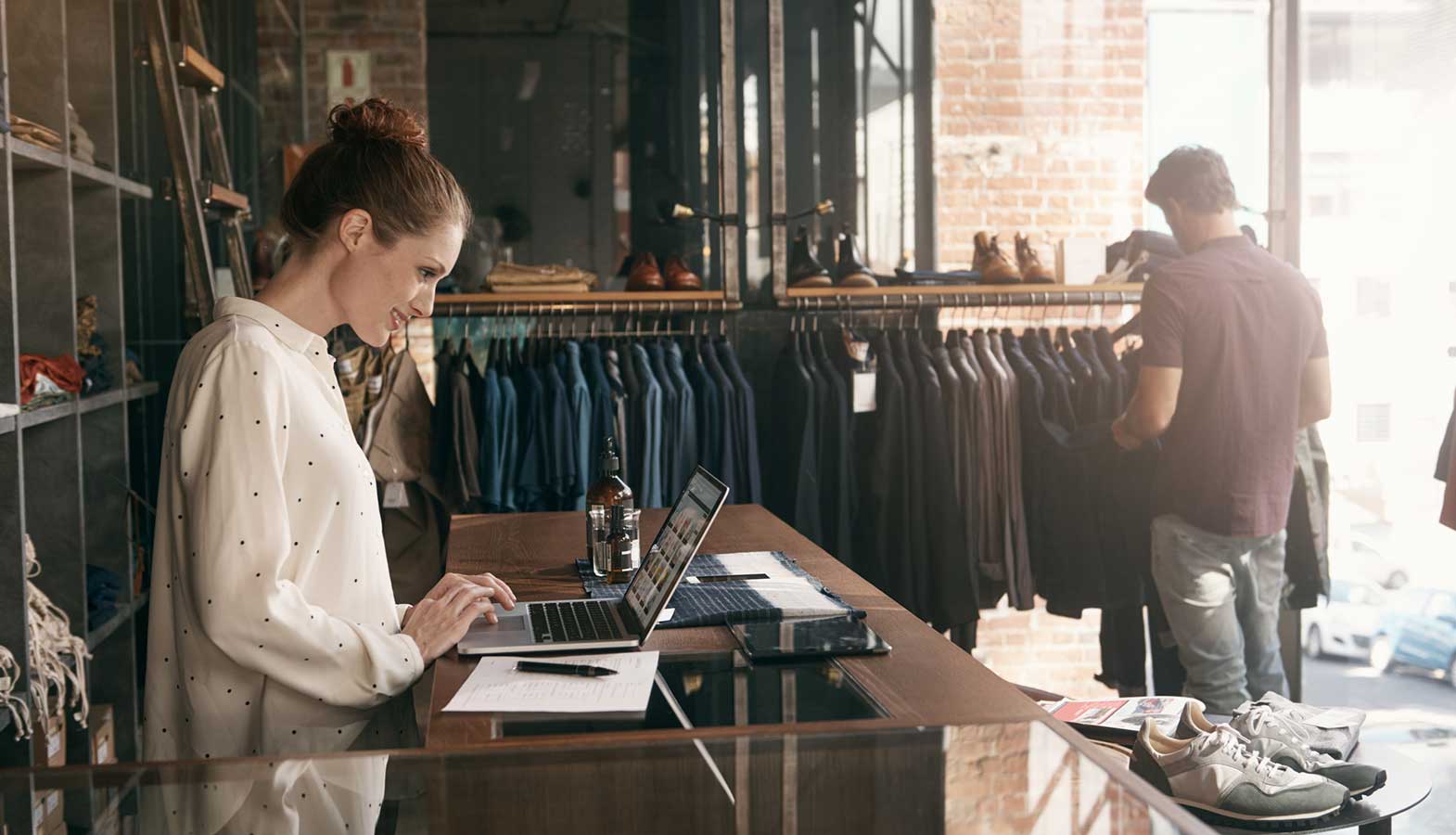 WooCommerce vs Shopify: eCommerce Features
In terms of core eCommerce features, both Shopify and WooCommerce have you covered.
Both platforms feature the most essential and widely-used eCommerce features that come with their default configuration.
Here is a breakdown of the core features that both platforms include out of the box.
Shopify Store Features
Upon signing up with Shopify, you get everything you need to set up your online store. You can basically start selling straight away.
Here is a list of all the core features that come standard with every Shopify plan:
Fully Hosted Online Store
First and foremost, Shopify provides a fully hosted online store to get you set up and selling fast. You can customize the look of the store in the Shopify Theme Store and use your store to sell anything.
Built-in Blogging
Shopify comes with its own blogging platform. So, you can easily add a blog section to your online store to provide your customers with helpful information and drive traffic.
Shopify POS
Shopify comes with its own point-of-sale app that vendors can use to sell products in their physical locations. If you run online and offline sales, using a single system for both is convenient.
Payment Processing and Shopify Payments
Shopify users can choose from hundreds of payment processing gateways. There is the option to use Shopify Payments, the platform's own payment processor which saves transaction fees.
Shopify offers payment processing for accepting all types of payments in 133 currencies.
Shopify Checkout
Shopify's checkout feature can be used on your online store or on social media and other sales channels. This is an optimized tool for processing orders.
Shipping
Shopify lets store owners create a convenient shipping setup. This includes things like fulfilling bulk orders and creating USPS SCAN Forms and arranging pickups with couriers.
Shopify merchants in the US, Canada, and Australia can access live order tracking, quick shipping, pre-negotiated carrier rates, and more with Shopify Shipping.
Analytics and Reports
Store owners can monitor their store activity in real-time and access detailed performance reports on their business.
Mobile App
You can also completely manage your Shopify website from your mobile phone through the mobile app.
Marketing Tools
Shopify comes standard with a marketing platform that includes:
WordPress blog tools
SEO tools
and tools to create Facebook and Google shopping campaigns
There is a single dashboard where you can track all of your campaigns easily.
Support
With Shopify, you can access 24/7 support and there are plenty of support resources.
Shopify App Store
Shopify's app store offers an enormous collection of free and premium apps. You can install various apps to expand the functionality of your online store (more on this later).
These are all the standard eCommerce features that Shopify includes. Of course, choosing a more advanced Shopify plan comes with additional features and functions to match the needs of any growing eCommerce store.
WooCommerce Store Features
If you create an eCommerce store with WooCommerce, you also get a complete set of eCommerce tools and functions to create and manage your online store.
Here are the standard eCommerce features that WooCommerce offers:
Complete Online Store Integrated with WordPress
The WooCommerce WordPress plugin lets you turn your website into a fully functional online store.
The platform is built on WordPress. As such, you can continue to use all of the WordPress tools and features that you already have.
You can add unlimited products to your website. In addition, you can customize your WordPress online store with countless themes available.
Complete Customization
WooCommerce lets you customize every element of your online store, from the buy button to the homepage layout, and more.
Built-in Blogging
WooCommerce is integrated with WordPress's blogging platform. So, you can easily set up and run a blog for your online store.
WooCommerce Payments
WooCommerce comes with built-in payment processing that lets you accept payments via Stripe and PayPal. Store owners can accept credit cards, direct bank transfers, checks, and cash on delivery.
Shipping Options
WooCommerce includes features that let you set and choose your shipping options.
You can restrict these based on customer location. You can also add shipping rates (flat rates or specific amounts for different products) and automatically add taxes based on your customer's shipping address.
Inventory and Order Management
With WooCommerce, you can easily track and manage all orders and inventory. You can stay up to date with stock levels and get updated when stock is running low.
Analytics and Reports
WooCommerce enables you to access detailed reports on your store's performance and activity.
Marketing Tools
Optimize your WooCommerce store with SEO tools, coupons, a widget to feature special products, email templates, and more.
Open Development
WooCommerce is open-source software managed on GitHub. This means developers can contribute to the platform.
WooCommerce also comes with a REST API to manage everything from orders to products.
These are not all of WooCommerce's features, but they are some of the core eCommerce functions that you get with any basic WooCommerce store.
When you compare Shopify vs WooCommerce, both platforms offer many of the same functions. The main difference comes down to the fact that WooCommerce is built on WordPress and is fully customizable. Shopify, on the other hand, includes its own free hosting and is more restricted to the available templates.
However, both platforms do allow for further customization with the addition of extra apps and features.
WooCommerce vs Shopify: Additional Features
Both Shopify and WooCommerce online stores set you up with all the necessary eCommerce features.
However, the Shopify vs WooCommerce debate really thickens when you start looking at the additional customizations, extensions, or plugins that each platform offers.
Let's break down the additional features that you can get from each platform to customize your eCommerce store.
Shopify
Shopify has its own app store where users can access a huge library of additional features. These features can all be easily installed to add extra functionality to your Shopify eCommerce store.
You could access anything from advanced marketing tools, like abandoned cart recovery SMS software, to simple features, such as the ability to import or export CSV files.
If there's an extra function you want to add to your Shopify store, chances are you can get it through the app store.
The only problem is that these apps can be expensive. Shopify apps often range from $300 – $500 and more. Some simple apps are free though.
So, while you can always add more functionality to your Shopify plan with apps, it could be expensive.
The best approach is to understand every single feature you need before setting up your Shopify store. Then check out the Shopify App Store to see what extra apps you will need and how much these will cost. This will help you estimate how much it would cost to run your store on Shopify.
WooCommerce
WooCommerce offers a much broader library of feature upgrades, payment gateway integrations, and store options.
So, just like Shopify, you can add practically any extra feature you want to your WooCommerce website. This includes everything from premium themes to marketing tools and a lot more.
Most of these extra features are free to use. Although, some plugins require licensing or support fees that typically range from $10 to $200 depending on the plugin developer.
Because the WooCommerce platform is open source, there are plenty of different plugin options to choose from. Moreover, you usually have the choice between paid or free plugins.
WordPress developers can also create custom plugins to modify and tailor a WooCommerce store even further. This means that the final design and functionality of any WooCommerce store are in the hands of the store owner and their web designer.
So, when it comes to WooCommerce customizations the sky really is the limit.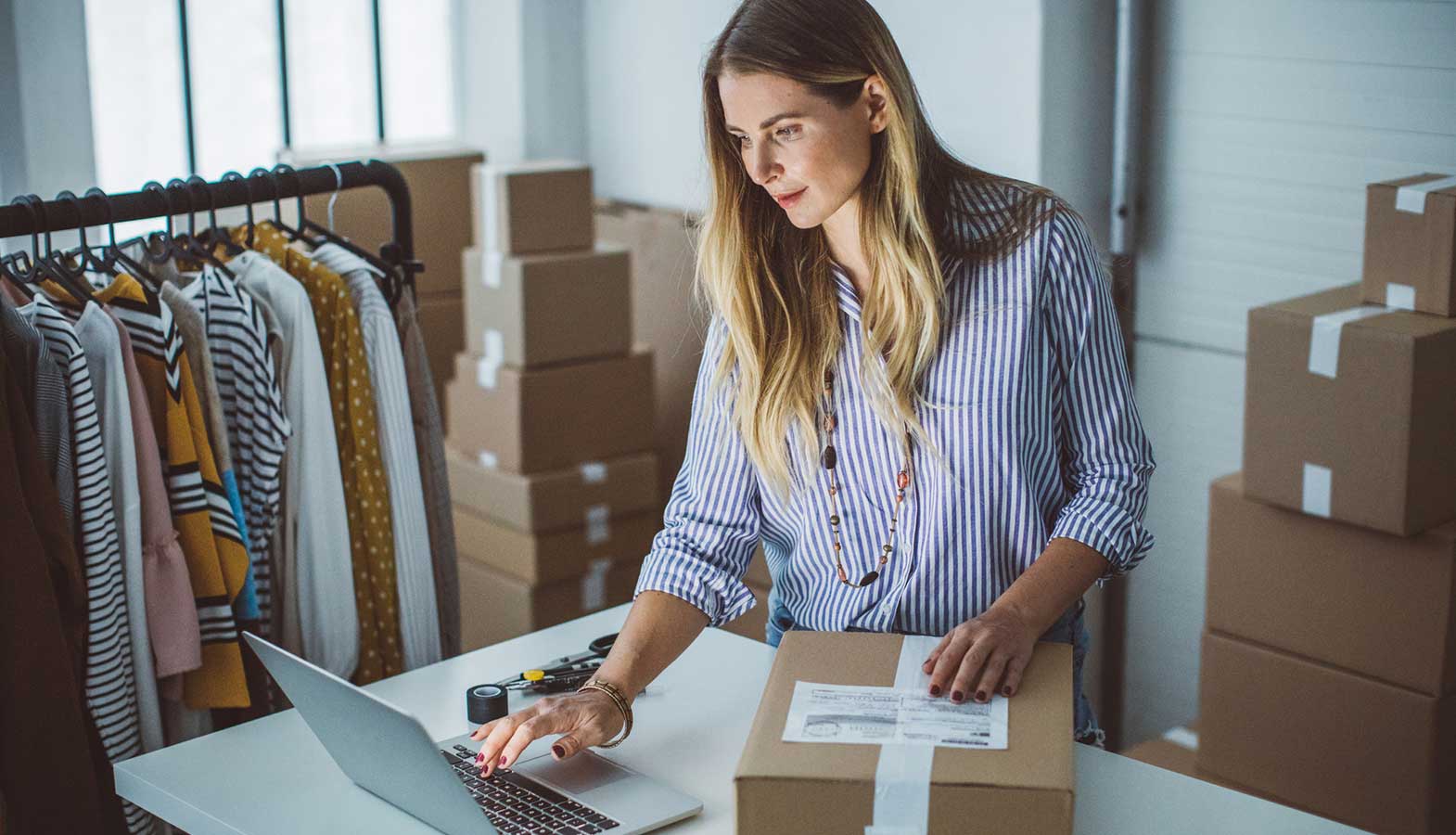 WooCommerce vs Shopify: Pricing
When making a WooCommerce/Shopify comparison, one of the biggest considerations for business owners is the cost of the platform. Unfortunately, comparing the difference in costs isn't as simple as you might think.
WordPress is an open-source content management platform. So, by nature, it's completely free to download and use with any web host.
Shopify, on the other hand, is a closed source software that can only be used on the Shopify platform. This is not free to use.
But, this doesn't mean that WooCommerce is 100% free and Shopify only costs your plan's monthly subscription. Both platforms involve additional fees and costs.
WooCommerce Fees
WooCommerce is completely free to install and add to any WordPress website.
While getting access to WooCommerce is free, you might need to invest in professional web design services and plugin licensing fees for additional functionality. This depends on your desired online store experience and design.
Extensions and Plugins
Just to clarify, the vast majority of WordPress and WooCommerce extensions are free. The few plugins that do require an investment typically range from $10 – $200. These plugins can extend the functionality and front-end user experience offered.
WooCommerce is a more hands-on platform, so store owners have to conduct regular site maintenance. For the most part, these updates are handled simply and efficiently through the WordPress admin panel.
However, most online stores that use WooCommerce tend to be larger. As such, they usually employ a web design or development company to manage the site on their behalf.
Shopify store owners are typically smaller independent businesses. They don't necessarily need to commit the same amount of resources to their online presence.
Hosting
Beyond WooCommerce extensions, you also have to pay for WooCommerce hosting through a third-party provider.
Depending on the WooCommerce hosting you use, you might get a free domain included in the hosting plan or have to pay separately for your domain name.
Then there are the transactional fees. These depend on which payment processor you use. Typically, these fees take a very small percentage of your sales.
So, in theory, WooCommerce is completely free. However, in reality, you will have to pay for WooCommerce hosting, premium WooCommerce plugins, and transaction fees. In addition, you may need to pay extra if you plan to use web designers and developers to extend the functionality of your site. Thus, the cost of WooCommerce stores differs significantly depending on the requirements.
Shopify Pricing and Fees
Shopify pricing is a bit more straightforward to understand.
Shopify requires users to create an account and select one of the platform's three options. These are:
Shopify Basic at $29 per month
Shopify at $79 per month
and Shopify Advanced at $200 per month
The monthly fees include a hosted platform, a webpage theme, and the option to choose from a handful of pre-configured payment gateways to conduct Shopify payments.
Shopify does take transactional fees as well. This changes depending on the plan you use.
Maintenance is automatically conducted by Shopify. This means that all websites running on Shopify are forced to update in order to maintain security and performance.
As we've already mentioned, Shopify extensions are available on the app store. These require extra usage fees, which can vary greatly.
So, Shopify has more set costs involved. But, you can easily find everything you need and create a store without any technical know-how or expertise.
However, if you are more tech-savvy and want to be able to customize and manage your site yourself, then WooCommerce could be a much cheaper option. It really just depends on your business requirements and how you plan to manage your store.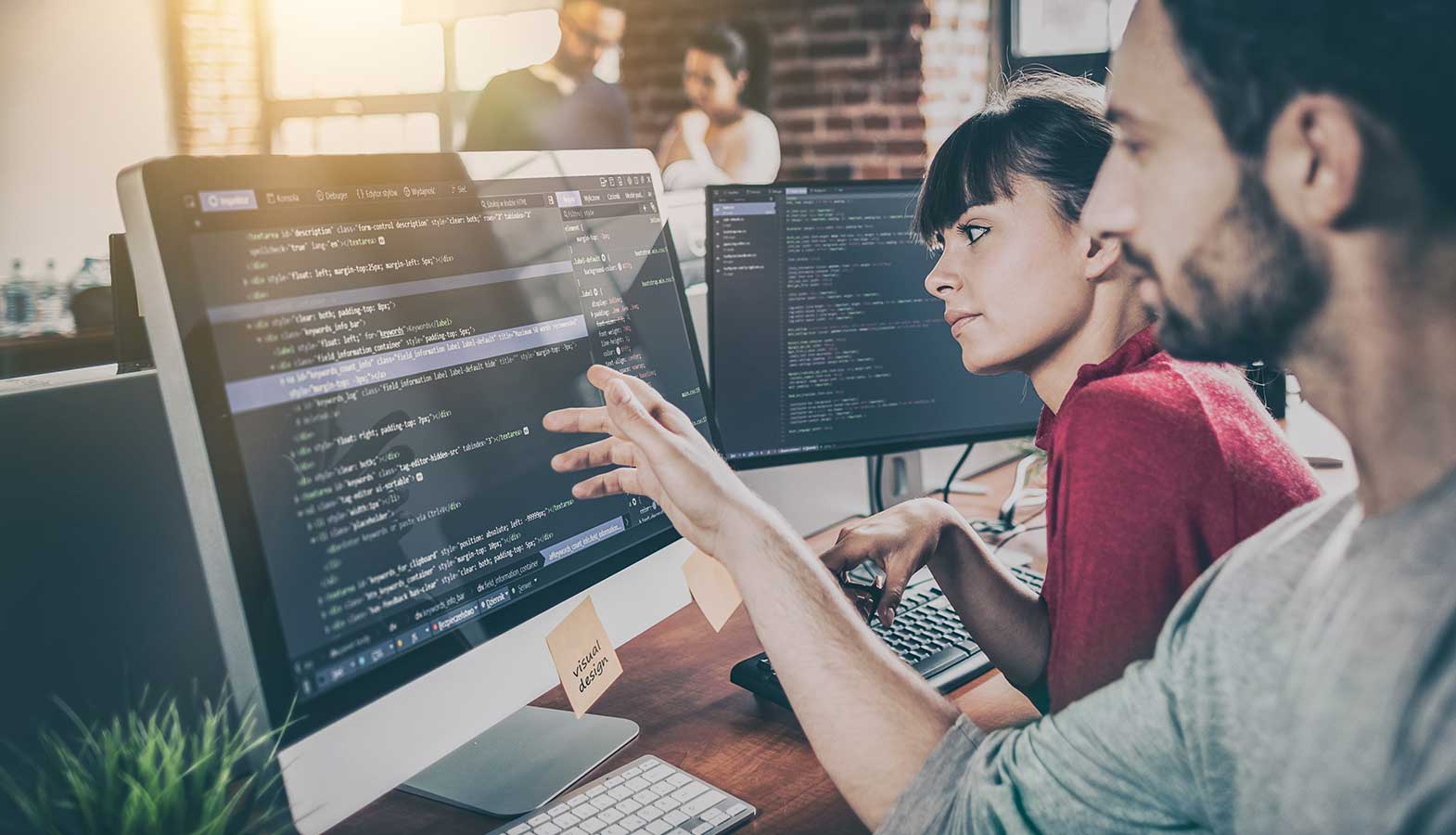 WooCommerce vs Shopify: Security
Website security is paramount for any site owner or business. And it is especially important for eCommerce stores as these sites need extra layers of security to protect sensitive user information, credit card information, and transaction details.
Whether you're looking at WooCommerce or Shopify, you have to make sure that all payments are handled securely.
When looking at the WooCommerce vs Shopify debate concerning payment gateways and security, it comes down to the details. Both platforms offer their own safety advantages and abilities.
Shopify
A major advantage of Shopify is that the platform comes with out-of-the-box security features. Shopify is built on a proprietary language that is foreign to most developers. It also offers PCI compliance baked right into Shopify Payments – which they should, because all they offer is e-commerce.
Basically, this means you get a completely secure eCommerce platform that's ready to go when you sign up for Shopify.
Moreover, Shopify automatically updates all of its security measures. If you have a Shopify account, you don't need to worry much about security because it's all taken care of under your Shopify plan.
WooCommerce
Unlike Shopify, WooCommerce is not the content management system used for the entire website. WooCommerce is an eCommerce plugin that runs on WordPress. As such, the store owner or web developer of a WooCommerce store has complete responsibility to ensure the website is built securely and configured correctly to support PCI compliance.
When you choose WooCommerce to run your online store, you also get complete control over who you choose to host your website. So, you need to put care into choosing a reputable hosting provider that has the necessary security measures in place to support a WooCommerce store.
Luckily, there are many very high-end managed WordPress hosts that have security frameworks and guarantees in place to protect eCommerce websites. Some even offer to monitor and fix sites for free if they are attacked.
One of the most effective WordPress security best practices is to use a security service, like Cloudflare. This lets you set up a firewall that restricts access to the domain name or dashboard based on IP address.
WooCommerce/Shopify: Key Differences in Security
The biggest security difference between Shopify and WooCommerce comes down to maintenance and support.
All websites need to be maintained regularly. It helps them stay up to date with security patches and mitigate new threats.
Shopify conducts these updates in-house and implements them across the platform. This means your Shopify site stays updated with all relevant security features.
WordPress requires website owners to conduct these updates themselves. WooCommerce stores need to either update the plugins in their user dashboard or use a web developer to support these updates.
So, when comparing WooCommerce vs Shopify security, neither platform is safer or more susceptible than the other. The difference is that WooCommerce and WordPress require website owners to be more proactive and aware of the way they manage their websites.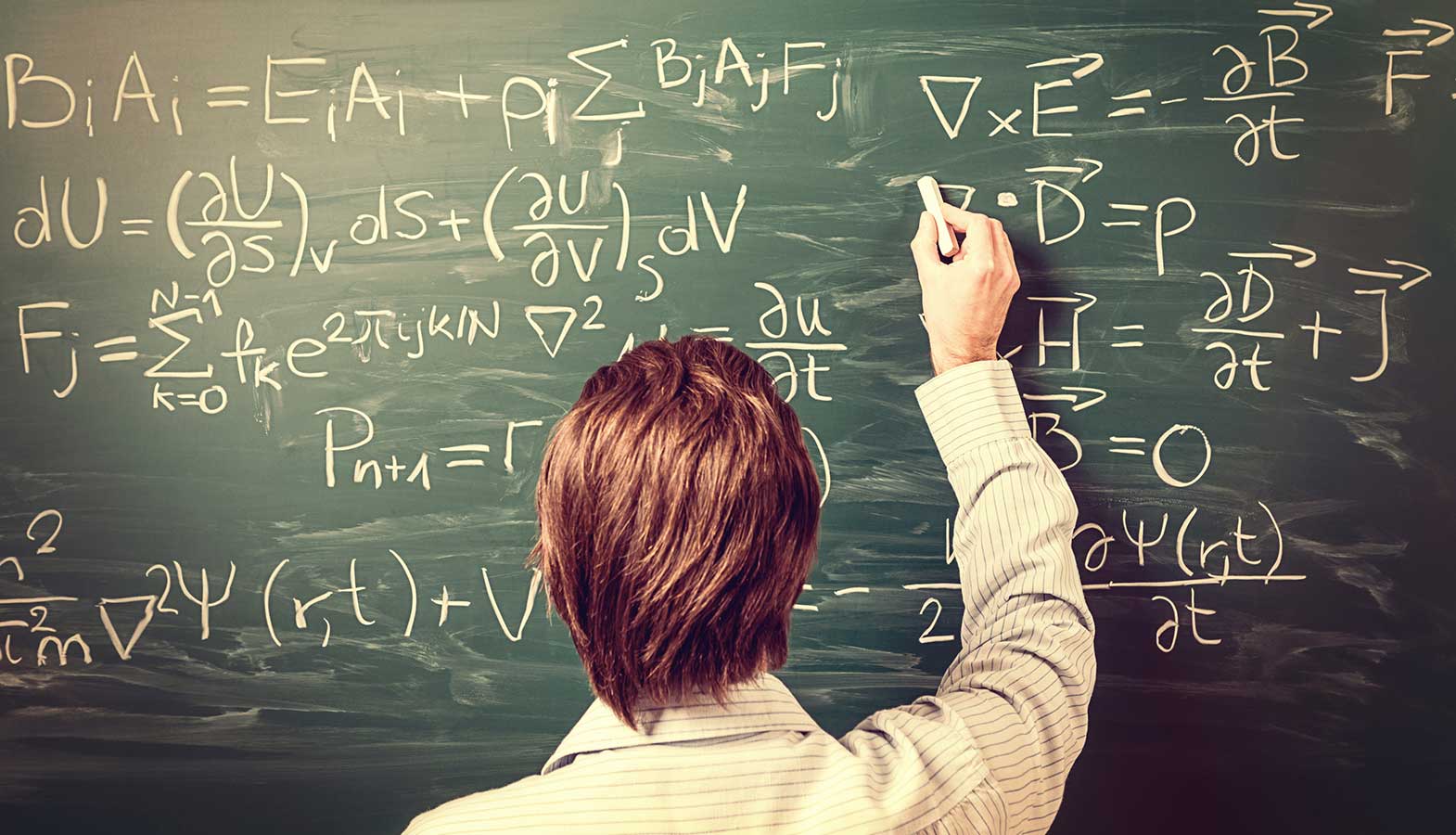 WooCommerce vs Shopify: Search Engine Optimization
SEO is one of the most important strategies for eCommerce stores to attract new customers. So, having strong SEO abilities is essential for a good eCommerce store.
When it comes to SEO performance, WooCommerce and Shopify are totally different.
There are many cases where website owners switched from one platform to the other and experienced a drop in traffic. This doesn't necessarily mean that one platform offers better SEO results. It just means they work differently. As such, the same SEO tactics don't always apply to each platform.
So, when comparing WooCommerce to Shopify, it's important to understand the differences and benefits of each platform.
Shopify
Shopify is known for its clean and clear code that does an excellent job ensuring websites perform well.
Additionally, the backend admin offers ease of use and the ability to configure page titles and meta descriptions throughout the Shopify platform.
Shopify's built-in SEO features are simple and effective. This includes things like auto-generated canonical tags for your pages, and easy-to-edit title tags, meta descriptions, alt text, and URLs.
There is also the Shopify App Store that offers more advanced SEO tools and additions. These can help you optimize your SEO strategy.
WooCommerce
When looking at WooCommerce, you still get all the great SEO features that Shopify offers. You can take this a level further though, as WooCommerce gives you even more opportunities for customization and fine-tuning your SEO tactics.
There are hundreds of WordPress plugins to help you with SEO. These can all be easily installed, giving you loads of opportunities to refine your SEO and digital marketing strategy.
Yoast SEO and Rank Math are common WordPress SEO tools, but there are plenty of other plugins you can utilize. The choice is yours!
So, in comparison, WooCommerce is better for SEO in the sense that you have more opportunities, more flexibility, and a greater range of SEO tools that you can install.
Shopify is a very user-friendly platform straight out the box, so you might prefer it if you don't know much about SEO. However, with the right plugin, SEO on WordPress is also a very straightforward process.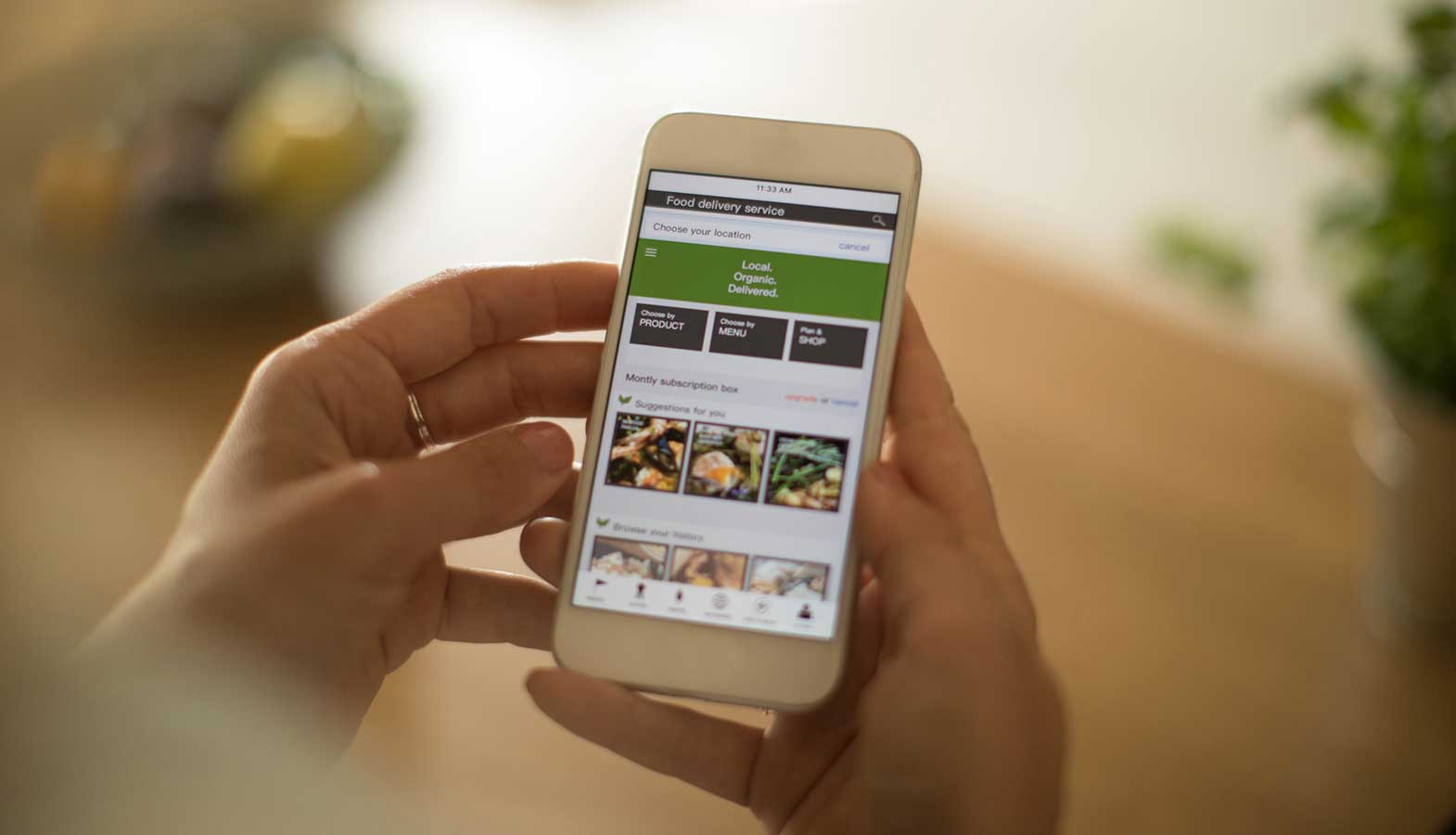 WooCommerce vs Shopify: Ease of Use
Finally, let's cover ease of use between the two platforms.
In comparing WooCommerce and Shopify, we're referring to the day-to-day management of the website. This includes starting the store and using the dashboard and tools configured in the platform's content management system.
Starting a New Online Store
When it comes to starting an online store, Shopify is a lot easier. The platform is miles ahead of WooCommerce in terms of easily getting your website up and running.
Shopify websites can be set up in no time at all. You can also use the platform's templates and support library to make things even easier.
WooCommerce requires a more intensive approach when getting started.
You have to find a hosting provider, purchase a domain name, get your own SSL certificate, integrate WooCommerce into the WordPress repository, and build your site from scratch.
That being said, it's still easy to build a great-looking store on WordPress as there are thousands of templates to use. You also get the added bonus of having more choice in terms of how you want your store to look.
Managing the Website
In terms of managing the website and its content, both platforms are nearly identical in the backend.
The UI design of the dashboard and associated tools are virtually the same. Anyone familiar with the Shopify system should be able to pick up and learn the WooCommerce system in no time – or the other way around.
WordPress and WooCommerce do offer web designers the ability to custom design the backend of the website though. But, this is rarely ever done.
So when it comes to ease of use, the average person can easily pick up and learn to use the WooCommerce or Shopify backend with ease.
Shopify has the advantage that stores are easier to start, and that updates and hosting are all taken care of in one package. However, actually publishing and managing the daily tasks on your site are virtually identical across both platforms.
If you're deciding on whether to choose Shopify or WooCommerce for your business, ease of use is much the same and shouldn't necessarily play a role in the final decision.
Shopify vs WooCommerce: Which is the Best eCommerce Platform?
You probably just want a simple answer of which eCommerce platform is best. Should you start a Shopify store or use WooCommerce on a WordPress site?
Well, there's no single answer as to which platform is best.
Both eCommerce solutions power the vast majority of online businesses. And both are loaded full of awesome features. Because of this, WooCommerce and Shopify are both excellent choices.
However, WooCommerce and Shopify are not interchangeable.
Choosing one over the other should depend on your business, your budget, and what you want to get from your eCommerce platform. You need to understand your online store development goals and how your business model works.
Moreover, you need to determine what elements are important for your store before you choose which platform to use. These elements include things like:
Support
Transaction fees
eCommerce features
Payment options
Monthly fees
Domain name registry
SSL certificate registration
Design and customizability
Access to extensions and more.
Before choosing between WooCommerce vs Shopify, you need to have a clear understanding of the benefits and limitations of each software option.
There's no 'better' option. The eCommerce platform you choose should really just depend on your specific business and requirements.
When you add together all of the considerations between the two eCommerce platforms, here is what the general Shopify vs WooCommerce argument looks like:
WooCommerce
WooCommerce is the best eCommerce platform for you if you already have and maintain a WordPress website. This applies whether the site is custom-made or created using a theme or template.
Most importantly, you should choose WooCommerce to build and manage your online store if you want complete control over its design and functionality.
WooCommerce also offers excellent ease of use when it comes to daily management and adding new features.
Hiring a professional web design firm will inherently require more of an initial investment. Still, it will help you end up with a hand-crafted web design and custom user experience – which is not quite as easy to achieve if you use Shopify.
So, to summarize, WooCommerce is the best eCommerce solution if you want a greater level of customization, and want to incorporate an online store into your existing WordPress website. It will take a bit more effort to get the store up and running, but it will result in something far more unique and customized to your business.
Shopify
Shopify is the best eCommerce platform for your business if you want an all-in-one solution. A store built on Shopify can be configured and launched far more quickly than WooCommerce.
Shopify acts as your hosting provider and your domain is included. If you don't want to spend time making technical decisions and configuring your online store, then Shopify is ideal.
Shopify was designed for store owners that don't want or need complete control over their eCommerce platform.
Use Shopify if you're happy to choose from a variety of community-shared templates within the Shopify app to start your business. You won't be able to customize Shopify online stores as much, but starting them is a lot easier.
Of course, you can choose a Shopify advanced plan to unlock more features and functionalities. There are also plenty of Shopify apps available so you don't have to worry about missing out on any features.
To summarize, Shopify is the best option for less tech-savvy individuals who want a fast and easy solution to start selling.
You get a fully hosted platform, a free SSL certificate, and many fantastic Shopify features. It's very easy, but just be prepared to pay a monthly fee to access your Shopify plan on top of paying transaction fees.
If you have a brick-and-mortar business as well as an online store, then Shopify is a good choice because you can also use the platform's POS system.
The bottom line often comes down to whether customization or convenience is more important.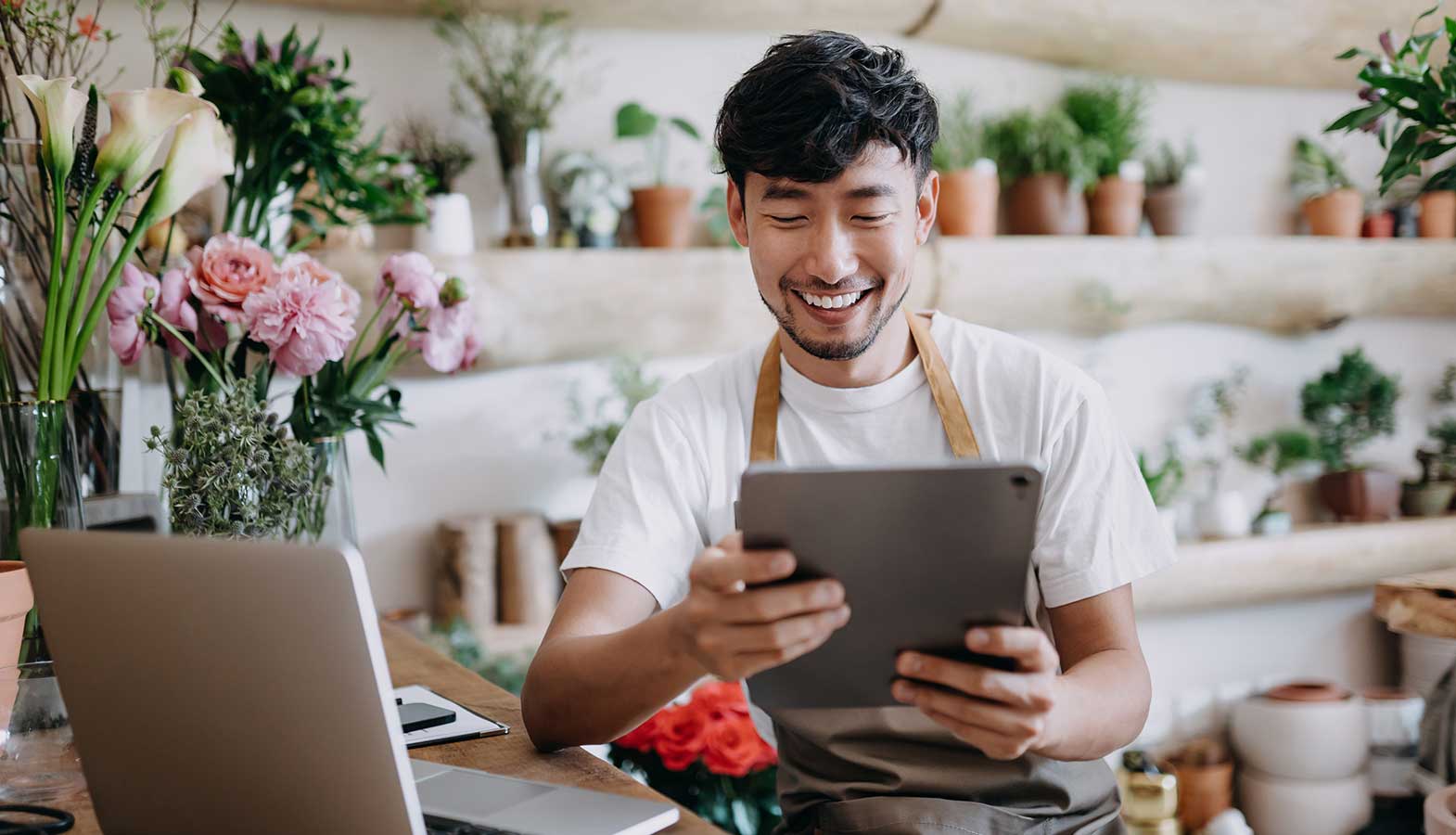 Choose an eCommerce Platform Based On Your Business
If you aren't sure whether to install WooCommerce or start a Shopify store, there's no wrong answer. It all just comes down to which platform can help you achieve your business goals more efficiently and which platform you feel most comfortable with in terms of cost per month and overall store design.
From our web design experience, we've advised many prospective clients with smaller budgets to start out on Shopify. In many cases, these same clients who started with Shopify want to switch over to WordPress after a year or two. With the extra experience running an online store, and more budget, they see the bigger-picture potential that WordPress offers.
This change does not mean Shopify wasn't an excellent fit for them to start their online store. They were simply able to get their store online quickly and learn more about managing online sales and support before they were ready to take full control of their site and invest in custom WooCommerce web design.
So, consider where your business is at and find the platform that will best match you at this point. Of course, there's always the option to switch platforms at a later stage if you're unhappy.
WooCommerce vs Shopify: The Verdict
So, which platform should you choose?
Both WooCommerce and Shopify are extremely powerful. They're the two most widely used eCommerce platforms to run a modern and mobile-friendly online store.
When it comes to choosing the best eCommerce platform suited for your business, the decision should be relatively straightforward when looking at the plain unbiased facts.
When to Choose Shopify
Shopify is best if you do not already have a website and want to get started quickly with a more "hands-off" approach.
Shopify is a very well-built platform with reasonable fees per month. If you're after simplicity, then Shopify is quite likely the best choice for you.
When to Choose WooCommerce
If you already have a WordPress website or are the type of person that prefers the control and pride of a fully customized website design, then WooCommerce is the best fit for your business.
This also includes complete control over performance, search engine optimization, and various other factors associated with running an online business.
Final Thoughts on Shopify vs WooCommerce
There's no right or wrong answer when comparing Woocommerce vs Shopify.
It's important to weigh your options carefully, understand your specific business requirements, and know how your business and online marketing needs will evolve over time.
When you choose to open your store with one platform, there is always the option to change e-commerce platforms if you feel one isn't for you. Online stores grow and change with time, so the best platform for your business may also change as your own experience and business grow.
To learn more about our custom eCommerce web design and development services, contact us today.