The Complete Guide To Take control of your WordPress website and move it to the self-hosted WordPress.org
Over one-third of the world's websites use WordPress, but most people don't understand the difference between WordPress.com and WordPress.org. Yes, there are two versions of WordPress, and one version is much more flexible and customizable than the other.
While WordPress.com is easy to start with, but it isn't nearly as flexible as the self-hosted WordPress.org. If you want your business to grow, you will eventually need to learn how to transfer WordPress.com to WordPress.org.
WordPress.com vs. WordPress.org
WordPress.com is an excellent place to start a website or blog for free and with very little work. However, WordPress.com has a lot of limitations that can make it difficult to run a business. You have to make sure your site complies with WordPress.com rules, or they could take your site down.
However, the self-hosted WordPress found on WordPress.org is the software behind WP.com. You can use it on almost any server to create a more customized website that offers you more control.
Consider some of the significant differences between the two.
The Platform
WordPress.com is an all-in-one platform with the software you need to create a website and the servers to host your site. You can sign up for an account and build your site in the same day.
WordPress.org isn't a platform – it is a content management system or CMS. You can install the software on your own server and have complete control over the design, functionality and plugins you can install.
The WordPress.org platform is more flexible than WordPress.com, but you can upgrade your plan with WordPress.com to add more features if you're not quite ready to make the jump to a self-hosted WordPress site.
Backups and Updates
When you use WordPress.com, they take care of backing up your site content. That way, you can access a recent version if your site ever has issues.
The platform also takes care of updates so that your site is secure. Whenever WordPress releases a new core update, you don't have to worry about updating it.
If you switch to WordPress.org, you're in charge of managing the software and making sure timely backups are made. You will need to set up a system to back up your website, but you can install one of many plugins to do that for you. In reality, most reputable web hosts will automatically update the WordPress core and run automated daily backups for you.
In any case, you'll need to be sure to update your site when a new version of WordPress is available if your host doesn't offer this service so that you don't risk security breaches or other vulnerabilities.
Monetization Options
If you have a brick and mortar business or sell through a separate online platform, WordPress.com can be a great place for a website. But if you want to setup an eCommerce business and sell your products through your website, you may not be able to do that on .com.
WordPress.com runs ads on their free websites, and they take all of the profits from those ads. You'll need to pay for one of their other plans to remove the ads. But you won't be able to sell anything without the eCommerce plan.
You also can't create a membership site on WordPress.com.
If you switch to WordPress.org, you can make money in any way you choose. It doesn't matter which host you use or the hosting plan you select.
You could get the cheapest hosting plan, but you can do whatever you want with your site. Whether you want to sell products or create a membership site, you can do all that and more on WordPress.org.
Design Choices
Another benefit of switching to WordPress.org is that you have more design options. You can use one of the dozens of WordPress.org themes packaged with the software and customize the theme with your brand colours and fonts. You can also purchase professionally crafted WordPress themes from various theme libraries and easily install them on your site.
If you aren't creative or technically inclined, you can hire a professional web designer to create a custom design for your site. A web designer can help give your website a clearer purpose to help customers navigate around your site.
While you do have some design options on WordPress.com, they aren't as flexible. You have to choose one of the themes available through their site, and you can only do so much to customize it.
If you want more design options on WordPress.com, you'll need to upgrade to the VIP plan. The plan pricing is more expensive and may be out of reach for many small businesses. Plus, you won't have as much flexibility compared to downloading the open-source software and installing on a third-party host.
SEO Tools
WordPress.com lets you edit the meta description for your site pages. The meta description will show up under your site when it appears in search results pages on Google and other search engines.
You can also change the title formats and preview how a page will look on Google or social media. However, you can't use these tools to verify your content is optimized for search results.
If you transfer to WordPress.org, you can install an SEO plugin, like RankMath or Yoast SEO. A plugin can show you those fields and let you edit them, but they will also tell you how well it thinks your content is optimized for a given search term, in addition to other SEO features.
You can set your chosen keyword or phrase for a page on your site. Then, the SEO tool will give you a checklist and suggestions on how to improve page optimization. While doing all of the things it recommends won't guarantee a top search result, it certainly helps.
Storage Capacity
On WordPress.com, the free plan limits you to 3GB of storage for your site. If you need more storage on your site, you'll need to upgrade even if you don't need other premium features.
However, if you use a lot of that storage space, it can slow down your site. Even if you haven't maxed out that 3GB, you may find it affects the user experience when people visit.
You can upgrade and get anywhere from 6 to 200GB. But if you use WordPress.org, your storage capacity depends on your host. Some hosts offer a cheaper plan with more capacity and thus a faster speed.
If you get a lot of traffic to your site, you will need more than a few gigabytes of storage. That way, your site can handle more visitors without lagging or other issues.
Pricing
One of the biggest differences between WordPress.com vs. WordPress.org is the cost. WordPress.com sets a list of prices for each of its plans.
You could get a site for free, or you could pay up to $45 per month for an eCommerce plan. If you want to run a business completely from your site, you'll probably need the eCommerce plan so that you can sell products and services.
But if you use WordPress.org, you have more options for pricing. While you will need to purchase a new domain name, you can get a basic hosting plan for less than $10 per month.
Most WordPress.org hosts give you full control, so you can run a full eCommerce store from a low-tier hosting plan. It's not ideal, but it is possible if you're just starting out and want to keep overhead down.
Be sure to consider a few WordPress hosts and think about your budget. Odds are you can find a good host for less than what you would pay to keep using WordPress.com.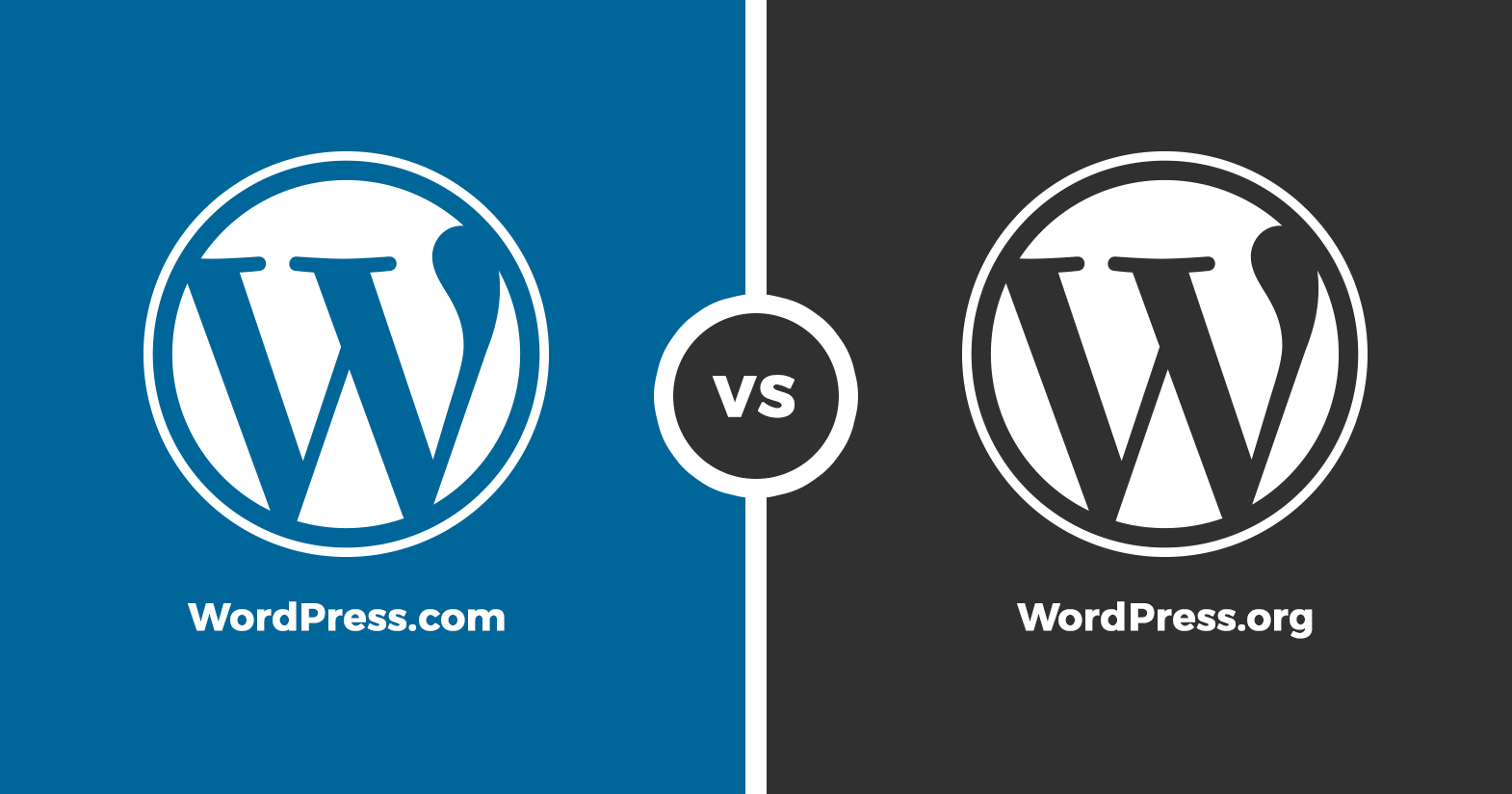 How to Transfer WordPress.com to WordPress.org
Once you decide to transfer WordPress.com to WordPress.org, you have some research to do. Moving your site doesn't have to be intimidating, but you should understand how to do it.
That way, your links and content will remain functional and you won't lose your organic traffic or customers.
Before You Start
If you haven't already, you need to choose a host for your new self-hosted WordPress site. Many hosts offer one-click installations that make it easy to set up your new website, even if it's an online store. But you can also download WordPress and upload it to your host manually if you prefer.
You should also consider your current store address on WordPress.com. Your domain name is what your visitors put into their address bar to get to your site.
Many sites on WordPress.com use a subdomain, such as example.wordpress.com. However, you will need your own domain for your new site, such as example.com.
If you already have your own domain, that's great. But if not, you can buy a domain through your host or another domain registrar. And if your domain is through WordPress.com, you can transfer it to your site.
Export Data From WordPress.com
Once you know which web hosting partner and domain name you'll use it's time to export your content. Exporting will save your website content to your computer so that you can add it to your new site.
Here are the steps to export your current website:
Login to your WP Admin panel
Select Tools
Click on Export
Click Start Export
Your website will download to your computer as an XML file that you can save for later. That way, you easily can import your content to the new WordPress install.
If you don't want to export the files yourself, you can get a guided transfer from WordPress.com. However, the service costs about $130. They'll also only do the transfer to their partners, so it may not work with your new host.
Luckily, exporting the files yourself isn't too complicated. But if you don't want to do it, you can always hire a web developer to help.
Set Up Your New Site
Now it's time to set up your new WordPress site. You can log into the WP Admin panel to access your dashboard and add pages and posts. Since you already have a content export from your old site, you don't have to create your entire site from scratch.
It doesn't matter whether you already have connected your domain or not. If your domain is still pointed to your old site, most web hosts will provide a test domain to create your site until you're ready to go live.
Then, you can transfer the domain later to get the site up and running.
Import Your Site Content
Once you have your site ready to work with, you can import your XML file. Here are the steps to do that:
Go to your WP Admin panel
Select Tools
Click on Import
Scroll to find WordPress
Hit Install Now
Click Run Importer
Select Choose File to add your site content
Click Upload file and import
You may need to wait a while for all of the content to upload if it's a large site. If you have a large file, you might not be able to upload it at once. In that case, you can contact your host and ask for a temporary increase in the upload limit.
Or you can separate the XML file into a few different files and upload them individually. To do that, you can go back to your WordPress.com site and export pages, media and other content separately.
Either way, when you upload your content, make sure you download and import file attachments. That way, your new site will show all of your images correctly.
Redirect Your Visitors
Before you completely shut down your old site, you need to redirect visitors. If you already use your own domain, you'll need to use the WordPress.com Redirect service.
The service costs $13 per year, but it will make sure all of the links to your old site go to your new site. You can also use the service if you've used a subdomain, and you won't have to worry about redirecting your site.
After a couple of years, you can stop the redirection service. At that point, most visitors and search engines will know the new site is your current site, so you don't need to keep paying.
However, if you don't want to pay anything, you can redirect the site for free. If you currently have a subdomain, you can edit the homepage to announce the new website.
You can link to the new website homepage so that visitors can get to it. While that won't tell search engines about the change, it can be nice if you're on a budget.
Update Links Within Your Site
Especially if you redirect your site for free, you'll need to update links that lead to other pages on your site. If you have a blog or link to products from your homepage, you'll need to make sure the links work.
You can go through and update any links with the new address for that post or page. That way, users won't have issues when they click on those links and see 404 errors.
If you're keeping the same domain and are using the WordPress.com Redirect service, you shouldn't have to change your links. But it's still a good idea to review everything.
You can also install a broken link detection plugin to check the links to verify you didn't miss anything. And if you did miss a link, you can correct it before people keep using the bad link.
Change the DNS
Before you can start using your new website, you'll need to change the DNS for your domain. If you're moving from a subdomain, you can skip this step. But if you have your own domain or if you buy a domain from a company other than your host, you'll need to point the domain to your host.
You should get the exact steps from your host or domain registrar. They'll have specific instructions based on their servers to make this easy for you.
However, you will need to connect the two services so that your domain can connect to your website. If you don't want to change the DNS information, you can have your web developer do the change.
How Long Does the Transfer Take?
If you're considering moving your site to WordPress.org, it may take a bit of time. You'll need to choose a host and set up that account. You'll also have to export your content and import it to your new site.
Depending on how much content your site has, it could take a few minutes or longer to upload. You may need to split the files so that you don't upload too much at once.
But that could also take longer because you'll have more steps to do. If you don't want to spend your time on the transfer, you can hire a WordPress developer to migrate the website.
While that won't speed up the process, it does mean you can work on other things. You can use that time to prepare for a new launch.
Will My Site Go Down During the Transfer?
As long as your old site stays up until you finish the transfer, you shouldn't expect your site to go down. But it may not be accessible for a short period.
If you're worried about people not being able to view your site, you can view your analytics. See what days and times people view your site the least. In most cases, we launch websites early in the morning before the start of regular business hours to ensure the site is launched and tested before the general public begins their workday and traffic usually picks up.
What If I'm Not Tech Savvy?
Don't let your comfort level or experience with technology keep you from switching to WordPress.org. While the steps are pretty straightforward, it's okay if you don't want to do it yourself. There is a Guided Tour from WordPress.com to get help with the process. Some web hosting providers will even help you move your site over as part of their standard hosting plan.
You can also hire a WordPress developer to move your web content. If you already want help with your website design, this is your best option. A developer can make sure your links work properly and that images load correctly after the transfer. You can trust that a WordPress expert will take care of your site as they move it.
How Much Does the Transfer Cost?
The cost to transfer WordPress.com to WordPress.org depends on different factors. You could do the transfer yourself for no cost aside from your time. If you go with the Guided Tour, you can expect to pay about $130.
When you hire a developer for the transfer, it will depend on what they do and how much they charge. Your overall cost will vary depending on if you just need help with the transfer or if you want a full redesign for your new site.
Should You Transfer WordPress.com to WordPress.org?
The transfer process can seem intimidating, so you might wonder if it's worth the switch. For most small businesses, WordPress.org is the better option as it comes without limitations. You'll have more control over how you can customize your website to run your business and what you can sell on your website. You won't be at the mercy of WordPress.com and its policies regarding your site.
With WordPress.org, you can sell everything from products to services to memberships. You can choose an affordable web host and enjoy all of the benefits of WordPress.
As your business grows, you can upgrade to a more expensive hosting plan with more features, storage and bandwidth. But you won't have to worry about transferring your content each time.
If you're still new to the business and only use your website for promotion, you may not need to switch right now. However, if you want more flexibility and want the option to sell online in the future, you should move your site.
The more you wait, the more content you'll have to move later. And if you're already paying for WordPress.com, you may find you can get a better deal with a third-party host.
Making the Switch
Are you ready to transfer WordPress.com to WordPress.org? Switching is an exciting but daunting process. However, once you make the switch to a self-hosted WordPress site you'll have more freedom to run your business your own way without limitations.
Do you need help setting up your new self-hosted WordPress site? Contact us to learn more about our extensive experience creating with custom WordPress websites and get an estimate for your project.