Grow Your eCommerce Business with a Custom WooCommerce Store
By 2023, online shopping is expected to make up about 22 percent of all retail sales worldwide. If you already operate an online store you're already on the right track, but like all things in life, there are different tiers to marketing your business and selling your products online.
If you're struggling to grow your store with Shopify or have reached the limits of its capabilities now is the time to move your online store from Shopify to WooCommerce and develop an eCommerce website that will offer more powerful marketing tools and customizations to grow your business.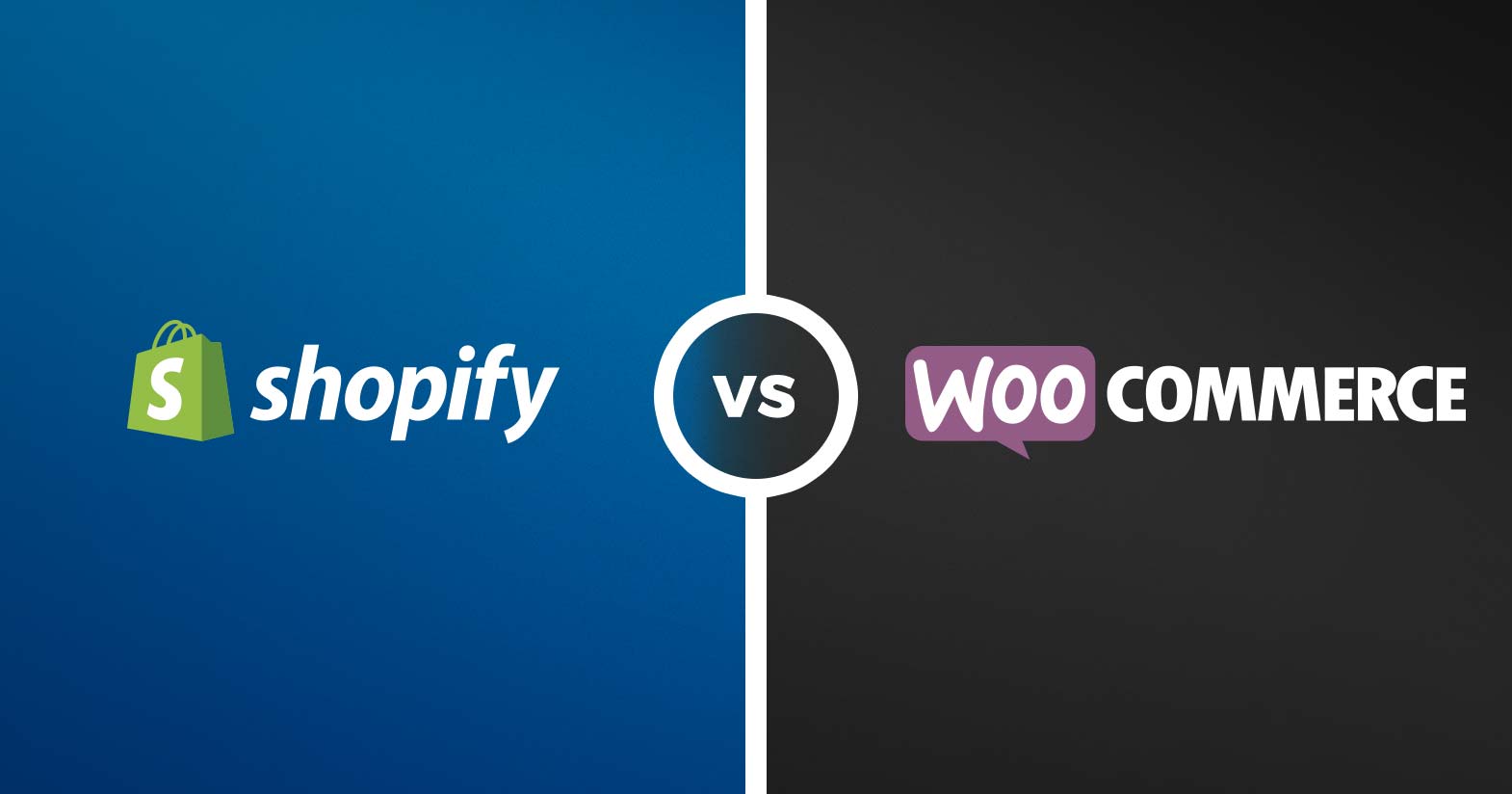 The Basics of A Shopify Store
When starting an online business, you probably considered the best place to offer your products or services. Shopify is a popular choice for new businesses, and it's a great option because it's easy to start using right out of the box with only a few clicks. You don't have to worry about downloading plugins or adding extensions to set up a Shopify store.
In fact, Shopify is so easy to set up that you could have your eCommerce store up and running on the first day. However, as your business grows, you may realize Shopify doesn't offer all of the features you need to cater to your expanding customer base or reach into new niches. That doesn't mean the time you spent on Shopify was a waste, but it may be high time to consider WooCommerce vs Shopify.
Your time on the Shopify platform allowed you to learn about running an online store without doing a ton of technical work. It also helped clarify which are your most popular and important products, but that low cost and ease of setup came at a cost – you also had to give up some control when choosing Shopify.
Now that you have a bigger budget to run your eCommerce store and your business has evolved, you likely want more control over your website and more flexibility with the design, branding and search engine marketing power behind your site. Shopify only offers a few plans, and they may not be right for you anymore.
The Benefits of Switching to WooCommerce
Once your online business gets off the ground, migrating from Shopify to a new WooCommerce store is the most logical next step. You will instantly gain complete control over how your site looks, functions and the sky is the limit when it comes to custom features or integrations to enhance your customer experience.
When it comes time to migrate from Shopify to WooCommerce and consider a custom WordPress website, consider the advantages the open-source platforms offer over Shopify.
WooCommerce may involve more steps to set up and run, but it can take your online store to the next level. Here's what to consider before you switch to WooCommerce.
WooCommerce is More Flexible
WooCommerce runs on WordPress, which is one of the most flexible website builders and content management systems available today. In fact, WordPress powers about one-third of all websites, and for good reason. It's the most flexible and easy-to-use content management system around and using WooCommerce to power your e-commerce and manage customers' orders to extend the power of WordPress to new heights.
With a platform like Shopify, the onboarding process is made easy because you have to use their pre-packaged eCommerce platform features and website designs. If you don't like something, it can be very difficult to change it, it it can be changed at all.
More Designs
The WordPress ecosystem offers dozens of free WooCommerce themes to help design your online store if you prefer the DIY path, however, to truly harness the power of WooCommerce and grow your business you can hire a web designer to create a custom theme.
Some designers sell their themes directly on WordPress theme sites, so you can install them with a couple of clicks, but to truly stand out from the crowd and create an ownable brand experience working with a professional WordPress developer is crucial to crafting a website to look and function exactly how you want.
More Control
Another benefit of using WooCommerce is that you have more control over your store and how you choose to market it. You can use plugins like Yoast SEO or RankMath to optimize your eCommerce store for search engines.
Whenever someone searches for the products you sell, you can easily use these advanced SEO tools to rank highly in those search results. With a little elbow grease and patience, ranking on the first page can help you get more views and sales while reducing your marketing spend.
Shopify does offer SEO tools, but WordPress makes it much easier to optimize all of your pages and products for search engines and offers more advanced frameworks and customization options to tailor your digital marketing beyond the default configuration of the eCommerce platform.
You also have more control over backing up your website with WordPress and a managed hosting platform. Or, you can even install a backup plugin to save your website's content regularly so that you always have a recent version if your site goes down.
And while Shopify lets you use third-party payment gateways, they do have limitations. You can install WooCommerce extensions to use virtually any payment gateway around, including PayPal, Stripe and Amazon Payments.
More Functions
When you switch from Shopify to WooCommerce you can use extensions to connect your WooCommerce store to other third-party services to create a much more robust and automated marketing funnel as well as offer enhanced customer experiences. Using WordPress as its backbone, you can migrate your store data and customers' orders to virtually any external system available today.
You can easily add a gift card extension that lets you offer digital prepaid gift cards for your store or in no time at all add an affiliate program if you want to work with bloggers and influencers. You've heard the catchphrase "…there's an app for that" many times over I'm sure. The same goes for WordPress.
In fact, you can even run the importer migrate built-in to the open-source platform to migrate from Shopify to WooCommerce, or even install a plugin like Cart2Cart to easily migrate orders and products from Shopify.
No matter what type of online store you have, you can run it on WooCommerce.
More Options
When you use Shopify to run your online store, you end up having to use Shopify for almost every part of your eCommerce business, including hosting which has a direct effect on your website's performance and SEO limits. A custom WooCommerce store on the other hand has more options to manage the different aspects of your store in virtually any way you like.
Since WordPress and WooCommerce are software, you need to choose a third-party to host your site. You can choose from dozens of hosts based on your budget and average site traffic.
Some hosts have servers all over the world, which can be useful if you have customers in different countries, while other hosts offer many hosting plans so that you can choose one with the features you need to power your shopping cart.
The options are so plentiful that if you don't like the host, you can migrate your site without having to recreate it.
Shopify to WooCommerce Migration
Once you're ready to migrate from Shopify to WooCommerce, you have a few basic choices to make. You can manually handle the migration process and move your data from Shopify to your new WordPress site. Or, you can use an extension to move your site and import products, customers and orders for you. And if you have a bigger budget, you can hire someone for the task.
Each method has advantages and disadvantages. Consider your budget and technical skills to help decide which is right. No matter which method you use, you need to choose a new website host.
Choose a Host
One of the most important decisions when setting up your WooCommerce store is choosing a website host. You have loads of options to choose from depending on your store setup, traffic volume and budget.
Providers like Kinsta, WP Engine or WP Cloud offer managed hosting and high-end performance at reasonable rates. Each has unique features, including WordPress updates and fast loading speeds for your site. You can compare all of them to find the right host for you.
What Is the Best Website Host?
While you can choose from almost any hosting provider out there to run WordPress, you should consider how much you can afford to spend on hosting to narrow down your options. I like to recommend our clients consider web hosting fees as part of the maintenance and SEO budgets as choosing a premium host not only offers a higher level of performance and security but also reduces website maintenance costs and helps support search engine optimization.
Many WordPress hosts offer plans that cost less than Shopify's cheapest plan which is appealing, but ut you should consider providers that offer the best balance of performance, features, security as well as overall cost.
Website uptime is also important. If your site goes down and you can't count on your web host to resolve the issue quickly, you can lose customers and sales.
Choose a host with great customer support. If you have any issues, you need to be able to ask someone for help. So consider what types of support a host offers and when they're available.
Export Your Website
If you want to move your store data from Shopify to WooCommerce yourself, you can export your site content manually. You can download your products, customers' orders and content a CSV file.
The CSV files hold all of the information on your Shopify site so you don't have to worry about recreating all of your listings. As a busy store owner, having this information easily accessible allows you to make the data migration to WooCommerce seamless.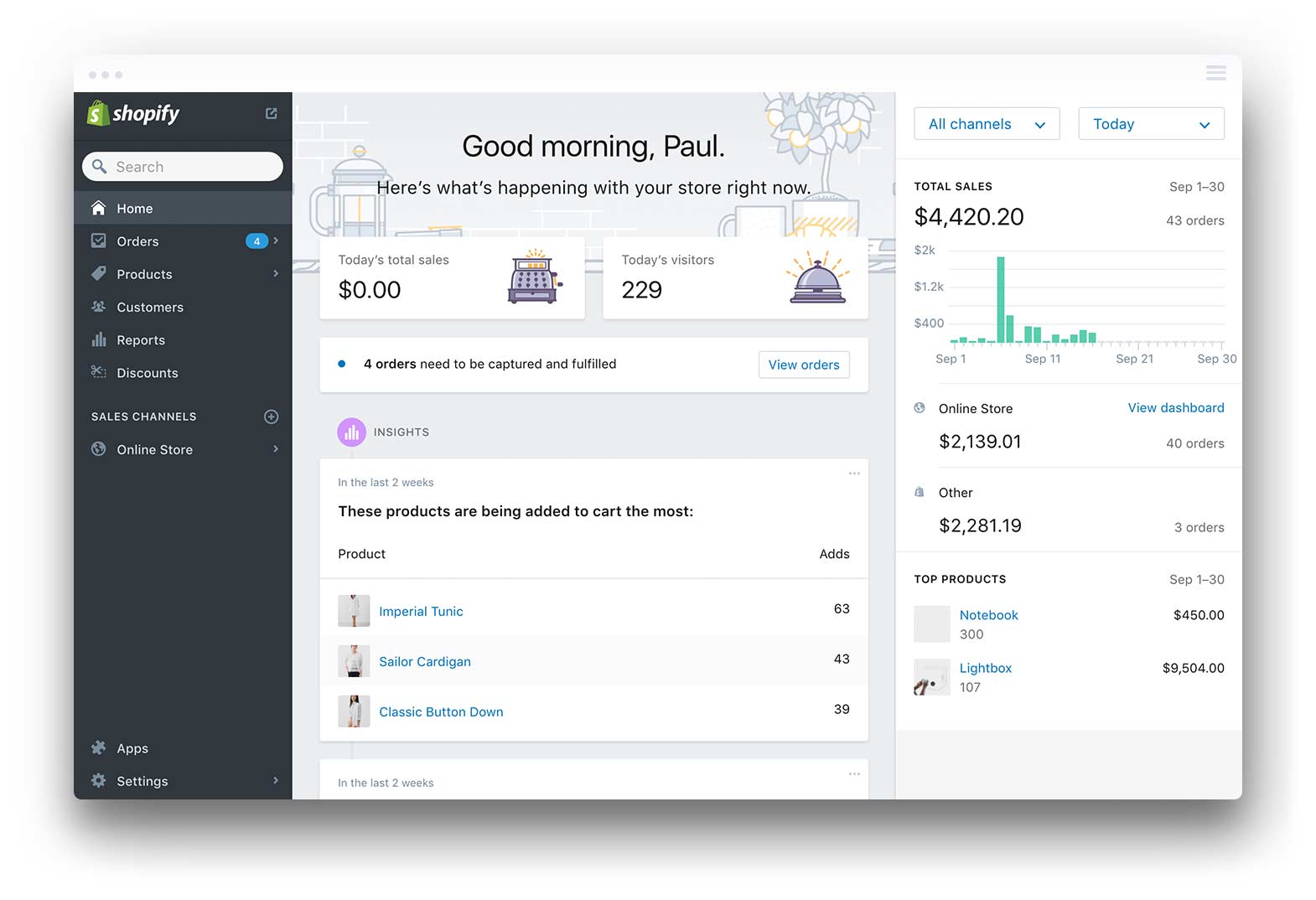 Import to WordPress
Once you export the content from your Shopify site the migration process to import the files to your new WooCommerce site can begin. You can upload your products with the product CSV importer that is built-in to WooCommerce.
Select the CSV file and import products and website content easily. WooCommerce will automatically fill in the product information from your CSV file.
Use the Cart2Cart Extension
If you don't want to deal with CSV files to get started, you can use the Cart2Cart extension in WooCommerce. It can move most of your content within a few steps, including:
Products orders
Order status
Customer contact information
Product categories
Product listings
Page titles
Blog posts
Using Cart2Cart is an excellent option if you want to migrate a lot of content on your Shopify store. You don't have to download files and upload them to your WooCommerce site.
To use Cart2Cart, use your current URL to connect to your Shopify store. Then, connect your target cart, which is WooCommerce, and install the Connection Bridge.
Select the types of information and data you want to move to your new site. Launch the migration and wait until it completes. Cart2Cart migration starts at around $70, but it may be worth the cost for convenience.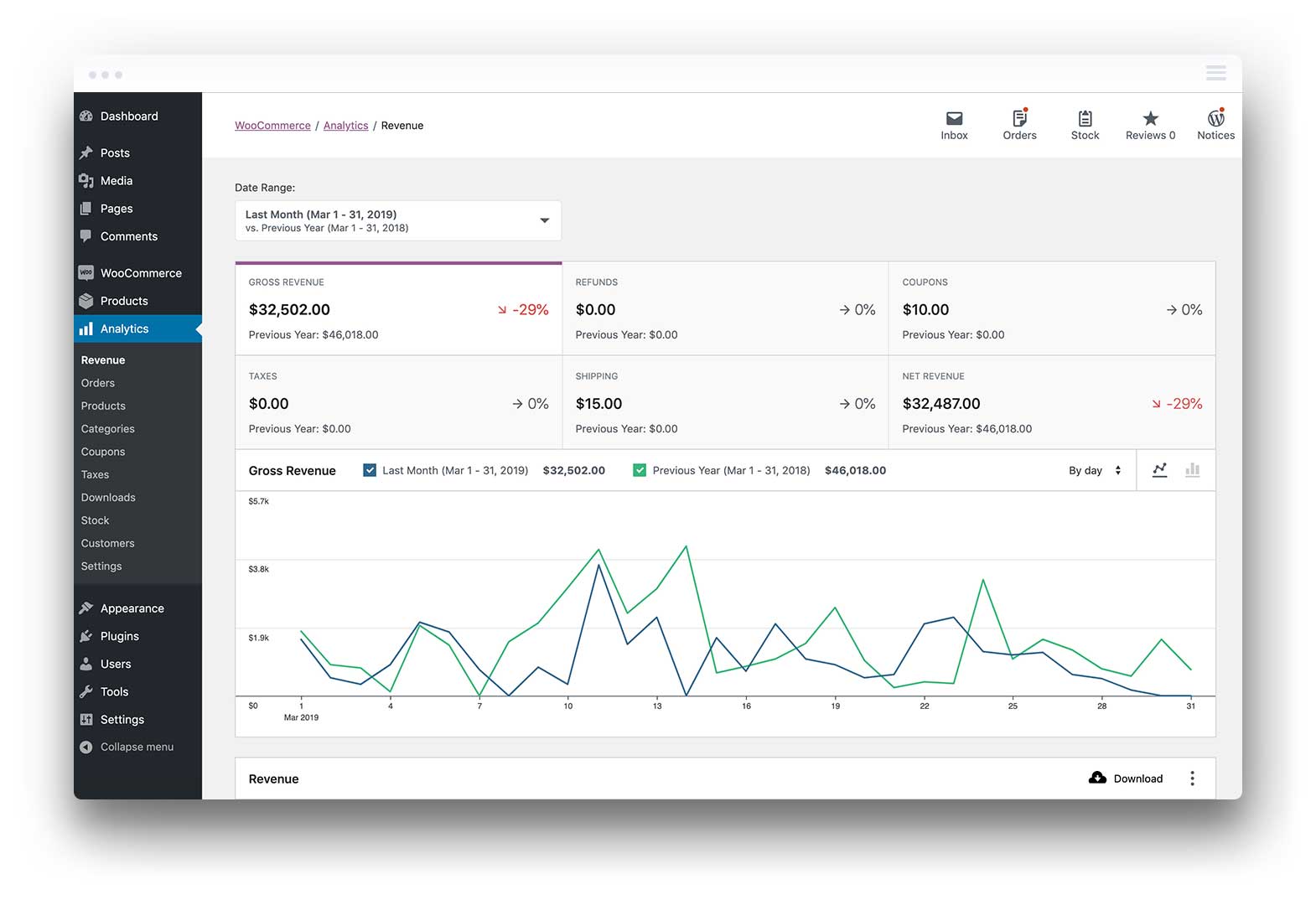 Should You Hire a Professional Web Designer?
To migrate Shopify to WooCommerce manual migration and Cart2Cart can be useful, but nothing beats the help of a professional web designer. You can hire a designer to do everything it takes to migrate Shopify to WooCommerce.
A designer can export your site data from Shopify and import it into WooCommerce with ease and confidence all while wrapping up your old content in a beautiful new custom website design.
Here are a few reasons why you may want to hire a professional WordPress developer.
Ease
All you have to do is tell your designer or developer how you want your new site to work and look. You can give them access to your current Shopify site and take a backseat if you prefer.
Trusting an experienced web designer allows you to spend more time marketing your business or fulfilling orders while your designer takes care of the website and shopping cart migration.
Your designer can then design a custom WooCommerce theme if you want to make your site stand out, and enlisting a web designer will give you the design you want without much hassle.
Professional Results
If you aren't a web designer you most likely lack the experience needed to translate your brand and marketing ideas into engaging visuals and high functional digital experiences. A professional WordPress designer can craft your new site to suit your unique personality, sales strategy and customer needs.
Hiring a web design company can be expensive upfront if you're used to rolling out of the gate with a fixed monthly fee from Shopify. However, keep in mind when you choose the right designer they become part of your team while they get to know your business, brand and what makes your target audience convert.
Do your research and send a request for proposal or RFP to your top web design agencies to weigh your options and find the best partner.
Getting a Custom WooCommerce Site
Shopify is an excellent eCommerce platform to start your online store. At some point, with any luck, your business will outgrow the platform and need more features and control than Shopify can offer.
That's the sign that you are ready to move from Shopify to WooCommerce to take control of your brand and offer your customers a truly unique experience.
Do you need help moving your site from Shopify to WooCommerce? Contact us to learn about our years of experience working with WordPress to create custom WooCommerce websites and get a quote today.