Corporate re-branding and responsive website design for a leading law firm based in London and Toronto.
Parachute Design has enjoyed a long and fruitful relationship with Foster Townsend, and we have had to opportunity to work together on not just one, but the last two iterations of the law firm's website. The first time our teams partnered to create custom WordPress website design the outcome offered great success and a long lasting website that not only provided the law firm with a professional digital brand but helped increase their visibility through search engine optimisation enhancements.
Nearly six years later, it was time to put our heads together again and not just refresh the website, but tear it down and start fresh. Over the course of time since the initial website launched, Parachute Design had taken over day-to-day website management and search engine optimisation efforts. Having a deep understanding of the firm, its marketing strategies and SEO targets, approaching an all new website design was simple.
Clarifying Our Web Design and Branding Goals
Corporate rebranding – for years Foster Townsend LLP operated as Foster Townsend Graham and Associates. Following the departure of some original partners, the firm decided to rebrand as Foster Townsend to coincide with the new website launch. Parachute Design rose to the challenge to create the new corporate brand and logo design. Together, our firms executed a logical and intuitive brand evolution to honour the original logo design and propel it forward with subtle modifications.
Responsive website redesign and development – at the core of the firm's new marketing efforts was the new responsive website design and development. Showcasing the firm's partners and legal team with quick and efficient avenues of contact surfaced as a critical goal in the redesign. In addition to creating a website that was mobile responsive to appeal to the firm's sizeable mobile user presence, we created simple web forms to drive conversion rates with the latest iteration of the website.
Search Engine Optimisation – over the six years since deploying the previous website, Parachute Design has been involved with, and eventually taken over SEO management on the website. With the opportunity to design and develop a brand new website, we had complete control over SEO best practices and website accessibility to meet the firms SEM needs.
Our Branding and Website Design Process
Strategy and Research
Strategy and ResearchWith access to the last six years of the law firm's marketing materials and a thorough understanding of how the firm communicates with clients, our design strategy came together quickly and without any challenges.
With access to the last six years of the law firm's marketing materials and a thorough understanding of how the firm communicates with clients, our design strategy came together quickly and without any challenges.
First on our project plan was to take the existing logo design and simplify it with a contemporary typeface and subtle changes to honour the original brand recognised in London and Toronto alike. Subtle changes were also made to the colour palette while we had the opportunity to subdue them slightly and offer a more professional foundation from which we could expand upon with the website design.
With the law firm's logo design finalised, we set our sights on reworking the existing website's navigation and page architecture. Referring to the goals our design team created a brand new sitemap that would help showcase the law firm's legal team in detail as well as offer simple and effective ways for website leads to find and make contact with a lawyer.
Additionally, with the opportunity to begin our web design process with a blank slate, we took advantage of the full digital canvas and incorporated multiple opportunities in the new website user interface for modules that include calls-to-action, web forms and paths to in-depth information for leads that are not yet ready to make contact.
Foster Townsend LLP has actively sought and hired new team members for a wide variety of positions within the firm over the years. Understanding their need to post job opportunities within the legal community easily we created an internal job board that features current job postings and methods of contact for applicants.
Creative Website Design
Creating website design for law firms is unique in many ways. Perhaps one of the most prominent ways this type of design project is unique is that the client rarely, if ever, has the time to commit to the design process where a technology firm or small business owner would. In that sense, the law firm was hands-off during the design phase of the project leaving their continued trust in our team of Toronto website designers.
Next, we presented our conceptual web design work with the law firm through our cloud-based prototyping tool allowing everyone involved to review all website design assets in context and fully understand the proposed user experience. This level of collaboration makes our web design process much more efficient and works to limit the need for design revisions.
With full approval on the new website design, our web development team was ready to jump in and bring the new website to life.
"I've had the pleasure of working with Jay and the Parachute team for several years. In my experience, I've never worked with a web design team that is as knowledgeable or as responsive as Parachute. I would highly recommend Parachute Design to any business in need of corporate rebranding or responsive website design."
Thomas Lacerte
Partner, Foster Townsend LLP
Custom WordPress Website Development
With the new law firm website design ready for development, our expert website development team began to build out the frontend design. In many cases, when our creative website design team enters the design phase, our website developers will start on the WordPress backend development to shorten our development time and stagger the development work throughout the project.
When the frontend of the website design was ready and tested across contemporary web browsers and mobile devices, we began to integrate the beautiful new website design with the WordPress backend. As the beta release date approached, our content entry phase took centre stage, and our search engine optimisation specialists began to weave in our on-site SEO strategy ramping up for launch day.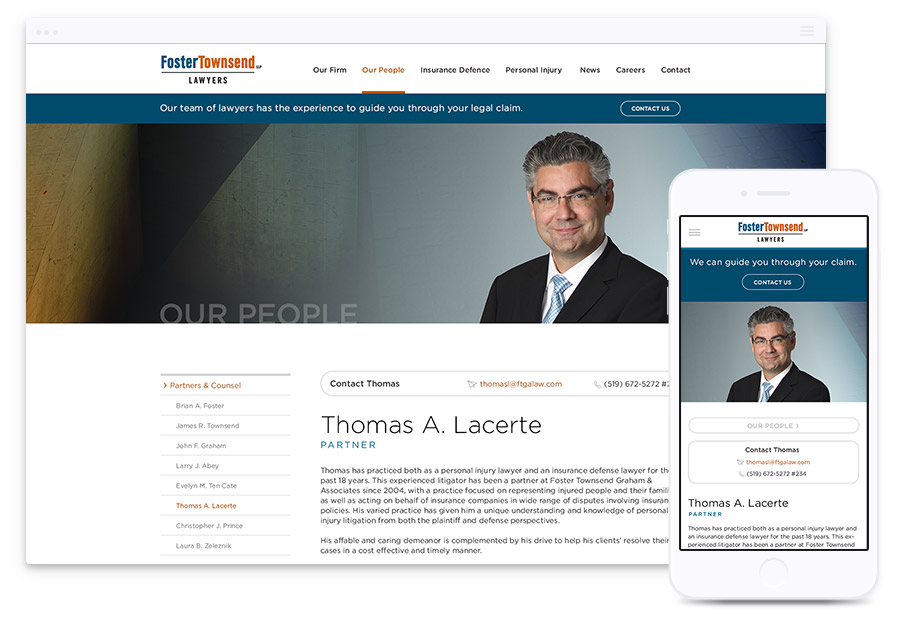 Website Deployment
With Foster Townsend's approval, launch day arrived, and our web design team prepared the managed WordPress hosting environment that would be the new home for the law firm's website. Following our recommendation, Foster Townsend agreed to ramp up their hosting to take advantage of the speed and performance benefits of a managed web host, ultimately enhancing their new website's search engine performance as well.
After configuring the new hosting environment it was all systems go, and our web development team began to migrate the website code, content database and assets over to their new home. A couple of hours later and the website was ready on the staging server for final quality assurance testing that went off without a hitch.
The last step was to point the DNS at the new server and wait for the changes to propagate.
Post-launch Website Support
Following deployment of the new website, our team remained accessible throughout our complementary 60-day support period. We feel that it is essential to ensure that everything is in excellent working order following a website launch. Given that the web is in a state of constant change, offering our clients a window of support following their investment is an integral part of our business.
About Parachute Design
Parachute Design has more than 14 years of experience creating website design for law firms across Canada and abroad. Should you be interested in our website design services for law firms or to inquire about a website design quote for your business, complete our website design proposal planner or contact our Toronto web design company at 416-901-8633.